'Against all expectations and doomsday scenarios, Ukraine has not fallen. Ukraine is alive and well'

After a series of pleasantries, Zelensky started with this sentence. A speech must immediately grab the attention and lay the essence on the table right from the start. It is good to avoid a long build-up full of pleasantries. Still, Zelensky could afford thanks. After all, it is the Ukrainian war hero who travels to the US. No one falls asleep to a speech by this man.
According to political communication expert Peter Van Aelst (UAntwerp), the approach of the speech was American: references to the drama that hit Ukraine this year, but also to a people who persevere. And with a view to victory: the country is struggling, but is alive and kicking. With the message: if you give us money, we will get that victory. What also helps is that Zelensky gave his speech in English and thus directly addressed his audience.
'Ukraine will stand firm and will never surrender!'

In his speech, Zelensky referred to the Battle of the Bulge in December 1944. During this battle, American soldiers fought against Hitler's troops. Zelensky consciously made use of historical comparisons and successes from America's past, says Van Aelst. This sentence (we shall never surrender) we heard earlier in the speech of another war icon: Winston Churchill, Prime Minister of the UK during World War II.
The comparison between Churchill and Zelensky was made again this week. After all, Churchill also addressed the American Congress. However, Van Aelst does not think this is entirely appropriate. Yes, they are both war leaders. But the context of both wars is difficult to compare.
Nevertheless, a comparison can be made in the packaging, says professor of international politics David Criekemans (University of Antwerp). They are both leaders who play a crucial role in future relations at the international level.
Zelensky and Churchill also have the same combativeness. What contributes to this image is the president's outfit. Zelensky does not appear in a suit and tie, but in his now famous olive green military outfit. "As if he literally walks out of the trenches and says hello", political scientist Carl Devos (UGent) also analyses. The message and the messenger are closely linked and that is crucial for a speaker's credibility.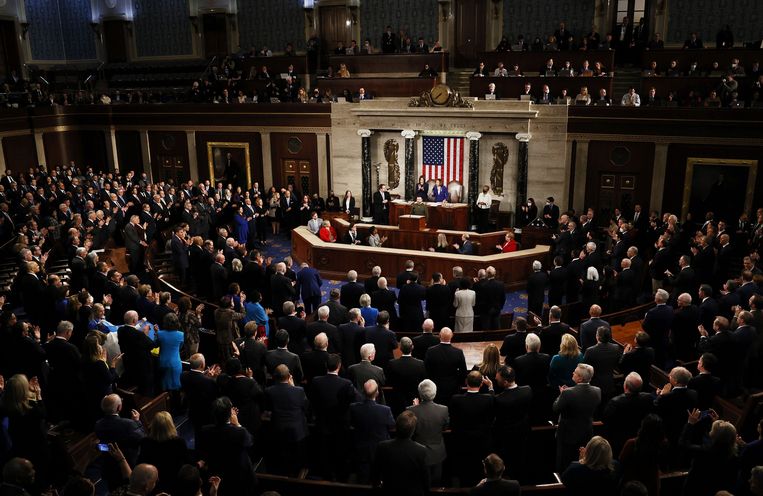 'We have artillery. Yes. Thank you. It is enough? Honestly, not really'

With this sentence and accompanying intonation, Zelensky made Congress laugh. Good political speeches contain emotion and reason, seriousness and humour. But how funny can a speech during a war actually be? "Getting a joke in this situation is delicate, but an important thing to do. A joke is disarming. Zelensky also has the training and talent for this," says Devos.
Zelensky wants money and support from the US. He doesn't get that with a sad story. He must instill faith, hope and optimism so that Americans feel that things will work out. A small joke in the story is therefore important, says communication expert Van Aelst. "A small, light-hearted moment is very American. Just look at American war films, you will also see this."
"Your money is not charity. It is an investment in global security and democracy."

The most quoted sentence from the Ukrainian president's speech. The sentence is well chosen, says Peter Van Aelst. "The Ukrainian president says: give us your money, and we will beat the Russians and Putin for you." Zelensky uses a term that Americans are sensitive to: money as an investment, especially in security and democracy. He also addresses the capitalist society in the US.
This statement is a strategic move by Zelensky, according to Criekemans. Even though support had already been pledged before the speech, the visit is important for the Ukrainian president to connect with the Republican party. The president appeals to patriotism in the US: America as a superpower and patron of the free West. He shows that Americans can make a difference in this.
Zelensky appeals to US self-interest. And that is an important element of a successful speech: what the speaker wants is also good for the audience. Zelensky doesn't stand for pleasantries and doesn't come to Congress to drink champagne. There is definitely something at stake for him, says Van Aelst.
"We'll be celebrating Christmas in two days. Maybe by candlelight. Not because it's more romantic. But because there will be no electricity'

Zelensky dwells extensively on the upcoming Christmas. It also contains a message of hope: even if the bombs fall, Ukrainians will sit at the festive table from the shelters and cheer each other up. By giving this speech, he not only boosts morale in America, but also in his own country, says Criekemans.
A striking detail: many Ukrainians observe the Orthodox Christmas, which is celebrated in January. But as a protest against Russia, Christmas is celebrated by more people on December 25 this year: even the Orthodox Church of Ukraine allows this. With this, the country is moving towards the Western tradition, endorsed by the president. And again, in the final chord of the speech there is the reference to victory. "Merry Christmas," besluit Zelensky, "and a happy, victorious New Year".