Global, 12 December 2022 : The world's largest streaming platform in Southeast content ZEE5 Global Gear up for the end of the year, as a content slate of 10 massive original series is coming up, along with the much-awaited movie for Bengalis in the diaspora from early 2023. Along with its subscription video on demand (SVOD) offerings, ZEE5 Global has confirmed that the web series will be released progressively every month. What is not there. Mystery-thriller murder stories, crime dramas, psychological thrillers, sloth adventures and the best of Bengali comedy and romance. The ultimate exciting content slate will be anchored in unique and unique stories. And so that the entire gamut of emotions will be blocked. Bangla C with the best regional storiesto take A new chapter of Bengali entertainment will begin with the connection of stars. With ZEE5 Global.
Strong global position of ZEE5 Global. ZEE5 Global is a video OTT platform bringing specially curated, exclusive Bengali content slate to Bengali viewers in over 190 countries.
Archana Anand, Chief Business Officer, ZEE5 Global said, "We have seen tremendous growth in Indian language content consumption at ZEE5 Global over the last one year as we have given diaspora audiences a taste of the biggest blockbusters in their mother tongue. In Bengali title Resonant global audience. And keeping this growing demand in mind, we are more than excited to share a brand new Bengali content slate for our viewers. Our endeavor will provide viewers with rich content with star-studded titles, again created by the best storytellers of today. We are sure, active holders of various genres such titles will be able to connect with our audience at once. We have always tried to bring content tailored to the South Asian diaspora so that they can feel close to their roots. We are sure, this new slate will delight our global audience."
Speaking about the 2023 content slate, ZEE Entertainment Enterprises Limited (ZEEL) Chief Cluster Officer – East said, "We are extremely excited to offer Bengali OTT viewers a large and exclusive 10 original titles and some of the best selection of movies. We are working with accomplished storytellers and actors who have not only proven themselves in their acting skills, but have also captured the audience's undying love as well as keeping them curious about what will happen next. Apart from this, we also have various stories from different parts of Bengal, which reflect the cultural fragrance of the fertile soil of Bengal. We have stories that not only draw from Bengaliana and inspire, but bring to the fore the challenges and complexities of the new world we are in. We are confident, our content slate will delight Bengali OTT viewers and satisfy their need for dynamism, thrill and adventure. We look at how the content we bring to the audience receives it.
Speaking about ZEE5 Global's content strategy, Puneet Mishra, President, Content and International Markets, ZEE Entertainment Enterprises Limited, said, "ZEE5 Global's linguistic growth is driven by a deep understanding of the audience and tuning into the cultural rhythms of India. Our creative team's unique approach to content design, which we call #SoulToScreen, connects audience and cultural consciousness with inspired creativity, so that viewers get rich and enjoyable content. In close proximity to some of the best content creators in the Bengali entertainment world, we have been able to create a content slate in tune with today's Bengali. Our content slate is equally reflective of Bengali OTT audience's growing appetite for enjoyable, edge-of-the-seat content and caters to the new twist of Bengali in its contemporary incarnation. We hope this work of our team will get the love and approval of Bengali OTT viewers at the international level.
Raima Sen and Vikram Chatterjee starrer 'Rakta Karvi' is a never before seen murder mystery thriller. A Bengali joint family, which is shrouded in mystery. Shikarpur stars National Award winning actor director Kaushik Gangopadhyay and Ankush Hazra. The latter is one of the biggest stories on the OTT platform.
'Sherlock of Shikarpur' takes us through the journey of yet another detective in his quest to win the title. 'Kataye Kataye' is a series based on Narayan Sanal's detective novel 'Sonar Kanta', featuring National Award winners Anonya Chatterjee and Shaswat Chatterjee in an unfamiliar frame.
Directed by Arindam Sheel, based on Satyajit Ray's detective story, 'Sabas Feluda' stars Ritvik Chakraborty and Parambrata Chatterjee in the detective story. Also in the first OTT fiction series directed by Indranil Roychowdhury, starring Indrani Halder, Priyanka Sarkar, Usshi Roy and Gaurav Chakraborty. Along with this, director Raj Chakraborty's Deluge is returning again.
'Chhotlok', is a story where the audience has to spend in suspense and suspense to finally identify the killer. It is the first OTT fiction series directed by famous director Indranil Roychowdhury, starring Indrani Halder, Priyanka Sarkar, Usashi Roy and Gaurav Chakraborty in important roles. Along with this, director Raj Chakraborty's Deluge is returning again. Along with Shvetkali Story, the audience will sit on the edge of their seat and enjoy the thrilling story of cold-blooded murder that revolves around the idol of an ancient god. And here is Aindrila's OTT debut.
With legendary director Anjan Dutt on the list, this thriller will highlight the immoral side of the human psyche. There is Teni Madhav Sheel's Phul Panjika, a musical romantic thriller. Matsyanaya, which depicts the corruption of a family running a drug business – is a production of Parambrata Chatterjee's road show movie.
Director Raj Chakraborty said, "Viewers have the opportunity to choose a lot of content from OTT. I am delighted to be associated with ZEE5 Global who believe in telling impactful, authentic and empathetic stories. Deluge is one such story. This web series will not only tell a deep story, but also masterfully portray the story of a deadly crime and social monster. It will present a story with realistic, sympathetic and intriguing sequences that will leave the audience thinking and questioning. All I can say, brace yourself for another deluge as it streams on ZEE5 Global very soon.
In the words of Parambrata Chatterjee, 'There is no greater mystery than being able to connect deeply with the audience. Playing Feluda feels like stepping into Sherlock's shoes. Proud to work in a unique character created by Satyajit Roy. This web series has all the ingredients for an adrenaline rush. Let's hope that the audience will be able to remain alone at the end.'
He adds, 'This is an entertainment world offering with all the ingredients of a thriller including history, adventure. With the help of G5 Global, nationwide promotion and expansion is also assured. Looking forward to the premiere on this platform.'
On this platform fear and passage (Ankush Hazra), infinity (Hrithik Chakraborty), Jai Ma Kalkattewali (Nusrat Jahan and Soham Chakraborty), Mini (MM Chakraborty), Boudi Canteen (Shubshree Gangopadhyay, Parambrata Chatterjee), Again Kanchenjunga (Shwashat Chatterjee and Arpita Chatterjee), Jatugrah (Boni Sengupta, Parambrata Chatterjee, Payal Sarkar), Mahananda (Gargi Roy Chowdhury, Isha Saha) will also have the opportunity to watch exclusive films.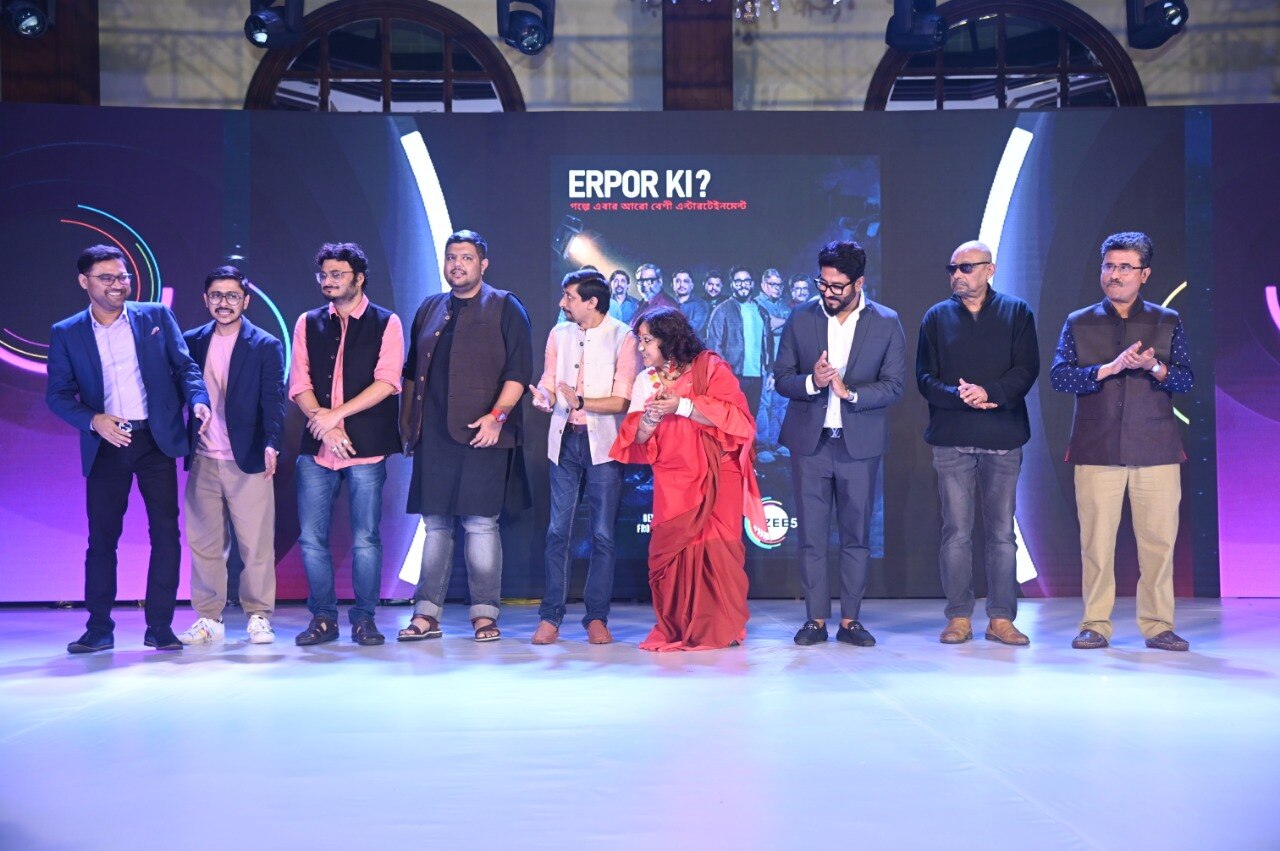 All the information came out at a star-studded event at Taj Bengal Kolkata. Prasenjit Chattopadhyay, Ankush Hazra, Aindrila Sen, Kaushik Gangopadhyay, Arindam Sheel, Anjan Dutta, Indranil Roychowdhury, Raj Chakraborty and others were present.
This is not the end, there are blockbusters like the recent Abhyastri (Sabyasachi Chakraborty and Arjun Chakraborty). Agantuk (Abir Chatterjee and Sohini Sarkar), Diamonds of Hirakgarh (Soham Chakraborty, Boney Sengupta, Kaushani Mukherjee, Ayushi Talukder), Vanishing (Rajatav Dutta and Parambrata Chatterjee), Savings Account (Ankush Hazra, Sayantika Banerjee), Heart Padma (Arpita Chatterjee and Saheb Chatterjee) and Amrapali (directed by Raja Chandra).
ZEE 5 Global achieved the highest number of Global Daily Active Users (DAUs), 11.4 million. Global Monthly Active Users (MAUs) 112.4 million.
ZEE5 is also now available on Samsung Smart TVs in America. Users can get the ZEE5 app on Google Play Store/ iOS App Store on Roku devices, Apple TV, Android TV, Amazon Fire Stick and Samsung Smart TV. ZEE5 www.ZEE5.com. Also available.
About ZEE5 Global
ZEE5 Global is a destination platform for digital entertainment, launched by Zee Entertainment Enterprises Limited (ZEEL). Zee Entertainment Enterprises Limited is an international media and entertainment powerhouse. The platform was launched in 190 countries in October 2018. Its services are available in 18 different languages: Hindi, English, Bengali, Malayalam, Tamil, Telugu, Kannada, Marathi, Oriya, Bhojpuri, Gujarati, Punjabi. There are also services in six international languages ​​such as Malay, Thai, Bahasa, Urdu, Bengali and Arabic. Get access to over 2 million hours of on-demand content on ZEE5 Global. The best destination for originals, movies, TV shows, music, cine plays, health and lifestyle content at your fingertips. ZEE5 offers linguistic navigation, content download facility, continuous video playback and voice search.
ZEE5 Global Twitter: https://twitter.com/ZEE5Global
ZEE5 Global LinkedIn: https://www.linkedin.com/company/zee5global/
Media contact
Rashmi Punshi
rashmi.punshi@zee.com
Natasha Mendonca
natasha.mendonca@rfthunder.in