Popular British-Israeli chef Yotam Ottolenghi reveals one of his kitchen secrets every week. This time: a dish that even picky toddlers like.
Occasionally we play restaurant at home and then we discuss the menu together beforehand. Our youngest son Flynn is 4 years old and like many children his age, he usually asks for all kinds of carbohydrate-rich dishes. For example, he wants bread as a starter, then "pasta with nothing on it", then boiled potatoes and a slice of cake for dessert. That menu may sound strange, but I don't think Flynn is the only one who is obsessed with starch, and the phenomenon doesn't seem limited to preschoolers either.
Flynn's wish lists of starchy dishes reminded me of maaqouda, a North African classic. Maaqouda are deep-fried cookies or mashed potato fritters often sold on the street, either on their own or in a bun with harissa or tomato sauce. I have eaten them in a sandwich a few times in Tunisia and Morocco. Like a good potato focaccia, the secret lies in the subtle balance of textures – a little doughy, not dry, a little crunchy – and the underlying aromas of rosemary or harissa that bring all the flavors together.
Scurvy

Recently I wanted to make traditional maaqouda for lunch, but I quickly abandoned that plan when I realized that Flynn might not be getting all the nutrients he needs if I just gave him his dream menu – horrifying images of scurvy were already in my mind. Instead, I made a large oven version of maaqouda, to which I added ingredients I had on hand: cheese, herbs, spring onions and lots of frozen peas. I let the mixture fry in hot oil for a while before putting it in the oven, which made the outside look a bit fried.
My compromise version of maaqouda was generally a success. This formula became a blueprint for meals where I incorporate different ingredients that I want to use up. Spinach always works well, as do roasted peppers and corn. Only Flynn was not completely convinced. "Too many peas," he exclaimed. But that evening he was happy to eat the leftovers, between two slices of bread and with a little ketchup on top, which was actually quite tasty.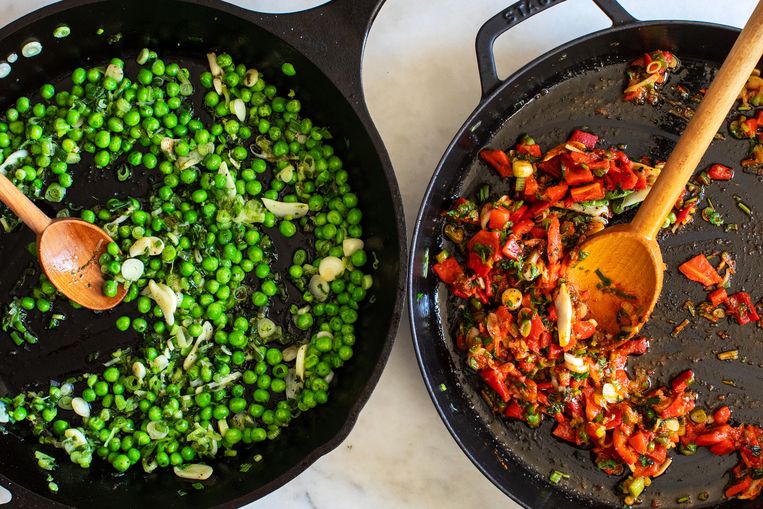 Potato pie with spring onion and cheese

Preparation time: one and a half hours
You need this for 6 to 8 people
For the potato pie: 6 large red potatoes (firmly boiling, about 1 kg), scrubbed clean / 150 ml olive oil / 16 spring onions (about 200 g), finely sliced ​​/ 6 cloves garlic, finely chopped / salt and black pepper / 160 ml full cream / 3 large eggs plus 1 yolk, beaten / 85 g Parmesan cheese, grated / 3 tbsp finely chopped preserved lemon or 1 tbsp lemon zest / 1 tsp ground turmeric / 140 g mature cheddar, coarsely grated / 200 g feta, coarsely crumbled
For a version with peas and thyme: 200 g frozen peas, thawed / 1 tbsp fresh thyme leaves, plus a few extra sprigs to garnish
For a red pepper and harissa version: 1 jar roasted red peppers, patted dry and coarsely chopped (approximately 250g) / 20g coarsely chopped fresh coriander, plus 1 tbsp extra to garnish / 3 tbsp harissa or 1 tsp chilli flakes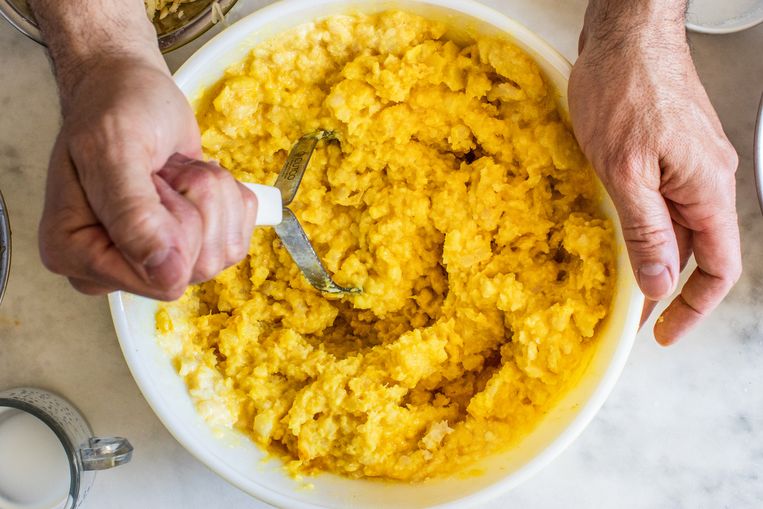 That's how you make it
1. Put the potatoes in a large pot with enough water. Cover and bring to a boil. Reduce heat to low and cook potatoes until easily pierced with a knife, about 30 minutes. Drain and drain well. Once cool enough to handle, peel the potatoes and place in a large bowl.
2. While the potatoes are cooking, pour half the olive oil into a large cast iron or ovenproof skillet that is at least 3 inches deep. Heat the pan over medium heat. Add the spring onions and garlic and cook for about 6 minutes until softened and lightly coloured. Stir occasionally. Now add the peas and thyme, or the peppers, coriander and harissa. Add 1/2 tsp salt and plenty of pepper, stir to combine and set aside.
3. Heat the oven to 230°C (regular oven, no hot air).
4. Add the cream, eggs and yolk, parmesan, preserved lemon, turmeric, half the cheddar and 1/2 tsp salt to the potatoes in the large bowl. Pound to a coarse puree that is still a bit lumpy. Add the feta and spring onion mixture (with peas or peppers) from the pan and stir together.
5. Wipe the skillet clean, add the remaining olive oil and place in the oven for about 5 minutes to warm up. Then gently scrape the potato mixture into the pan. Smooth the top, sprinkle with the remaining cheddar and a few sprigs of thyme (for the pea and thyme version), and return to the oven.
6. Reduce the oven temperature to 200°C and bake the cake for about 25 to 30 minutes until golden and bubbling. Remove the cake from the oven and let it rest for 15 to 20 minutes to stiffen. Sprinkle the extra coriander on top and serve hot, straight from the pan.