The fact that Poland is going to send the first four MiG fighter jets to Ukraine is a boost for Ukraine. Yet dark clouds are also gathering over Western support. "Despite the heavier weapon support, people are still fully on the brakes."
"I am getting a hundred new soldiers, but not the time to prepare them." On the battlefield, they just drop everything and run. When I ask such a soldier why he doesn't shoot, he says: 'I'm afraid of the bang.' We need NATO instructors in all our training centers, and our instructors in the trenches. Because they have failed in their task."
Being the words of Commander 'Koepol'a commander at the Bachmoet front The Washington Post. The five hundred soldiers he went to war with – the unit has been fighting in Bachmoet for months – "are unfortunately all dead or wounded; there are only a few soldiers left with combat experience".
Also missing is ammunition. A known problem, but that does not mean that it can be solved quickly. Increasing production takes time. The Americans are using their supplies all over the world, but some countries, in Europe and beyond, are sitting on their ammunition.
At a security conference of the Clingendael Institute this week, experts from the US and Europe paint a more pessimistic picture than you get from the rhetorical feats of Western politicians. They speak of a war that Ukraine "must win" because so much is at stake. But the experts mainly see the – self-imposed – limitations of Western support. Previously, the US and Europe were unable to deter Putin, but now they impose "unnecessary" restrictions on themselves for fear of Russian escalation.
Nuclear deterrent

"We have much more room for maneuver than we think," said a European expert. "The laws of nuclear deterrence from the Cold War still hold." Yet, despite the heavier weapon support, people are still fully on the brakes. "We don't believe that self-restraint strategy works," says Justyna Gotkowska of the Polish Center for Eastern Studies.
Poland, which feels that it will be its own turn if Ukraine falls, will soon send the first four MiG fighter jets to Ukraine. More will follow, perhaps from other allies as well. A boost for Kiev, but not decisive. Kiev has been asking for Western F-16s for months in vain.
As before with the Leopard 2 tanks, the rhetoric is ahead of the troops in many European countries. Stocks are running out, production is not being ramped up fast enough, and there are (often unspoken) political reservations. Not all countries, like Poland, see the war as an 'existential' struggle.
'Territorial dispute'

America makes the difference. The US provides by far the most arms support to Ukraine, and its leadership unites Europe. But it is also a country with a volatile political climate, with a strategic focus on China. Prospective Republican presidential nominee Ron DeSantis calls the war in Ukraine a "territorial dispute", incomparable to the need to contain China's economic and military might.
But President Joe Biden has also adhered to certain upper limits on arms support from the start, however much they have shifted. Hundreds of recently retired fighter jets are parked in the Arizona desert. The US also has the long-range missiles that could seriously weaken Russia in Ukrainian territory.
DeSantis warns against sending these guns — and Biden is in the same camp so far. With reason. At Clingendael, an expert on those American borders says: "We did a lot, but we didn't say we would fight for Ukraine. And as an American, I'm glad about that. It would not have been right and would have shattered the alliance if we had NATO fighting a nuclear-weapon state in Ukraine."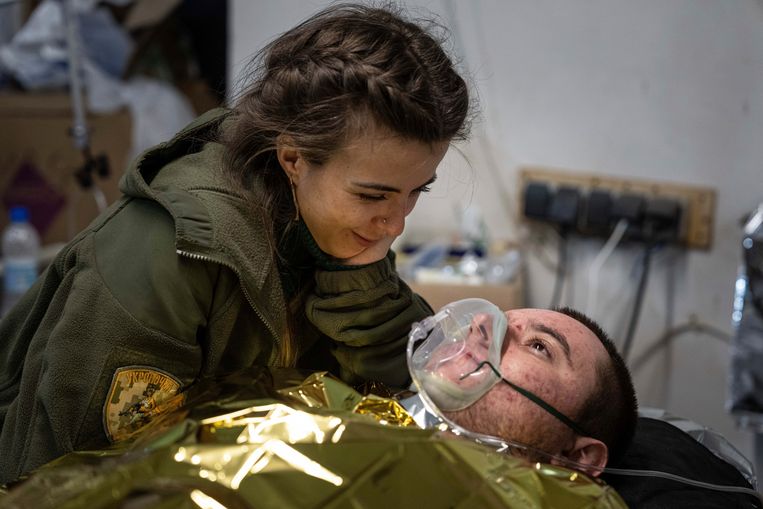 'Bloodiest form of warfare'

But those limits to Western support condemn Ukraine to the bloodiest form of warfare, says military expert Phillips O'Brien. "It sometimes seems like the US wants Ukraine to win, but in the hardest way." In addition, next year's US presidential elections cast their shadows ahead. America is by far Kiev's most important ally – but politically also its Achilles' heel. Putin knows that, and he's not going anywhere. Next week, President Xi will visit him to celebrate the friendship, and possibly more.
If you zoom out, you see a Ukraine that in spring and summer – not under the most favorable circumstances – is supposed to make a big military hit. "Zelensky must book victories in the coming year, otherwise the skeptics will get the upper hand," it sounds at the Clingendael conference.
US top official Jessica Lewis says against de Volkskrant that the point is that a future Ukraine "does not live under the constant threat of a new attack". But that is precisely what threatens to happen if no decision is made on the battlefield: Putin may be able to conquer Ukraine only partially, but he can disrupt it permanently.
Rock-solid security guarantees

"If Ukraine succeeds on the battlefield, the West will hold out longer," says French expert François Heisbourg. Otherwise, imperfect ceasefires and difficult compromises may be coming "very soon" to Kyiv and its Western partners.
If it comes to the point that Ukraine has to accept a settlement in which it (temporarily) gives up part of its territory, the West will have to give Ukraine "iron-strong security guarantees", says Heisbourg: NATO membership. That will certainly not happen in July, at the NATO summit in Vilnius, as opinions differ too much for that. But, says an expert, "that can suddenly change later on".