Shortly after the outbreak of war in their country, young top athletes from Ukraine came to Ghent. Nine months later, they exercise intensively here and keep an eye on the situation over there, where their fathers have stayed behind.
"My name is Misha. I love football. In Ukraine I played for FC Shakhtar Donetsk." Mykhailo Dubrovnyi – nickname Misha – has prepared a text and reads it in neat Dutch. He is 17, from the port city of Kherson and now resides in Bruges with his mother and brother.
Misha came to Belgium through his football agent, Serhiy Serebrennikov, former Ukrainian international and former player of Club and Cercle Brugge and Roeselare. "My stepfather stayed behind there. Luckily he's not in the military. I still keep in touch with my friends. They regularly run out of electricity and spend their days in the dark. Difficult."
Rhythmic gymnast Kira Golovinova (15) left her hometown of Zaporizhia on March 1. "Almost the whole family is in Belgium: mum, grandma, my two sisters. Only my father remained in Ukraine. He fights for our country. We talk to him often, except when he is on a mission. Then he is unavailable. Of course we are worried, but I am also very proud of him."
sirens

Kateryna Petruk is their confidante, teacher and interpreter. "Being a teacher is my dream. This opportunity came my way, I grabbed it with both hands. This way I can mean something to my entourage."
Kateryna has been living in Belgium for exactly twenty years this week, but watches the news from the front and her birthplace Odessa with more than average interest. "The sirens are blaring all the time," she says. "In the meantime, people no longer walk to their secret cellars. They see and make the most of it, even if they are without light for hours. 'Cozy with the candles and the starry sky outside,' they laugh. It says a lot about the Ukrainian people that they continue to see the positive in such a terrible situation."
Warmest Weeks

"I'm sorry." "Please." "Thank you." The sentences written on a blackboard in blue marker are the silent witnesses of hours of initiation into our language. Kira and Misha now speak more than a mouthful of Dutch. So do the six other young footballers who left their unsafe country months ago, but now spend Christmas in Ukraine or Poland.
"They really wanted to go back to their families, because their dads are not allowed to leave the country anyway," says Jo Van Hoecke, coordinator at the Topsportschool in Ghent and the man who started the shelter project. "Some are fighting at the front. Of course, the best thing would be for the war to end, so they can just go back home and resume their lives there. But we have to be realistic: it will not happen that soon."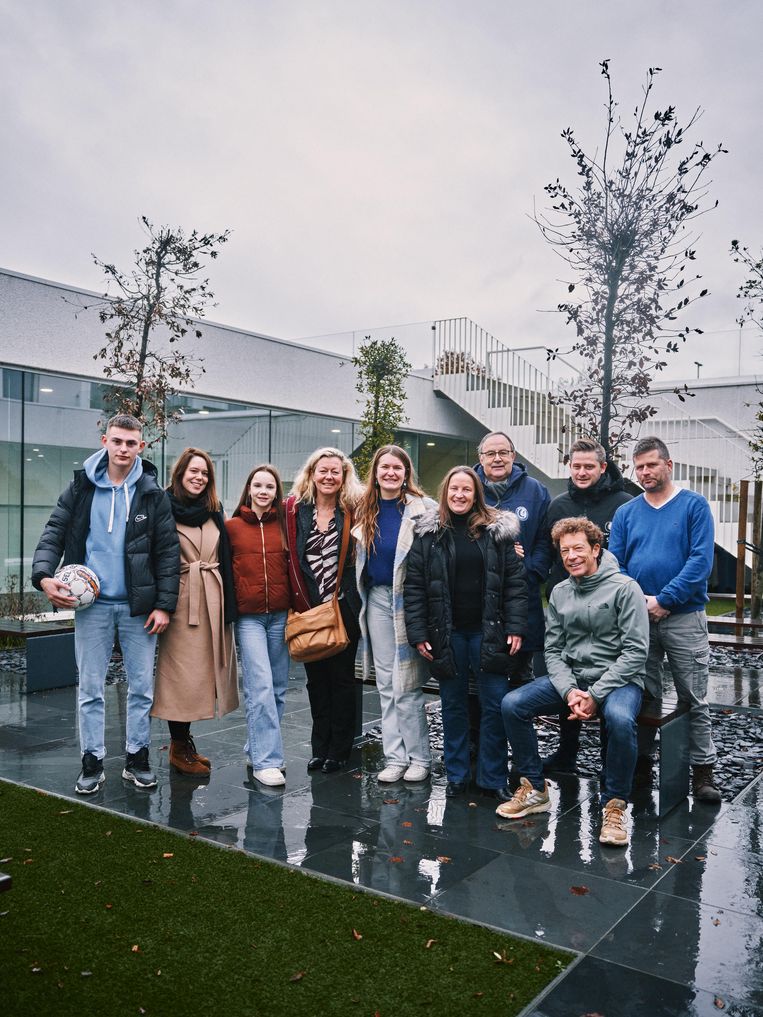 The fact that the young athletes were able to come here is due to the cooperation between a handful of partners. Starting with the Topsportschool, which is part of the GO!-atheneum on the Voskenslaan in Ghent. "That was obvious, not a question we had to think about," says school director Isabelle Janssens. "But this project could only succeed through the connection of the different organizations. If one of those partners dropped out, it would never have worked."
"You mustn't forget that they are alone here, there is no parental supervision," says Franne Balcaen of Tectura Groenkouter, specialized in reception education for non-native newcomers, OKAN for short. "It is not obvious that a teenager just takes on his responsibility. That lack is a real factor."
Trauma's

The young people live in the sports residence next to the Topsportschool. That belongs to the heritage of Sport Vlaanderen, another partner in this story. "We give them food and drink, offer shelter, do their laundry," says Dominique D'Hooghe of Sport Vlaanderen. "Everything to offer them a pleasant stay. But when they are alone, the traumas resurface and the home situation plays in their heads."
"Apart from the human aspect, it was important to us that their talent was not lost," emphasizes Jo Van Hoecke. So Kira trains in the top sports hall and Misha at KAA Gent. A club that has two feet in society with its Foundation – the community work has already received international awards several times.
"This story fits in very well with that", says Luc Dhaenens of KAA Gent. "What concerns us is: what will be the future of these guys? Will they be able to enter mainstream secondary education after their OKAN class? Getting a degree is a must. You can dream of FC Barcelona, ​​but eventually most of them will have to go to work."
First grader

"Phenomenal what has been done for those boys," confirms Bart Van Renterghem of Voetbal Vlaanderen. "It has been Warmest Week here for more than forty weeks." "I feel good in this country, in the future I would like to continue playing football here," says Misha.
He has talent, agrees Sven Vannerom, recruitment coordinator at KAA Gent. "Very present in the sixteen meters, scores easily. We can't wait to see him play games." Then a license must first be arranged, because he is still officially connected to FK Shakhtar Donetsk.
Although Misha dreams a little further than the first division from the Artevelde city. "Real Madrid, Barcelona, ​​Milan." The boy has ambition. Kira also has a sports dream. "I want to be able to participate in the Olympic Games someday."
Their Christmas wishes bring us back to the harsh reality of the day. "That the war will end soon", Misha hopes. Kira adds: "And that we can see the beautiful blue sky above Ukraine and the sea again."