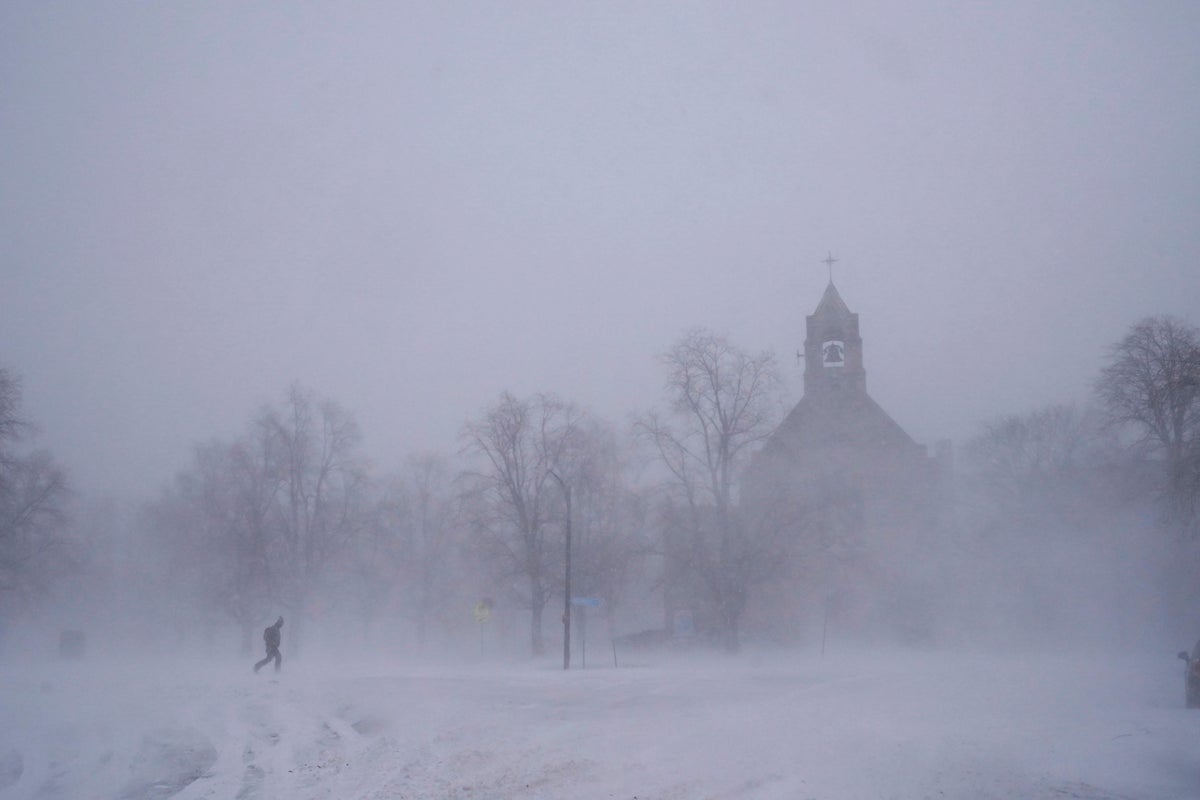 Millions of people sought shelter Saturday night and early Sunday in freezing temperatures, due to a massive storm that has killed at least 18 people in the United States. The storm trapped some people in homes in heavy snowfall and knocked out power to hundreds of thousands of homes and businesses.
The size of the storm was virtually unprecedented, stretching from the Great Lakes near Canada to the Rio Grande on the border with Mexico. About 60% of the US population was under some kind of weather watch or warning, and temperatures plummeted below normal from the Rocky Mountains east to the Appalachians, according to the National Weather Service.
More than 2,360 domestic and international flights were canceled on Saturday, according to flight monitoring website FlightAware.
Experts pointed out that explosive cyclogenesis, in which atmospheric pressure drops very quickly in a strong storm, had occurred near the Great Lakes, where it caused blizzards with snow and gales.
The storm unleashed all its fury on Buffalo, where hurricane-force winds and heavy snowfall paralyzed emergency services. The Governor of New York, Kathy Hochulsaid nearly all of the city's fire trucks were snowbound, and officials said the airport would remain closed Monday.
Heavy snow, cold weather and power outages the day before prompted some Buffalo residents to leave their homes Saturday for anywhere with heat. But with city streets covered in a thick layer of white, that wasn't an option for the likes of Jeremy Manahan, charging his cell phone battery in his parked car after nearly 29 hours without power.
"There is a shelter to keep warm, but it is too far for me to get there. Obviously I can't drive, because I'm stuck," Manahan said. "And you can't be out for more than 10 minutes without getting frostbite symptoms."
Mark Poloncarz, the administrator for Erie County, where Buffalo is located, said it took ambulances more than three hours to make each trip to the hospital and that the blizzard "could be the worst storm in our community's history."
Two people died Friday at their homes in Cheektowaga, New York, when emergency crews couldn't arrive in time to treat their health problems, he said. Another person died in Buffalo.
Ditjak Ilunga, from Gaithersburg, Maryland, was traveling with his daughters to visit relatives for Christmas in Hamilton, Ontario, when their truck got stuck in Buffalo. Unable to get help, they spent hours with the engine running in the wind-swept, snow-covered vehicle.
At 4 in the morning on Saturday and with almost no fuel left, Ilunga made the desperate decision to brave the harsh storm to reach a nearby shelter. He carried Destiny, 6, on her back while Cindy, 16, hugged her Pomeranian puppy and stepped in her footprints into the gusts of wind.
"If I stay in this car, I'm going to die here with my daughters," she recalled thinking, saying she thought they should try. She cried as the family walked through the shelter doors. "It is something that I will never forget in my life."
The storm knocked out power from towns from Maine to Seattle, and a major power operator warned 65 million people in the eastern United States of possible widespread blackouts.
Across the six states in the New England region, more than 273,000 grid customers remained without power as of Saturday afternoon, with Maine hardest hit, with some utilities warning it could be days before power is restored. .
In North Carolina, nearly 169,000 customers were still without power overnight, down from a peak of more than 485,000, but utility officials said rolling outages will continue for "the next few days."
In recent days, deaths associated with the storm have been reported across the country. Four people were killed in a crash involving about 50 vehicles on the Ohio Turnpike, four drivers were killed in separate crashes in Missouri and Kansas, a power company worker was electrocuted in Ohio, a woman was struck by a falling branch in Vermont, in Colorado found the body of an apparently destitute man in freezing temperatures and a woman died after falling into a Wisconsin river when the ice broke.
In Mexico, migrants camped out near the US border faced unusual cold as they waited for a Supreme Court decision on pandemic restrictions that prevented many from seeking asylum.
Vivian Robinson of Spirit of Truth Urban Ministry Church in Buffalo said she and her husband had hosted and cooked for 60 to 70 people, including stranded travelers and locals who had lost heat or power, and that they would spend Saturday night in church.
Many arrived in their clothes covered in ice and snow, crying, their skin red from the single-digit temperatures. On Saturday night they were preparing to spend Christmas together.
"It's touching to see the pain that they thought they weren't going to make it, and to see that we had opened the church, it gave them such a sense of relief," Robinson said. "Those who are here are having a great time. It will be a different Christmas for everyone".
___
Bleiberg reported from Dallas. Associated Press journalist Marc Levy in Harrisburg, Pennsylvania; Corey Williams, in Southfield, Mich.; John Raby in Charleston, West Virginia; Maysoon Khan in Albany, New York; Hannah Schoenbaum in Raleigh, North Carolina; Wilson Ring in Stowe, Vermont; and John Hanna in Topeka, Kansas, contributed to this report.