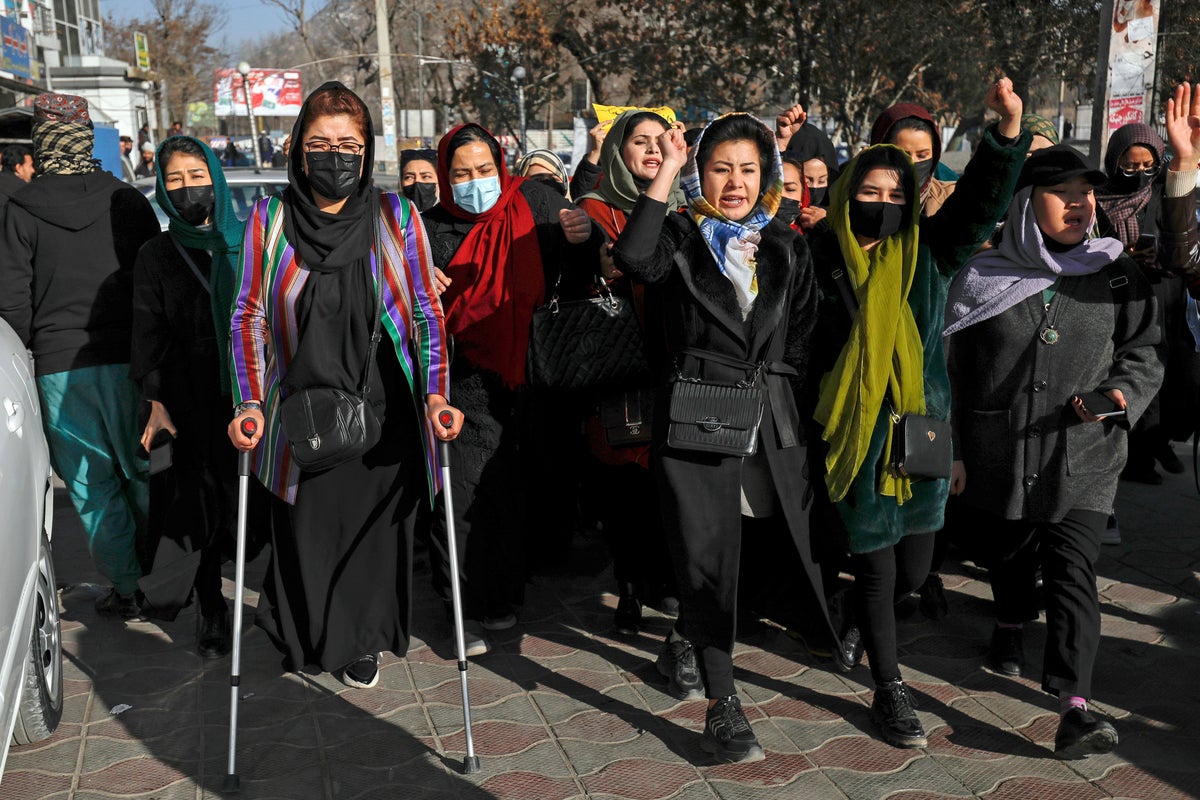 Turkey Y Saudi Arabia joined other Muslim-majority countries Thursday in condemning the decision of the Taliban authorities to ban women from universities, while about twenty women protested in the streets of Kabul.
In another sign of internal opposition, several Afghan cricketers have condemned the move. Cricket is a very popular sport in Afghanistan and the players have hundreds of thousands of followers on social media.
The country's Taliban rulers this week ordered women to stop attending public and private universities with immediate effect and until further notice.
The authorities have not commented on the decision or responded to the international condemnations, although a spokesman for the Ministry of Higher Education, Ziaullah Hashmi, said in a tweet on Thursday that a press conference would be held this week to explain it.
Despite initially promising a more moderate government that would respect the rights of women and minorities, the Taliban have been imposing their interpretation of Islamic or sharia law since they took power in August 2021.
They have barred girls from middle and high school, barred women from working in most jobs and mandated that they wear head-to-toe coverings in public. They are also prohibited from entering parks and gyms. At the same time, Afghan society, although largely traditional, has progressively accepted education for women and girls over the past two decades.
The latest criticism of the expulsion of the university students came from Turkey and Saudi Arabia.
Turkish Foreign Minister Mevlut Cavusoglu said Thursday that the ban was "neither Islamic nor humane."
Speaking at a press conference with his Yemeni counterpart, Cavusoglu called on the Taliban to change their position.
"What harm is there in the education of women? What harm does it do to Afghanistan?" she asked. "Is there an Islamic explanation? On the contrary, our religion, Islam, does not go against education, on the contrary, it promotes education and science".
Saudi Arabia, which until 2019 maintained harsh restrictions on women's movement, employment and other crucial aspects of daily life, such as driving, also urged the Taliban to change course.
The Saudi Foreign Ministry expressed "bewilderment and regret" that Afghan women were denied a university education. In a statement on Wednesday night, the ministry said the decision was "baffling in all Islamic countries."
Qatar, which has interacted with Taliban authorities, also condemned the decision.
Meanwhile, in the Afghan capital Kabul, some two dozen women marched on Thursday, chanting slogans for freedom and equality. "All or none. Do not be afraid. We are together," they sang.
In a video he had access to Associated Pressa woman said that Taliban security forces had used violence to disperse the group.
"The girls were beaten and whipped," he said. "They also took military women with them, who whipped the girls. We ran away, some were arrested. I don't know what will happen."
____
Associated Press journalist Suzan Fraser contributed from Ankara, Turkey