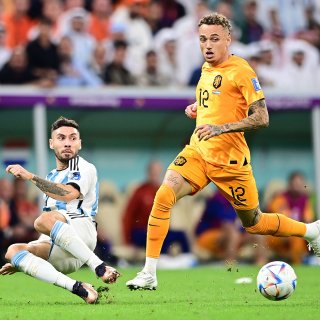 No traditional winter break this time, but a World Cup that thoroughly disrupts the normal course of events in the Jupiler Pro League. The winter training sessions of the Belgian clubs are in many cases already over, even before the holidays have started. Let's wait and see how all this will affect the transfer market.
"It is new for everyone", realizes Thomas Peeters, sports economist and professor at the Erasmus University in Rotterdam. "Although the World Cup will probably have a minor impact on their transfer period for the Belgian clubs. Few of our players got a big podium. That is very disappointing, so I don't think we should expect much from it. Morocco is the team with 'Belgian' players that has put down the most positive story."
Agent Gunter Thibaut (Quadrans): "Not many players from our league have left an unforgettable impression. Others are interested. For our player Haji Wright (United States striker, TTV) for example, who scored and played well, clubs have come forward."
In concrete terms, purveyor Club Brugge did not see any of its eight internationals excel, which actually applies to the 24 representatives from the Belgian league. Standard midfielder Selim Amallah hit the furthest, but is perhaps the most anonymous Moroccan in Qatar. Countries with multiple players from the Jupiler Pro League such as Canada, Ecuador, Mexico, Ghana or Belgium itself were eliminated in the first round of the tournament.
Selections complete

No large outgoing files often means little incoming. "Traditionally, it wasn't a great idea to spend a lot of money during the winter," says Peeters. "Now that will be even less the case. The selections are complete, with a few exceptions. Moreover, the clubs have already been on training and there is even less time to train players. Making adjustments in the course of January will be even more difficult."
Thiebaut: "With the big clubs, the need is relatively limited. Their search is very specific and position-oriented. They also want to be 100 percent sure. They used to say, "We'll do it." Now you feel that there is much stricter supervision."
Last winter, the Belgian first division players made 71 winter purchases against 84 outgoing transfers. In total, no more than 23 million euros was spent. A piece of cake compared to the amount spent last summer (117.5 million). This trend is expected to stagnate further. The top clubs do not seem to be planning to open the money bag this winter.
Relegation fight

Although the competition format can change that a bit. With five to six clubs still eligible for relegation, more than usual may be spent at the bottom. "I expect a lot of movement, especially in the basement," says Thiebaut. "For them, the choice is: not investing with a possible degradation as a result, or spending money in the hope of staying there. On the outgoing level, the 'little ones' also want to keep their players, where they used to always collect."
Peeters: "Teams such as Cercle or KV Oostende, whose owner has several clubs in their portfolio, are usually less likely to make panic purchases. They reason that in the worst case they can also 'test' players in second division. This is not the case for, say, Zulte Waregem. I can imagine that there is a different idea about second class. As a result, you may see a different reaction from them."
Thiebaut expects some movement in January, but mainly in the belly of the rankings. "Many top clubs have no money left over, certainly not for winter transfers. They throw money around a lot less these days. And that's actually a good thing."