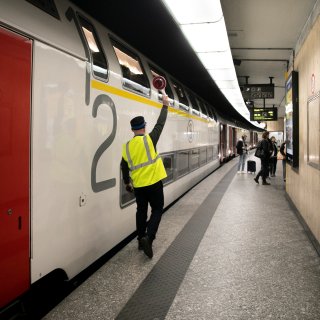 Extra early and late trains

Anyone returning from a concert in the Ancienne Belgique or De Vooruit should get home quickly by train. The same goes for those who start an early shift in the morning. The period between the first and the last train of the day has been extended considerably. The trains in Brussels will run an extra 5 hours per day. Broadly speaking, they drive 3 hours longer per day between cities. On local lines 2 hours. For example, if you have to get from Brussels to Antwerp tonight, don't take the last train at midnight, but at roughly half past two. The train must thus become a fully-fledged alternative to the car.
The plans fit in with a major expansion of the track. By 2032, there will be an average of 520 more trains per day on the Belgian railway than now, an increase of 14 percent. The number of kilometers completed increases by 10 percent, to 91.6 million kilometres. The promise is that at least two trains per hour and per direction will pass on major axes. Around the major cities there are at least four per hour.
The purpose of all this? 30 percent extra travelers in ten years.
More room for legs, bicycles and wheelchair users

At least half of all wagons currently on the road must be replaced by a newer one within ten years. This catching up movement is necessary, because today some of them are more than forty years old. That is why there are so many breakdowns, too short trains and delays these days.
The new wagons can accommodate an additional 30,000 seats. They are equipped with air conditioning, LED lighting, sockets and better mobile reception. There will be at least eight places for bicycles per train. The legroom is also increased. At least one carriage per train will be independently accessible for wheelchair users.
Unfortunately, not yet elevated platforms everywhere

Due to the corona crisis and the war in Ukraine, the government had to slightly adjust its sky-high ambitions for the railways. "We initially aimed for a Rolls-Royce, then we are now going for a solid Volvo," says the cabinet of mobility minister Georges Gilkinet (Ecolo). "That's still a lot better than a broken deux-chevaux like now."
The budgetary austerity is reflected in the stations, among other things. Only 176 of the 555 stations will be fully autonomous within ten years. This means that all platforms will be at the same height as the train, so that you can easily board the train with a pram or wheelchair. All lifts and guide lines for the blind must also be in order. This concerns twice as many stations as now, but 379 stations will still not be in order.
In total, there will be 51,300 additional bicycle sheds and 5,300 parking spaces. At least one SNCB staff member must be present in each station. New ticket machines with voice assistance should help digitally illiterate people with their purchase.
Group discount from four people

First the bad news: the planned 10 percent price increase in February is still going ahead. Apart from that, you can do interesting things later. There will be a system of regulated and non-regulated rates. The regulated rates are fixed, as they are today. They apply to young people, seniors and persons with an increased allowance. The standard ticket for a train ride will also remain. The train remains free for under-12 year olds.
The NMBS may apply all kinds of promotional formulas to the non-regulated fares to make the train more attractive. This makes a train ride cheaper for those who travel during off-peak hours, travel regularly or travel in a group. As far as the latter is concerned, there will be a group discount from four people. For example, the government wants to avoid that traveling in small groups is cheaper by car. There will also be a lower surcharge for bicycles during off-peak hours.
Not punctual? Less pennies

In ten years time, no less than 43.8 billion euros will flow to NMBS and Infrabel. That means a budget increase of 9 percent, although it will only really be felt from 2025. The years 2023 and 2024 will therefore be very difficult. All the more so because we have to step up a gear on many fronts at the same time. A social agreement must be concluded, urgent action must be taken to deal with the many delays and the outdated state of the rail network.
Dealing with delays is already becoming more difficult. From now on, punctuality is measured at 111 locations in Belgium, and therefore no longer just at the final station. There will also be an end to the exclusion of certain delays, such as due to works or rail runners. Concrete targets have been set for the number of transfers that must be achieved (at least 2,800 planned connections per day) and for punctuality (91 percent).
If those critical performance indicators (KPIs) are not achieved, the railway will receive less money. That bonus-malus can amount to about 5 million euros per year.
A railway vision for the first time in ten years

Ministers Jean-Pascal Labille (PS), Jacqueline Galant (MR) and François Bellot (MR) all gritted their teeth in previous governments, but now they have succeeded. The De Croo government signed the new management agreements for Infrabel and NMBS on Friday. This locks in the future of rail for the next ten years, along with the associated money. An important step for the railway, which has been in current affairs since 2012. The green mobility minister Georges Gilkinet (Ecolo) can also unpack with a substantial financial injection in the rail sector: 43.8 billion euros in 10 years.