From the fragile quest of two students in Brussels to the brutal crime in Baltimore: these are the 20 best series of the year.
20. House of the Dragon (Streamz)

Sharp dialogues, intrigue galore, a touch of nudity and the occasional main character who unexpectedly comes to an end. House of the Dragon handles for this prequel Game of Thrones back to all the elements that made the original such an addictive rollercoaster. And with success, as a viewer you were once again sucked into the ruthless battle for the Iron Throne after barely one episode. We are already eagerly awaiting season two, in which the dragons can finally get to work.
19. The Dropout (Disney+)

Met WeCrashed on Apple TV+ and The Dropout on Disney+, TV series about disgraced tech oracles have been pretty much a genre in their own right over the past year. The latter series stuck with us because of Amanda Seyfried's powerful portrayal of Elizabeth Holmes, whose knack for screwing things up more and more eroded her soul. And because a lawsuit last November landed her in the box for more than 11 years, that too.
18. Random Acts of Flyness (Streamz)

Season two of Random Acts of Flyness opts for contemplation, even though the visionary TV maker Terence Nance once again races manically through his favorite subjects: racism, cultural identity, gender, toxic masculinity. All the philosophizing about interdimensionality and the expansion of consciousness is by no means bite-sized, but if you persevere, you will discover a groundbreaking mindfuck that irresistibly dismantles American society. (SVS)
17. Babylon Berlin (Streamz)

In the fourth season of Babylon Berlin the horny panache of the 1920s gives way to the early thirties, and with it the uniforms and billets of Hitler's shock troops. It does suck a bit of the fun out of the pagan Berlin of the interbellum, which has been portraying this series for four years now. Especially when it turns out that Commissioner Gereon Rath (Volker Bruch) also starts to have very strange sympathies. (RME)
16. Chantal (VRT MAX)

A spin off of Home-grown, were we waiting for that? After all, that series about a few West Flemish weed farmers had more than one season and a few Christmas specials too many. But Chantal Vantomme dispelled the doubts in no time. Magisterially played by Maaike Cafmeyer, who seemed to exorcise a few demons from the past with this series, the superintendent of the Spoorkin police zone completely captivated the viewer.
15. Tokyo Vice (Streamz)

Michael Mann's TV Return (Miami Vice) is not a wild style exercise with white suits, Ferrari Testarossas and espadrilles, but a visually subdued truthchronicle of a young Western reporter in Tokyo (Ansel Elgort) whose investigative work brings him just a little too close to the Yakuza crime clans. Potent crime story spiced up with a dash Lost in Translation, based on a true story by journalist Jake Adelstein. (RME)
14. Uncles (Streamz/Play4)

A series that turned out so witty, funny and layered that any form of skepticism – the arrival of a refugee in West Flanders is the starting point of Uncles – was classified vertically. The series does not laugh at refugee Innocent, but at the provincial mindset of some country bumpkins. Uncles brilliantly captures the narrowed gaze with which figures such as Willy and aunt Carine look at the world. This series has the potential of a Flemish TV classic. (ELV)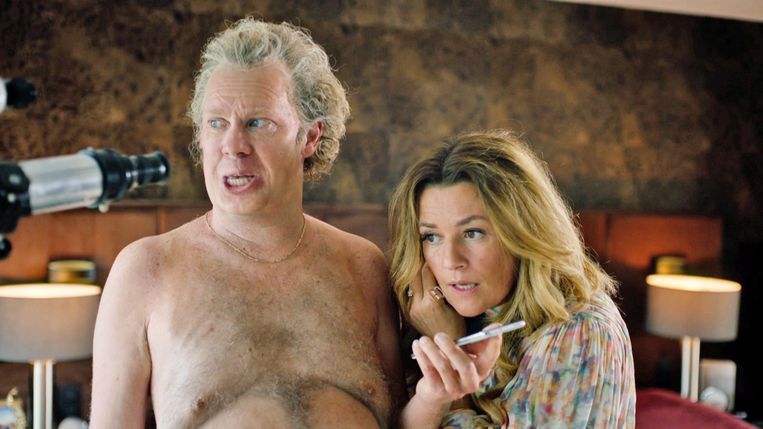 13. Black Bird (Apple TV+)

The most inspired villain of 2022? That must be Lawrence "Larry" Hall, from the murderous child molester Black Bird. The American actor Paul Walter Hauser portrays Hall as a sneaky weirdo with a thin voice: apparently a lame good guy, but in reality a ticking time bomb. Taron Egerton impressively plays a prisoner who has to extract a confession from Hall. Michaël R. Roskam directed the first three episodes. (SVS)
12. Borgen: Power & Glory (Netflix)

Never thought a resurrected The castle would be as intelligent and exciting as the original series. In Power & Glory is Birgitte Nyborg the Danish foreign minister and the dolls go dancing when oil is discovered in Greenland. America, Russia and China get involved, the news media sharpen their knives and before you know it Nyborg is stuck in a political tangle that you can't stop staring at. (SVS)
11. The Old Man (Disney+)

Until not so long ago, Disney+ was mainly a watering hole for Star Wars– and Marvel fans, but the parent group now also offers the best of its purchased quality factory FX. What us this year include The Old Man an introspective espionage series starring Jeff Bridges as a former CIA operativeoperative who, after thirty years, is overtaken by his past. One in which a few jars that have remained covered are suddenly smelling. (RME)
10. Abbott Elementary (Disney+)

A mockumentary in the style of The Office in Parks and Recreationalthough your inventor Quinta Brunson cannot accuse any moment of a lack of originality. Abbott Elementary is set in an underfunded elementary school in Philadelphia, where the headmistress pretends to be Beyoncé, the older guard protests against any form of progress and situations caused by the generation gap lead to vicarious embarrassment. (ELV)
9. Stranger Things (Netflix)

Finally a season of Stranger Things that feels as pressing and exciting as the very first. The battle between Good and Evil degenerates into one Nightmare on Elm Street-like confrontation between the so-called Losers Club – the young protagonists – and the demonic creature Vecna. With episodes well beyond the length of a feature film, succulent storylines (the genesis of Eleven!) and a caricatural eighties aesthetic, it was Stranger Things heroin for pop culture nerds. Even Kate Bush and Metallica cheered. (SVS)
8. Pandore (Streamz)

Made in Belgium, but seen too little in Flanders. The thriller series offers the same number of perspectives on a rape case through four different characters. The viewer gets to see great acting, just like a smart vision of #MeToo and a nice supporting role for our capital. Add to that a surprisingly strange dream sequence and a Flemish schlager in a karaoke bar, and you can safely speak of top fiction. (CH)
7. Euphoria (Streamz)

Superstar Zendaya and her young, talented colleagues turn themselves inside out in the second Euphoriaseason, which sees Rue Bennett's drug addiction escalate, pits best friends Cassie and Maddy against each other, and offers a glimpse into the life of dealer Fezco. There is drinking, sniffing, fighting and fucking that it is a pleasure, but Euphoria never feels gratuitous. The glitzy, video clip-like design is to die for and the soundtrack exquisite – we can never listen to Gerry Rafferty's 'Right Down the Line' again without feeling like we're in a dirty drug den. The closing episodes in which a stage performance is synchronized with dramatic flashbacks are of a rarely seen beauty. (SVS)
6. Roomies (VRT MAX)

Without a doubt the best that Flanders had to offer this year in the field of fiction. Roomies does not rely on flashy plot twists, but is great in its modesty. The series sketches an honest portrait of two student flats in Brussels: a vulnerable quest that is recognizable for all generations. The icing on the cake is the game of the protagonists. Rarely seen such a natural on TV. (CH)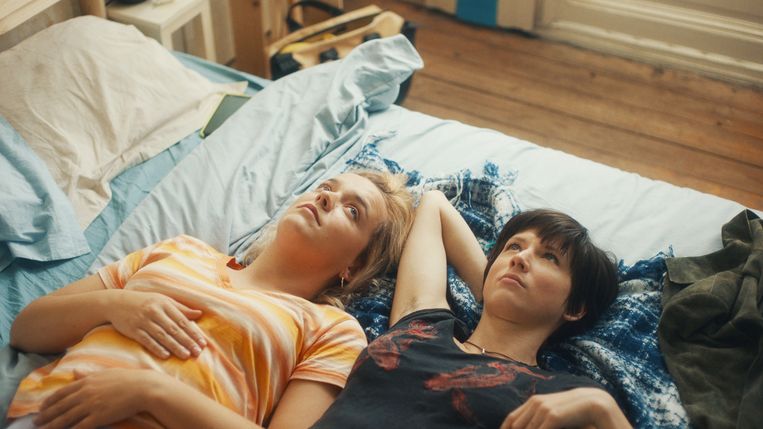 5. We Own This City (Streamz)

David Simon, the mastermind behind The Wireas an executive producer, sprinkled some stardust We Own This City, a crime series set in – surprise! —Baltimore. The blood-raw atmosphere is vintage The Wire. The star is called Wayne Jenkins, a corrupt cop who is portrayed in an unparalleled way by Jon Bernthal. Praise also for the scenario that zooms in on the administrative merry-go-round and the power games of the police system. (SVS)
4. The White Lotus (Streamz)

The hilarious and tragic sequel to the series that was showered with awards and praise last year. Only the character of Jennifer Coolidge remained, the second season of The White Lotus wonders in a branch of the hotel chain in Sicily, with new rich people and other hotel employees. Colorful characters such as Tanya McQuoid and Harper Spiller are the spiders in a web of satire, where the subcutaneous tension leads you to believe that everyone is capable of murder at a certain point. (ELV)
3. Better Call Saul (Netflix)

The sixth and final season of Better Call Saul ended with a smile and a tear, passing through all the emotions in between along the way. The brilliant drama series in which protagonist Bob Odenkirk changed over the years from lawyer Jimmy McGill to crook accomplice Saul Goodman, thus nestles itself in the top ten of best TV series ever made. What was once a flamboyant fringe figure in Breaking Bad became an iconic character. (ELV)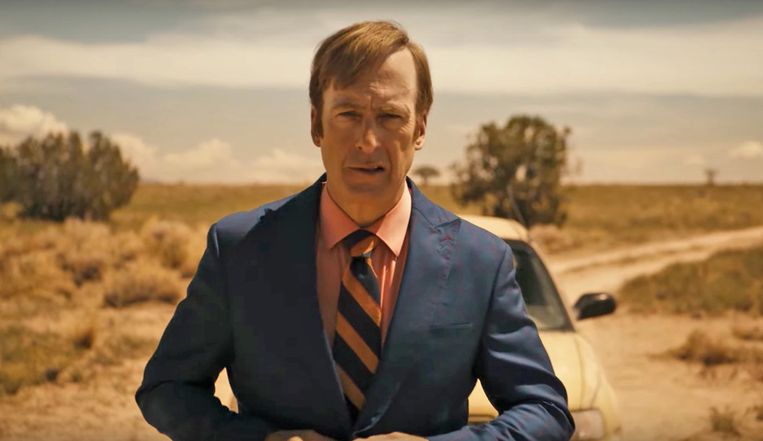 2. Severance (Apple TV+)

The employees of the secretive biotech company Lumon Industries have a chip surgically inserted that separates their office and private lives. Once in the elevator to the stark white workspaces, they don't remember who they are. Conversely, their private selves do not know exactly what kind of work they do. But what if there is suddenly a kink in that system? Brilliant dystopian drama with touches of Lynch. (SVS)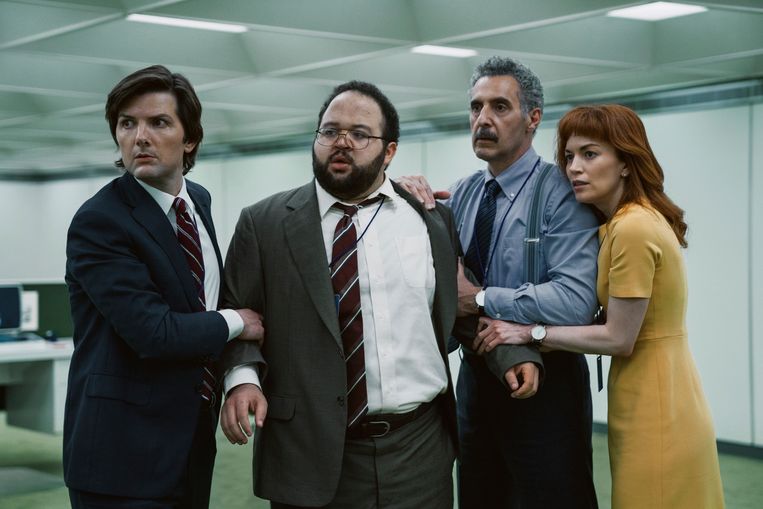 1. The Bear (Disney+)

With the most nervous camera work this side of NYPD Blue (1993-2005), and a top cast of actors who all portray people with small dents in the soul, was the eight-part restaurant chronicle The Bear on Disney+ last year's revelation. Jeremy Allen White (best known as the eldest brother from Shameless) plays a young star chef who, after his brother's suicide, has to take over the management of the family restaurant. Which of course does not run smoothly. The Bear is series fine food for viewers who find GaultMillau forks something for losers: the dialogues at times carve all the way to the bone. And the close-ups of kitchen preparations will make you want to fly into your kitchen yourself. (RME)