Published:
May 23, 2023 13:23 GMT

The racist rebukes he faced on Sunday in the match against Valencia continue to generate reactions around the world, while several complaints have been filed and the Prosecutor's Office has opened ex officio proceedings.
The case of the Brazilian soccer player Vinícius Junior, after he received racist insults last Sunday at the Mestalla stadium in the match that Real Madrid played against Valencia in a Spanish La Liga match, continues to generate controversy.
After escalating to the highest international instances of this sport and generating the rejection of racist acts and solidarity with the athlete on the part of numerous personalities, including the president of Brazil, Luiz Inácio Lula da Silva, Vinícius has posted a video on his social networks with images of different matches in which he had to put up with fans calling him "monkey", "fucking nigga" or chant "uh, uh, uh"alluding to the onomatopoeia typical of apes, among other insults.
At each ride away from home an unpleasant surprise. And foram muitas nessa season. Death wishes, boneco forcado, many criminous screams… Everything registered. But the speech always fell into "isolated cases", "um torcedor". No, these are not isolated cases. No episodes… pic.twitter.com/aSCMrt0CR8

—Vini Jr. (@vinijr) May 22, 2023
The video is accompanied by an extensive text in which the 23-year-old Brazilian player shows his anger with those responsible for this sport in Spain and even with the media for the way in which they treat the problem of racism.
"Every game away from home is an unpleasant surprise. And this season there were many. Death wishes, a hanging doll, many criminal screams… All recorded", begins his text.
In addition, he denounces that the discourse that is handled "always falls on 'isolated cases', 'an amateur'", but that in reality "they are continuous episodes spread across various cities in Spain (and even on a television show)".
Fucking black! Motherfucker! Bun! To the Bioparc! The screams of the ultras of the @valenciacf at the gates of Mestalla. Many of them have a pass and are part of the animation crowd that was supposed to be clean of Nazis. And most fans are fed up with them. pic.twitter.com/gHyN5Hw0OR

— Miquel Ramos 🥘 (@Miquel_R) May 22, 2023
Likewise, Vinícius questions "What is missing to criminalize these people and punish the clubs sportingly? Why don't sponsors charge La Liga? Doesn't it bother the television stations to broadcast this barbarism every weekend?" "It's not football, it's inhumane"he concludes in his publication.
All the support of Real Madrid
Real Madrid has shown all its support for the player in recent days. On Monday he issued two statements about this situation. In the first, he reported that he had filed a complaint to the Prosecutor's Office General of the State for hate crimes, while in the second it was even more forceful.
The club criticized the Royal Spanish Football Federation (RFEF) for not having taken any action in all this time because "with its passivity it has contributed to the helplessness and defenselessness" of the player. "The image of our football is seriously damaged and deteriorated in the eyes of the whole world," the club added on May 22.
For its part, Valencia CF, in addition to showing its rejection of the events that occurred, reported that would ban for life from the stadium to the fans involved and that one of them had already been identified.
That of Real Madrid is not the only complaint filed with the Prosecutor's Office, but also the Association of Spanish Soccer Players (AFE) has presented another together with the Movement against Intolerance. For its part, the Valencia Prosecutor's Office has initiated ex officio proceedings.
solidarity cascade
Apart from that of the Brazilian president, who called for serious measures to combat this problem, the acts that took place on Sunday and that have been common in Spanish football stadiums have earned the condemnation of many other people.
Zero tolerance for racism in football. Sport is based on the values ​​of tolerance and respect. Hate and xenophobia should have no place in our football or in our society. https://t.co/Ru7XwHlziQ

— Pedro Sánchez (@sanchezcastejon) May 22, 2023
The President of the Government of Spain, Pedro Sanchezasked "zero tolerance for racism in football". "Sport is based on the values ​​of tolerance and respect. Hate and xenophobia should have no place in our football or in our society," said the president.
He Higher Sports Committee, the official body, expressed its "round and energetic" condemnation of some incidents that it described as "intolerable and absolutely reprehensible." "The xenophobia shown by some madmen embarrasses us as a society and as a sport", he pointed out in a release official.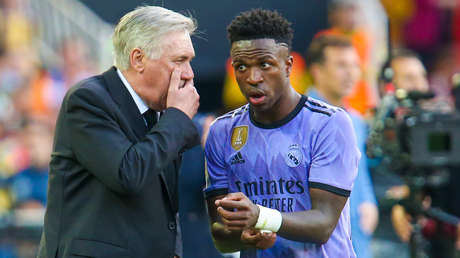 The president of FIFA, Gianni Infantino, also expressed his support for the Real Madrid player: "All our solidarity with Vinícius. There is no place for racism in football or in society, and FIFA supports all the players and all the players who have suffered it in their own flesh. The events that occurred during the match between Valencia and Real Madrid show how crucial this fight is," he said on his social networks.
Many sports personalities have wanted to show their solidarity with the Brazilian footballer, including numerous compatriots. Ronaldo Nazario, Mbappé, Rio Ferdinand, Neymar, Kaká, Jadon Sancho, Gary Lineker or Roberto Carlos have been some of those who have publicly shown their support.