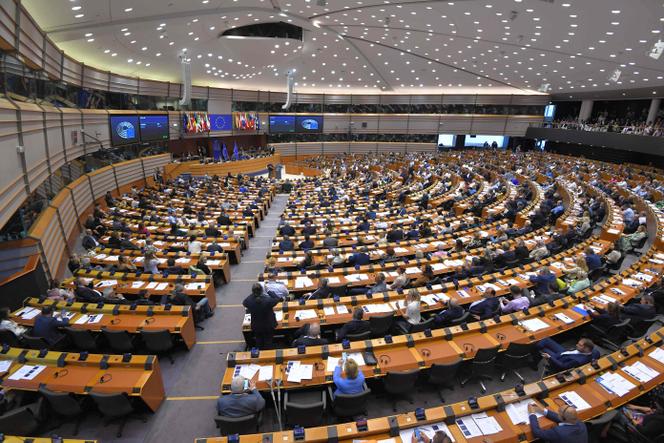 LETTER FROM BRUSSELS
Officially, the strategy developed by the European Union (EU) to develop its partnership with the countries of the Persian Gulf "remains a valid policy"assures Peter Stano, one of the spokespersons for the European External Action Service… After two years of slow maturation to align the Twenty-Seven on this strategy, the revelation, Friday, December 9, of a corruption a country in the region which is none other than Qatar, as well as in the Maghreb, Morocco, and the arrest of half a dozen protagonists for "corruption, money laundering and participation in a criminal organization" , including the Greek Eva Kaili, until the beginning of December vice-president of the European Parliament, puts Brussels in the embarrassment.
Since the outbreak of the case, the EU authorities have been careful not to target the emirate in their speeches. Neither the President of the European Council, Charles Michel, nor the President of the Commission, Ursula von der Leyen, the major figures of the EU, have mentioned the gas emirate by name since the outbreak of the affair. The only mention of M.me von der Leyen of Qatar, Monday, December 12, was to discuss the multiple cooperations in progress with Europe. "The scandal is not over and is still under investigation. So far, no country has been officially specified," the Commission is told.
As for Josep Borrell, the high representative of the EU, on a trip to Jordan, he met the Qatari foreign minister on Tuesday 20 December. In a tweet, he assured to have discussed with his counterpart "allegations against certain members and staff of the European Parliament. We agreed on the need for ongoing investigations to provide full clarity"he concluded.
In the European Parliament, in a fiery speech against corruption, its president Roberta Metsola refused, on December 13, also to mention the country… until she announced the referral to parliamentary committee of a law concerning the visa liberalization with Qatar and Kuwait. And then the vote on a resolution, Thursday, December 15, depriving access to the institution of any Qatari diplomat or lobbyist representing the interests of the emirate officially lifted the veil. It was only after this text that Doha reacted sharply against this questioning, citing a negative impact on future cooperation.
stop shot
For the EU, this is a real setback in the region. This unravels the patient work to reinvest in a hotly contested area of ​​the world today, where China is on the offensive to establish its influence there. Historically, the Twenty-Seven did not have structured and united relations there. If France, Italy or Germany carried out their own strategy there, in particular for the purchase of hydrocarbons, the European Union as such was absent.
You have 53.48% of this article left to read. The following is for subscribers only.