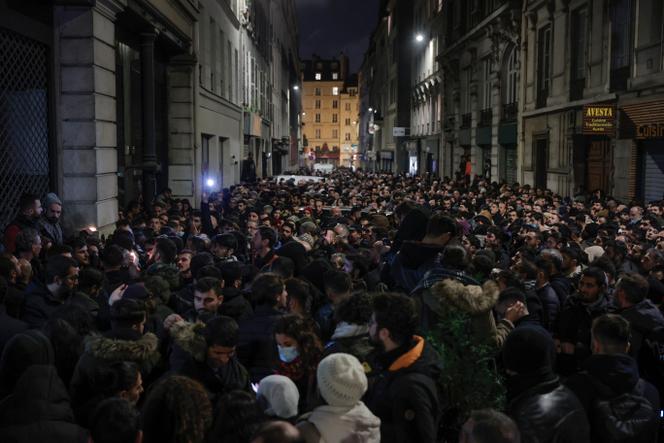 Three people were killed and three others injured on Friday, December 23 at the end of the morning, after a man opened fire on rue d'Enghien, in the 10e arrondissement of Paris, in a shopping district popular with the Kurdish community. The facts took place in the Kurdish Cultural Center Ahmet-Kaya and in two neighboring businesses, including a hairdressing salon, also Kurdish.
The Ahmet-Kaya cultural center, a rallying point for the community in the capital, is home to the Kurdish Democratic Center of France (CDKF), which is the main offshoot of the Kurdish nationalist movement in France and the legal front of the Kurdistan Workers' Party (PKK ), at war with the Turkish state and considered a terrorist organization by the European Union.
According to Kurdish sources, the shooter, equipped with a pistol and several magazines, killed three people on the steps and inside the cultural center. He even chased one of his victims who crossed the street to take shelter in a Kurdish restaurant on the sidewalk opposite. After this first shooting in cold blood, the assassin would have gone up the rue d'Enghien, which was very busy, to rush into a hairdressing salon frequented by Kurds. He fired again, injuring at least one person before the hairdresser-barber's clients disarmed him and overpowered him while waiting for the police, as shown by the establishment's video surveillance.
One of the victims had fought against IS
According to a provisional report, the three deceased victims are a woman and two men. According to Agit Polat, the CDKF spokesperson, the woman is Emine Kara, the leader of the Kurdish women's movement in France. She had fought and campaigned for thirty years in the four parts of Kurdistan, in Turkey, Iraq, Syria and Iran. According to Berivan Firat, a spokesperson for the CDKF, Emine Kara had taken part in the fight against the Islamic State organization (IS), arms in hand, during the reconquest of Rakka by Kurdish forces supported by the international coalition. She had since requested political asylum in France and had been refused refugee status by the French Office for the Protection of Refugees and Stateless Persons (Ofpra), a decision which she had appealed.
The two men are a Kurdish singer, a political refugee in France, and an old regular at the Ahmet-Kaya cultural center. Among the three injured men, one is in absolute emergency and two others in relative emergency. The Paris prosecutor's office has announced the opening of an investigation into murders and attempted murders, entrusted to the Regional Directorate of the Judicial Police (DRPJ).
You have 78.07% of this article left to read. The following is for subscribers only.