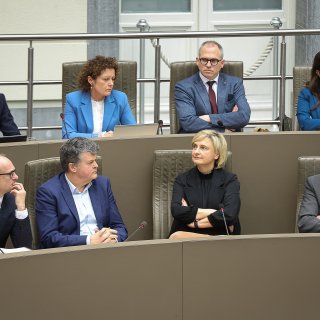 The Welfare Committee of the Flemish Parliament debated this afternoon on the consultancy assignment carried out by ex-minister Jo Vandeurzen (CD&V). for the Department of Welfare, for which he was responsible for ten years as a member of the government. Current minister Hilde Crevits (CD&V) explained in detail the procedures followed and reiterated that the rules were followed.
The minister does advocate "sharp and clear deontological rules". "I abhor the gray zone," it sounded. She therefore advocates a system that is comparable to the rules for former European Commissioners. For example, they are not allowed to lobby for matters that belonged to their portfolio for two years.
Crevits also gave figures to the committee about how much money has flowed to consultancy under the current Flemish government. Until March 31, 2023, this concerns an amount of 1.5 billion euros, of which 115.6 million euros went to contracts in the Welfare, Public Health and Family (WVG) policy areas. According to the CD&V minister, the WVG policy area is therefore not in the top three of the Flemish government.
'Unlikely'

But the amount of 1.5 billion euros caused the opposition to rear up. "This is unlikely," responded Groen co-chair Jeremie Vaneeckhout. "For that amount you can – quickly converted – recruit 4,000 civil servants. Hannes Anaf (Vooruit) called the amount "madness": "Doing more with less may sound good, but in reality the core tasks are endangered and a lot of money is spent on consultancy."
Within the government, the total figure is nuanced. "It seems like a gigantic total, but there is a lot in that total. Not only classic consultancy, but also the fees of lawyers, EIA experts, architects, IT experts. Traditional consultancy is only a very small part of the sum", it says. Jambon will soon release the detailed figures.
According to Minister Crevits, there is a debate and questions about the growing role of consultancy assignments in the government. The CD&V minister himself says he is "the biggest fan of a government that keeps its core tasks to itself". At the same time, in recent legislatures, the government has opted for a leaner government that "purchases expertise on a project basis" in specific domains.
The Flemish government has already spent 1,500,000,000 euros (one and a half billion) on consultancy assignments during this legislature, according to @crevits on the Welfare Committee. But in the meantime they are cutting government services to pieces and neglecting core tasks (see PFOS, see childcare, …)

Madness.

— Hannes Anaf (@HannesAnaf) 23 mei 2023
From 2019 to 2023, 1.5 billion euros was spent by the Flemish government on all kinds of consultancy assignments.

At the same time, savings have been made on civil servants for 15 years.

The cheese slicer is a farce. As a result, the government can no longer properly fulfill its core tasks.

— Jeremie Vaneeckhout (@JeremieVaneeckh) 23 mei 2023