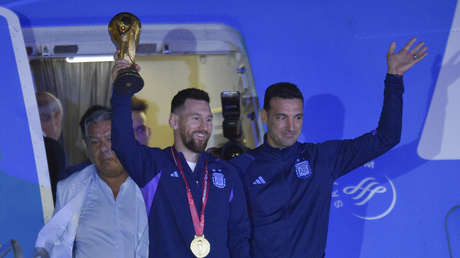 Published:
20 Dec 2022 05:24 GMT

Flight AR1915 of Aerolíneas Argentinas, in which the Albiceleste traveled, suffered several delays.
The Argentina team arrived in Buenos Aires on Tuesday after their victory in the World Cup in Qatar.
Lionel Messi, team captain, and the national team coach, Lionel Scaloni, were the first to get off the plane.
Flight AR1915 of Aerolíneas Argentinas, in which the Albiceleste traveled, suffered several delays. The plane was supposed to make a stopover in Rome, scheduled for 7 in the morning on Monday (local time), but it arrived at 2:30 p.m. collect local media. Thus, the arrival at the Argentine airport of Ezeiza, which was scheduled for 7:00 p.m., occurred early on Tuesday.
The players of the selection were received by the airport's FBO VIP Club, where the accredited journalists would also be.
Shortly before the arrival of the players, a red carpet was rolled out at the airport. Likewise, the selection was received by the musical group La Mosca.
In addition, the reception of the athletes at the airport was attended by the Minister of the Interior of Argentina, Eduardo de Pedro; the national director of Migrations, Florencia Carignano; the director of the Airport Security Police (PSA), José Glinski; the Qatari ambassador in Buenos Aires, Battal Al Dosari; and the president of Aerolíneas Argentinas, Pablo Ceriani.
The athletes went to the premises of the Argentine Football Association (AFA) in an open bus, with Messi, Ángel Di María, Leandro Paredes, Rodrigo de Paul and Nicolás Otamendi sitting on the roof of the vehicle. At a certain point, an electrical cable interrupted the route, so the players had to react quickly by ducking. However, the cap that Paredes was wearing fell off.
The Argentine Federal Police (PFA), the PSA and the AFA are coordinating their actions to guarantee the safety of the team. Among other things, the PSA deployed approximately 400 troops between the airport and Barrio 1, where the AFA premises are located.
After the athletes' arrival in Buenos Aires, the fans broke through the security line to approach the team. Many people sang, said words of encouragement, and threw gifts. In addition, some set off fireworks.
At noon, the team is scheduled to make a caravan through Buenos Aires bound for the Obelisk to celebrate the title with the fans.
At the same time, a crowd has gathered in the areas near the property and the airport, while numerous people have gathered at the Obelisk.
Last Sunday, the Argentina team prevailed beat France 4-2 on penalties, earning his third title of the World Cup.
On Tuesday, December 20, it was decreed national holiday by the Argentine Government so that the population attends the festivities of the selection that will be held in the Obelisk of the capital.