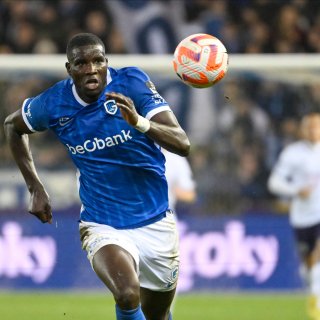 comeback

"That injury was a dark period. But I stayed mentally strong. I never doubted myself. I said to myself: you have to accept this. Push yourself to grow back to your top level. Together with the physical coach I exhausted myself. I trained harder than ever.
It was challenging not only physically but also mentally. That's why I want to thank my wife. She helped me stay positive. How? Well, when I got home she took my mind off things by talking about things other than football. Normally I come home and immediately watch the football on TV or look up football clips on YouTube, but now she took the remote away from me. "We're going to watch a movie together." Taking a break from football every now and then can do wonders.
"And look, now I'm the real Paul Onuachu again. My physical tests are excellent – ​​I run an average of two kilometers more per race than last season – and I am scoring well again. Hopefully now that the World Cup break is over I can start a new goal series soon."
The trainer

"I'm not going to lie: the difference between our coach from last season, Bernd Storck, and Wouter Vrancken is big. Storck had his own way of thinking. He wanted to do everything himself, rarely consulted his staff or the more experienced players. His will was law. The players felt uncomfortable under him. No one dared to be himself in his presence. Everyone was on tiptoe. If you did something wrong, you never knew how Storck would react. His approach was cold.
"The atmosphere is completely different under Vrancken. There is more freedom. He trusts his staff and players more. Every player feels good, even the bench seats. You can laugh once in a while, he makes a joke himself. But without being too indulgent. Everyone on the field realizes that work has to be done. Vrancken finds the perfect balance between hard work and fun. That's his strength.
And he brings clarity. Many coaches, like Storck, want to pump their tactical principles into it as quickly as possible. But it does not work like that. Vrancken keeps it simple. One step at a time. And so all players are involved in the story. Vrancken and all his assistants have the same drive as the players. They want to move up and win prizes."
The transfer wish

"The Golden Shoe is a great prize that I am proud of. But it didn't have the effect I had hoped for. He didn't change my life, while I thought he would open the way to a transfer. Everyone knows that I wanted to take a step higher. However, the interest was not there last winter after the Golden Shoe.
"After the wedding in the summer I had set my sights on a transfer again. This time there were clubs interested (including Wolverhampton, ABD/JB) but the puzzle pieces didn't fit together. When I got injured in July, I was allowed to cross it completely. No club is going to get an injured striker. That was a disappointment, because I believe I showed the right things to force a transfer. I have seen players here leave for a great club who have shown less than me.
"For some reason it doesn't want to work for me. Maybe I don't know the right people? Do I have the wrong manager? I don't know. Football is not always fair. Now I'm less obsessive about a transfer. Everything is going well at Genk. I score a lot and I like being here. But: if there is an interesting offer this winter or next summer, we will look at it together with Genk. Because I still dream of playing in a big league."