Published:
Dec 19, 2022 23:36 GMT

Moscow is open to communicating with the United States at various levels, but a reciprocal gesture is required from Washington, the foreign affairs spokeswoman said.
Washington's determination to maintain its hegemony at all costs puts the United States and Russia "on the verge of a direct confrontation", manifested This Monday the spokeswoman for the Russian Ministry of Foreign Affairs, Maria Zajárova, commenting on recent statements by the press secretary of the State Department, Ned Price, about the "blame" of Moscow for the deterioration of Russian-American relations.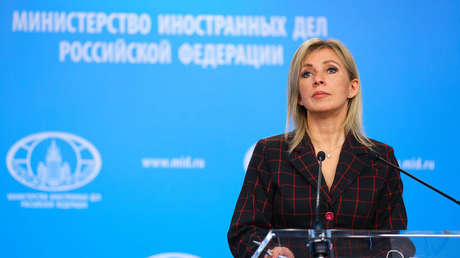 Russia, Zakharova said, "has sincerely sought" finding points of contact to make those relations more stable and predictable. However, after the "absolute fiasco in Afghanistan", the United States has found itself increasingly embroiled in a new conflict, supporting the neo-Nazi regime in kyiv with weapons and finances.
"This It is a dangerous and myopic policy, which puts the United States and Russia on the verge of a direct confrontation. For its part, Moscow urges the Joe Biden administration to soberly assess the situation and not spiral into a dangerous escalation. We hope they will listen to us in Washington, although at the moment there is no reason for optimism," Zajárova said.
In addition, he denied statements by US officials that the US Secretary of State, Antony Blinken, is in contact with his Russian counterpart, Sergei Lavrov. According to the Russian Foreign Ministry, the last time the two spoke, and by phone, was July 29. Even in subsequent international forums, the head of US diplomacy has avoided the Russian foreign minister.
In a statement, the spokeswoman noted that Moscow does not refuse to communicate with the United States at that or other levels, but for there to be at least minimal progress, she said, a reciprocal gesture from Washington.
"Rhetoric of good intentions, constantly heard from the US side between threats and 'five minutes of hate', cannot, by definition, be the basis for equal dialogue," he added.
"The tacit approval of the murder"
In a second statement Broadcast that same day, the spokeswoman addressed the issue of Western support for Ukraine and condemned its tacit approval of the mass murder of the Russian-speaking population in that country. Everyone, she said, must learn about "the lies and double standards of these pseudo-democracies, ready to destroy dozens of countries and deprive entire regions of the possibility of peaceful development just for the sake of imposing their own selfish interests."
"The United States and its NATO allies have turned Ukraine into a real testing ground for their modern weapons systems in combat conditions. None of them thinks that the price of such 'experiments' is counted in human lives," Zajárova condemned. .