News culture "People don't understand, it's impossible": Zerator debriefs after a week "in his bubble"
After an intensive week on the massively multiplayer online game World of Warcraft: Dragonflight, Zerator returned home for his last live of 2022. The opportunity to debrief on these seven days of play.
Summary
WoW Dragonflight: reboot for Zerator

"Coming back for a raid is always complicated"
WoW Dragonflight: reboot for Zerator
A dinosaur of French streaming, he is now one of the star personalities in the industry. Adrien Nougaret, alias Zerator, mobilizes fans and the curious throughout the year through various events. There is of course the ZEvent, a charity event bringing together personalities from the community for a weekend aimed at raising funds for an association, the ZLan competition which opposes streamers on many different games or the French Trackmania championships that he organizes in concert halls across France (the latest being Bercy). Despite its diversified activities (which is often not recommended when trying to build a reputation in the industry), Zerator continues to retain viewers while offering them content that it likes.
With that in mind, he's been playing World of Warcraft: Dragonflight a lot over the past few weeks. A game he enjoys and on which he regularly offers the same content: climb to the maximum level then spend several days in a hotel. A kind of bubble with other players in order to do the progress : a term used by guilds (groups of multiple players) when looking to beat all bosses in a raid (high-level Player vs. Environment content). An intensive week of play that saw Zerator and company take out all the bosses on normal difficulty but bowed out to the main antagonist on heroic difficulty).
"Coming back for a raid is always complicated"
This week at the hotel ended on Tuesday and Zerator resumed live on Wednesday to report on these seven days: his last live of 2022. Firstit will not progress from the other raids of the extension: all its components have been sold at the auction house and will not play:
Coming back for a raid is always complicated (…) People don't understand that it's impossible. The advantage with a beginning extension is that we all start from scratch. So there is a way to catch up. But it's not possible for the second and the third raid.
However, he specifies that he is impressed by the promises of Blizzard, which recently published its roadmap for 2023:
By the way, interesting today, Blizzard which published a schedule without the dates of 2023 and I found it super daring. Finally super amazing in quotes (…) Frankly, I think it hasn't happened for a long time.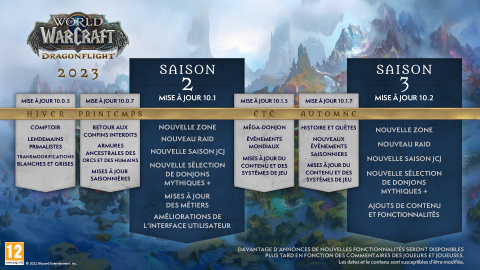 Indeed, Adrien Nougaret points out that Blizzard promises players three raids in twelve months. Something which, on paper, may seem substantial in terms of content. However, it should also be noted that some raids are sometimes smaller, that is to say with fewer bosses to kill. For once, this was observed on several occasions with Legion (Judgment of Valor with three bosses), Battle for Azeroth (The Crucible of Storms with 2 bosses). Looking at previous raid release schedules, it's not uncommon for Blizzard to release three raids over a period of fourteen or even thirteen months.