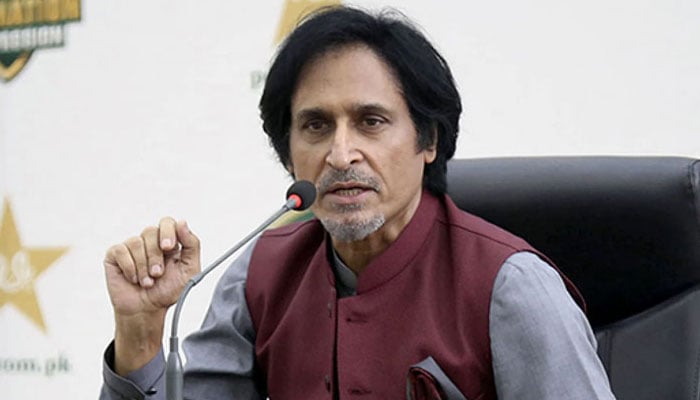 Chairman Pakistan Cricket Board (PCB) Rameez Raja has said that the expectations of our people are linked to Pakistan cricket. He said that PCB does not have its own stadium.
In an interview given to the British sports channel, Ramiz Raja said that the people of Pakistan have expectations from the cricket team, there is also criticism for the lack of performance.
He said that the work of the PCB chairman is a stressful one, it requires a lot of courage, security issues in the country are also to be seen.
Chairman PCB said that the weather in Pakistan also has to be taken into account because the weather here is quite bad, it is a challenge to organize the series keeping all these things in mind.
He said that it is also a big challenge to attract cricket fans towards Test matches, England and Australia have seen Pakistan hosting, it was good that the best teams of the world came here.
Ramiz Raja added that we want the fans to be between our stars and not have security guards there, but that is not possible right now, cricket is safe with security, so we will not compromise for now.
He also said that I think there will be no need for security for the series in Pakistan in the next 2 years.
The PCB chairman said that whenever a foreign team comes to Pakistan, the board bears the cost of 2 million dollars, all these expenses are on the district administration, police and security.
He said that England had canceled the tour of Pakistan last year, which was sad, that was the reason why PCB and ECB had increased distances then.
Ramiz Raja said that we have very old relations with England, we are the same, many of our relatives are connected there, my brother's wife is also an English lady and my nephew also lives in England.
He said that in our country stadiums and grounds have to be taken on lease from the district government, PCB does not have its own stadium.
PCB Chairman said that Faisalabad stadium is not our property, we installed lights in it and repaired it, but it is owned by the district administration.
He said that the local government in Faisalabad allowed the rally and the grounds of Faisalabad were destroyed due to this.
Ramiz Raja said that Pakistan and Bangladesh under-19 match wanted to be held in Faisalabad, but the stadium was destroyed due to the rally.
He said that a stadium in the style of Dubai Stadium is being built in Peshawar, currently it is difficult to hold matches of western teams there, but PSL matches will be held.
PCB Chairman said that we have stadiums in Lahore and Rawalpindi, we will soon improve the stadium in Faisalabad, we have a new venue in Sialkot.
He said that since he became the chairman, the salaries of the young cricketers of Pakistan have been increased.
Ramiz Raja said that I want test cricket to be fast like England plays, Pakistan also plays, actually no one wants to see 5-day cricket or even a draw.
He said that preparing Pindi's pitch was a big challenge, we wanted it to help reverses and spinners but it didn't happen.
Chairman PCB said that we do not have master curators, who can prepare a 5-day pitch for a Test match, a spin track should be built in Multan, which should have something to look at.
"I wanted to experiment with bringing in drop-in pitches, even hired an Australian curator but we didn't have success, we probably don't have the kind of clay required for the pitches," he said.
Rameez Raja said that whether India comes to Pakistan or not is their political matter, it is sad that BCCI said in the meeting that they are not going to Pakistan.
He said that India wants Asia Cup to be held outside Pakistan, we will resist this decision.
PCB Chairman said that we also do not want to go to India for the World Cup, our cricket fans are angry because of BCCI's narrative, cricket fans want us to express our reaction.
He said that I also want there to be a match between Pakistan and India, we also want to go to India and play, but things should be the same on both sides.
Ramiz Raja further said that Pakistan India series at neutral venue is not the fun of playing in Pakistan or India, we have been playing cricket even without India for 10 to 12 years.