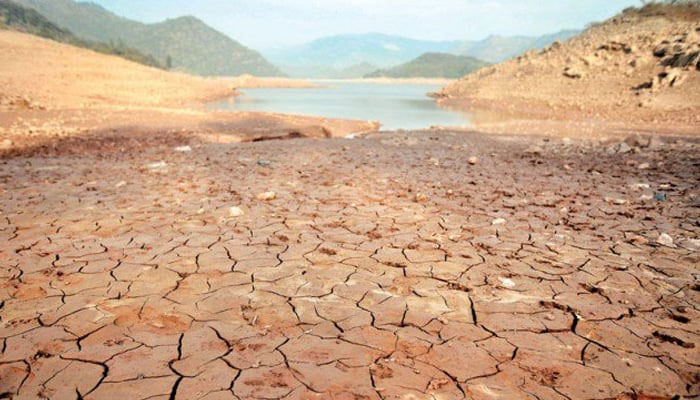 Experts have expressed fear that Pakistan may face severe shortage of water by 2025.
Dr. Zulfikar A. Bhatta, Founder Director, Institute for Global Health and Development, Aga Khan University, has on Tuesday called for serious steps to be taken for water security and nutrition in Pakistan.
Dr. Zulfikar A. Bhatta while addressing the conference titled 'Climate and Water Related Challenges in Pakistan: Tangible Solutions' said that both water and food are interdependent, so one cannot manage without the other. can be done
He said that water scarcity is as big a threat to the country's development as nutrition, as of 2016 Pakistan had only 1,000 cubic meters of water per person, which is a basic requirement.
The two-day conference brought together national and international scientists, policy advisors, experts, climate change officials from provincial and federal governments to share their evidence-based views on how to protect water in the country. And how to make people's good health possible.
The conference was organized by the Aga Khan University's Institute for Global Health and Development and the National Center of the United Nations Sustainable Development Solutions Network.
Experts reiterated in the conference that water scarcity has become a serious threat to Pakistan's sustainable development and economic growth.
Apart from surface water, Pakistan's groundwater resources and the final reservoirs of water supply mainly for irrigation in the country have exceeded their critical limits.
According to experts, if this situation continues, Pakistan may face severe shortage of water by 2025.
James Wescott, a professor at the Massachusetts Institute of Technology, who was present at the conference, also spoke about climate change and serious water problems in Pakistan's Indus Basin.
He expressed serious fears of increasing flood and drainage problems by 2050, especially in the lower Indus basin.
We must support a bold and pragmatic approach to reconstruction, including water and climate research networks and Indus Basin models with health and well-being at the core, he said.
Dr Nosheen H Anwar, who participated in the conference from Karachi Oberon Lab, emphasized that Pakistan needs to take significant steps to control rising temperatures and heat waves.
He said that Pakistan needs affordable and sustainable energy to control and adapt to rising temperatures.
According to experts, according to the World Resources Institute, Pakistan is 14th among the 17 countries in the world, but this fear of water scarcity is only one way to ensure water security in the country. Like challenge, it means that the situation can be controlled if the management takes better measures.
Just as some of the most water-scarce countries in the world, including Saudi Arabia and Namibia, have effectively secured their water supplies through proper management.
It should be noted that despite Pakistan's dependence on a single river and unreliable water infrastructure, about 96 percent of the country's freshwater is used for agriculture, and this sector accounted for about 23 percent of the country's GDP in 2021. .