By The editorial staff · Photos by Cécile D. · Published on December 23, 2022 at 11:26 am
Does an open-air exhibition in Paris sound familiar to you? We reveal the cultural and free nuggets that await you in the capital. Something to cultivate while getting some fresh air!
The weather is good, the sky is blue, so you feel like walking through the streets of the capital. This is a great decision: you can get some exercise and feed your mind at the same time. And when you are told that Paris is a open-air museum, it's not for nothing ! The culture is also lived in the open air in the capital throughout the year (but especially on sunny days!)
beautiful expositions are installed in plein air everywhere under the sky Paris. Sculptures, photographs, paintings, contemporary art installations, street-art… Let yourself be surprised by these enchanting works the streets of Paris. A good plan to grow free alone, with family, as a couple or with friends!
Attention, this guide is updated regularly over our discoveries, so if you are fond of this kind of outdoor outingsdo not hesitate to keep this page in your favorites and to consult it regularly so as not to miss any good plan !
What are the exhibitions to discover at the moment in the streets of the capital? Let's go for a long artistic stroll! Follow the guide.
Current free outdoor exhibitions in Paris and Île-de-France: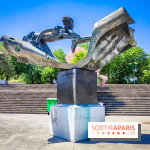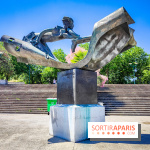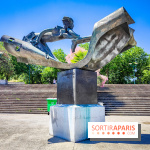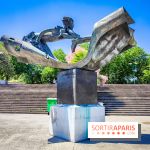 The Outdoor Sculpture Museum: a free artistic stroll in the heart of Paris
Do you know the open-air sculpture museum? Located in the square Tino Rossi, in the 5th arrondissement, this small museum offers us a free cultural stroll along the banks of the Seine, in a magnificent bucolic setting. [Lire la suite]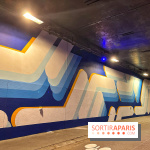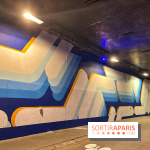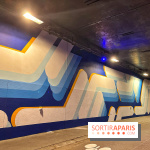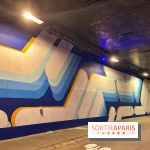 Paris: the Tuileries Tunnel transformed into a street art gallery until 2023 – our photos
The Tuileries Tunnel takes on colors! A dozen artists covered the Parisian tunnel reserved for soft mobility for two weeks with colorful frescoes, visible until July 2023. [Lire la suite]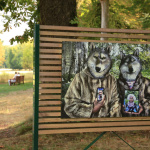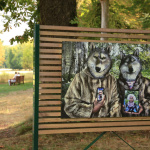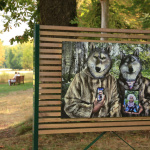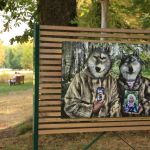 And that's all, the outdoor photo exhibition to discover at the Domaine de Chamarande
Take advantage of a walk in the park of the Domaine de Chamarande to admire the free exhibition And that's all… From July 30 to December 31, 2022, let yourself be surprised by these curious works of art. [Lire la suite]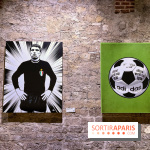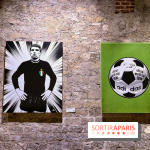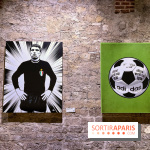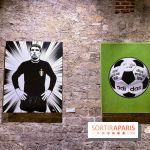 Completely football, the sports exhibition to see for free at Bercy Village
Mbappé, Zidane, Maradona, Messi… The football stars are in the spotlight at Bercy Village. Greg The illustrator unveils his works on the walls of the leisure center from September 22, 2022 to January 15, 2023, with the free exhibition Complètement foot! [Lire la suite]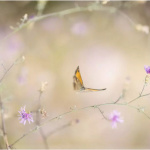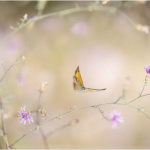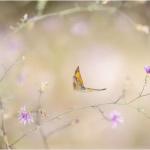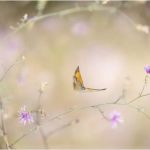 Les Mini-Voltigeurs, the outdoor photo exhibition to discover at the Jardin des Plantes
They twirl all around us, creating real aerial brooms: discover these Mini-Voltigeurs, stars of the photo exhibition to be discovered on the gates of the Jardin des Plantes, from October 21, 2022 to May 14, 2023. [Lire la suite]
Upcoming free outdoor exhibitions in Paris and Île-de-France: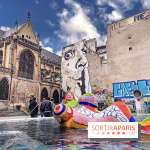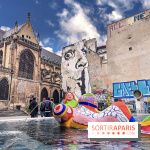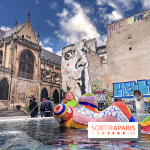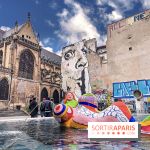 Contemporary public works of art to discover in the streets of Paris
Paris is an open-air museum! If you are into contemporary art, we invite you to discover the mythical works that await you in the capital. [Lire la suite]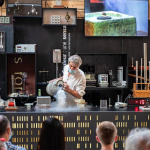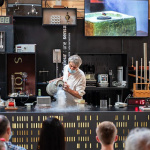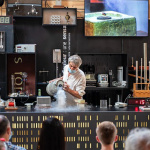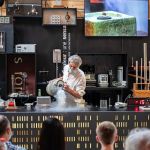 Les Etincelles at the Palais de la Découverte, where science puts on a show!
Come and discover the Sparks of the Palais de la Découverte, the ephemeral structure that replaces it in the heart of the 15th arrondissement of Paris, science bath guaranteed! Dozens of workshops and a planetarium will amaze the curious: Mathematical recreations, the presentation on earthquakes, the discovery of the animal world with the ant terrarium, the geological walk on Mars, the workshop with the Thymio robot, the celestial stroll at the Planetarium…
[Lire la suite]