Sustainable living, long a goal of those concerned about the environment and climate change, is now also great for your wallet. The raging inflation and sky-high bills are therefore making more and more Belgians dream of a self-sufficient life. But how realistic is life without a water or electricity grid? Can you manage with vegetables from the garden and trade with the neighbors? Is rainwater healthy? And won't you stink if you never use soap? Six experts by experience have each perfected their own variant of an environmentally friendly life. Today: Laura Brusselaers and Jonas Boons.
Anyone who dreams of a tiny house in the woods will encounter building regulations and sky-high land prices in Belgium. That is why Laura Brusselaers and Jonas Boons in their twenties went to Estonia, where they built a house of wood and mud. There is no water supply or electricity, and they eat vegetables from their own garden all year round.
Why did you choose such a life?

Laura Brusselaers: "I didn't find my way at school and have always liked to retreat to nature. When I was 12, my parents sent me to a nature camp in the Ardennes, and that's where my eyes opened. We lived in yurts, swam naked in a lake and went horseback riding in the woods. Then I knew: this is how I want to live."
Jonas Boons: "Luxury has never been important to us. We lived in Laura's grandmother's garden for two years, in a garden house of 12 square meters. I worked as a geologist and Laura ran a tipi through Airbnb. That way we could save."
How did you end up in Estonia?

Boons: "We were looking for silence, nature and privacy, and we wanted to build our house ourselves. We also dreamed of growing vegetables and taking care of animals. Under no circumstances did we want to take out a loan, because then you have to get into the rat race. We soon realized that we could not buy a hectare of green land in Belgium, and that we would also run into bureaucracy."
Brusselaers: "I had already worked as a volunteer on eco-farms in Estonia. Online we found a piece of land of 1.8 hectares on the island of Saaremaa with a forest, a barn, a holiday home and a well. There were a few farms nearby, and half an hour's drive away was a town of seventeen thousand people. It was perfect."
Due to the corona crisis, you had to buy the plot of land online, and Jonas had never set foot in Estonia. Wasn't that risky?

Boons: "An acquaintance of ours filmed and assessed everything for us on site. We already knew that much more is possible in Estonia than in Belgium. For example, up to a floor area of ​​60 square meters you can build something yourself without an architect, and up to 20 square meters you don't even need a permit.
"The purchase went smoothly. We paid 21,000 euros, plus 80 euros for notary fees."
In the summer of 2020 you arrived there in a forest cabin without connection to water, electricity, gas or sewerage. How do you make that livable?

Boons: "We immediately installed solar panels, cleaned the well, connected a pump and installed a compost toilet. We camped in the cottage of 8 square meters. The first winter it froze 20 degrees below zero. We had to heat at night to prevent ice from building up on our sleeping bags. We cooked in the snow and washed in a zinc tub. We lived like that for a year and a half."
In the meantime, you built a tiny house with wood and clay in a short time.

Brusselaers: "It is 40 square meters in size and consists of three walls and a glass wall facing south: small and simple."
Boons: "We found wood in the woods and at the joinery nearby, and we used reeds for insulation. We dug out the loam for the finishing of the walls. If you mix that with water and dried fibers of straw or cattail, it becomes a kind of plaster. In the same way we built a conservatory, two showers, a chicken coop, a goat shed and an enclosure. The entire project cost us 55,000 euros, including the second-hand car and the animals. And we did everything ourselves."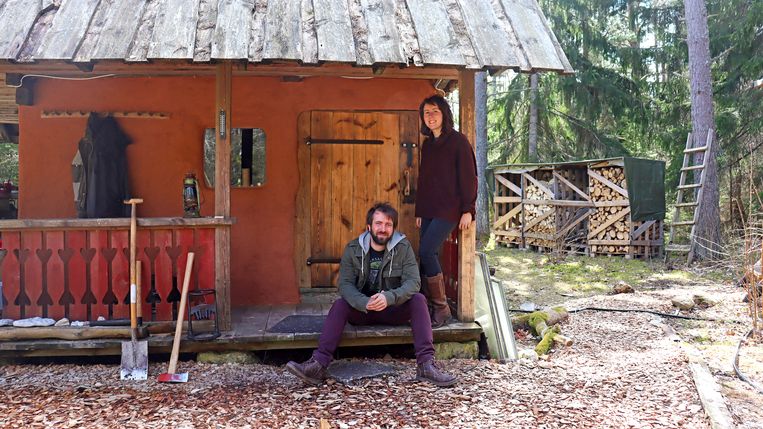 How self-sufficient are you?

Boons: "In the winter, we pump the water from the source into two containers that are located in the heated part of our house. Thanks to a gas boiler we can shower, and we have an infiltration basin for the waste water. Twelve solar panels and a battery system provide electricity for three days. In the winter it is dark for up to eighteen hours a day, so we run a generator twice a week.
"We live to the rhythm of the seasons. In the winter we cook on gas and on the wood stove, in the summer we switch to electricity. We only have a refrigerator in the summer, in the winter we use a box in the ground."
Brusselaers: "We turned an open space in the forest into a vegetable garden. A hell of a job, but now we harvest vegetables and potatoes for a whole year. In the summer I make a lot of stews and sauces as winter supplies and I experiment with fermenting. Our chickens provide eggs, and I make yoghurt and cheese with the milk from our goats. We exchange them with the neighbors for honey and fish. We go to the shop for rice and flour, and we buy meat from farmers or hunters."
In you videos on YouTube you seem to be living your dream. Have you never had a weak moment?

Brusselaers: "Once, when Jonas became seriously ill. He had been complaining of headaches and fatigue for some time, but the doctors couldn't find anything. One morning he lost feeling in his arms and legs. In the hospital it turned out that he had a life-threatening meningitis, which he had contracted from a tick bite. We were in the middle of the corona crisis, so I was not allowed to visit him. Then I missed my family and friends enormously."
Boons: "After ten days I was allowed to go home, but I was weakened, I had balance disorders and couldn't concentrate. According to the doctors, it could take another eight months. Then we doubted whether we would not better return to Belgium. Fortunately, my parents came to help us."
Do people have an overly romantic view of a self-sufficient life?

Brusselaers: "Absolutely. It's not just about beautiful sunsets and floral dresses. It's also just a lot of mud and poop (laughs)."
Boons: "It seems simple, but nothing is obvious. If you don't cut wood, you'll be cold. You can never do nothing for a week, but it still doesn't feel like work. We don't have an agenda, we organize our day as we want. It's the kind of life where you don't need a vacation. That is also not possible, because the animals need us."
How do you earn your sandwich?

Brusselaers: "I make wood engravings and sell them on Etsy (online marketplace for vintage products, ed.), and we rent out the holiday home via Airbnb. In the longer term, Jonas wants to work as a woodworker or blacksmith. We don't need much, because we spend a maximum of 500 euros per month. Our only fixed costs are our internet and mobile subscription, waste collection and the car. You can really live differently, even if you don't have much money, but you have to dare to jump."
Do you see a future with children here?

Brusselaers: "Hopefully so. And it would be absolutely fantastic if we could teach them at home."
© There