It should have been a fairy tale, but Radja Nainggolan's story at Antwerp did not have a happy ending. An e-cigarette eventually led to the final divorce, although a series of other irritations preceded it. 'Nainggolan did not fit into the 'high performance' environment that Mark van Bommel wants to create.'
August 13, 2021: all cameras are focused on the Bosuil that day, because Radja Nainggolan (34) signs with Antwerp. The recruitment of Nainggolan is the Belgian transfer of the summer, not only because 'Il Ninja' is an extremely talented football player, but also because he is a figure that leaves no one unmoved. The fact that he is also a true Antwerp native is seen as an additional plus. Shortly after signing the contract, Antwerp chairman Paul Gheysens let slip that he would "rather pay two million a year for Nainggolan than three million for Vanaken". A statement that has haunted Gheysens ever since.
Slumbering ankle injury

Because, to be fair: Nainggolan's passage near Antwerp was not an unqualified success in terms of sport. In his first season, Nainggolan was good for 37 official games under Brian Priske, three goals and three assists. Which in itself is rather meager for a player with an annual wage of two million. The fact that Nainggolan decided the derby against Beerschot and in between excelled in the top match against Anderlecht was nice and nice, but too often the star purchase brought mediocrity. Part of that had to do with a dormant ankle injury.
A few extra-sporty antics quickly caused annoyance in the boardroom. When Nainggolan was caught behind the wheel with one too many drinks a week after his transfer, chairman Gheysens and co were already 'not amused'. Then in October 2021 a video leaked in which Nainggolan laughed with a blown away piece of roof from the Bosuil Stadium ("He has put up a good roof.") Gheysens was not happy about that either.
The start of the new season should also mean a new beginning for Nainggolan. The player himself was convinced that after a much-needed ankle operation in May, he would reach his very best level again. During Antwerp's summer internship in Austria, Nainggolan occasionally had to train separately with a small group, because the new coach Mark van Bommel did not consider him ready for the real work after the conscious operation. Nainggolan visibly disagreed, but was somehow stimulated by it. The veteran grew in preparation and even started the 2022-2023 campaign strongly.
"Not so fresh" at training

But that didn't last. Nainggolan remains Nainggolan and also wants a life outside of football… On de Bosuil you can hear that Nainggolan did not take enough care of himself and was once even sent back from training by Van Bommel because he presented himself "not so fresh" at the club. "There have never been major conflicts, but eventually it became an accumulation of petty frustrations," an insider told us. "Nainggolan's way of life did not fit into the 'high performance' environment that Van Bommel wants to create." As soon as direct competitor Jurgen Ekkelenkamp had found his feet at Antwerp, Nainggolan's number of playing minutes steadily declined.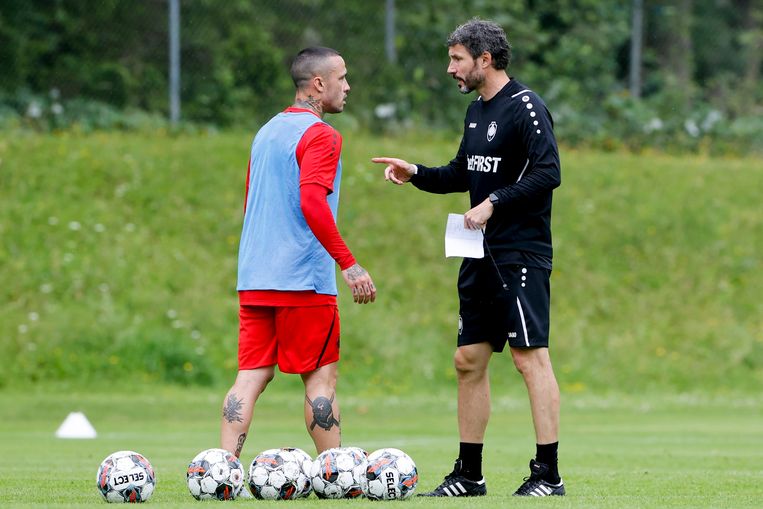 Because Nainggolan still had his footballing qualities and, according to our information, has always remained well in the group of players, it was initially Antwerp's intention to simply keep up with him. Two new incidents – driving without a license and vaping just before the competition match at Standard – caused a change of course in mid-October this year.
Vermeeren's ultimate push

Nainggolan first flew to the B-squad and now his contract is being dissolved by mutual agreement. The fact that youth product Arthur Vermeeren (17) is doing very well in midfield gave Nainggolan perhaps the ultimate push towards the exit. In the meantime, chairman Gheysens buried the football player Nainggolan: "Disciplinary, he is no longer able to live like a top athlete." Could Nainggolan be able to answer him one more time on the field?