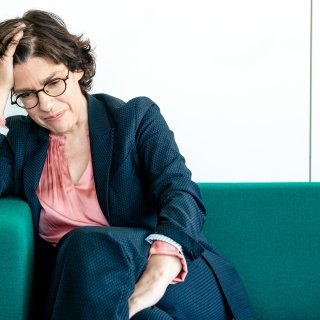 A 'secret' trip to Berlin, nightly video meetings and endless tinkering with commas: Minister Tinne Van der Straeten (Green) has spent a lot of energy on the fight for a European gas ceiling. Successfully. yes right?
You know The Fantastic Four: the four comic book heroes who have made the transition to cinema, led by The Thing – a kind of clay golem. But do you also know The Fanatic Four? That is the 'pet name' that has already been used in European circles to refer to the ministers of energy from Belgium, Greece, Poland and Italy.
Since the start of the war in Ukraine at the end of February, Belgium, Greece, Poland and Italy have continued to push within the EU – sometimes ad nauseam – for a price cap on gas to better protect consumers against high bills. Ten months and a series of summits later, we succeeded. An agreement was proposed on Monday.
From February 15, Europe will limit gas prices using the long-awaited price cap. It comes into effect if the European gas price is above 180 euros per megawatt hour for three working days. The gas price is currently just under 100 euros, but last summer we spent a long time above 200 euros. At the end of August just above 300 euros.
To prevent tankers with LNG (liquefied gas) from avoiding Europe when offers are higher elsewhere in the world, the European Union has opted to make the price cap dynamic. At the insistence of Germany and the Netherlands, the price ceiling will rise in line with the international market price of LNG, plus a 'bonus' of 35 euros per megawatt hour.
Germany

According to Minister Van der Straeten, the ceiling will "protect families and companies against excessively high prices".
Today, we reached an agreement on a proposal for a market correction mechanism to protect citizens & economy against excessively high #EnergyPrices.

From the start there was a common goal: keeping prices under control & securing security of supply. Today, we achieved this goal. pic.twitter.com/Fmg1fpfTpj

— Tinne Van der Straeten (@TinneVdS) 19 december 2022
As a member of The Fanatic Four, Van der Straeten, together with her cabinet and (scarcely staffed) government department of Energy, has devoted a great deal of time to the struggle for the gas ceiling in recent months. Step by step, Van der Straeten has built a coalition of fifteen member states through a series of bilateral talks with EU colleagues.
A coalition that proved to be strong enough on Monday to get Germany moving. An achievement, because Chancellor Olaf Scholz has had only one thing on his mind since the Russian invasion: to ensure the gas supply of his industry at all costs. A European price ceiling is then a risk.
Van der Straeten herself has been urging her German counterpart and green colleague Robert Habeck for months to talk to Scholz. Including during an informal negotiating trip to Berlin.
Difficult

But, as often, there is a 'but'. Many big names in the energy world are not particularly enthusiastic about the new price cap.
Christian Zinglersen, CEO of the European energy regulator Acer, says to the Financial Times that it is a "difficult" dossier that is "unpublished and untested" and on which he "does not really rely" to avoid price spikes like this summer. According to him, "a lot of political bandwidth" was used to get the ceiling through. Understand: too much.
For economist Helen Thompson (Cambridge), the price ceiling is a dead sparrow at best. And in the worst case, a threat to supplies. "I think the German position shows a better understanding of global gas markets," she says The time. Thompson refers to China's expected economic revival. A country hungry for LNG.
Simone Tagliapietra of think tank Bruegel tweets: "The energy crisis in Europe is an imbalance between supply and demand (…) To restore this balance, EU countries must do two things: minimize energy demand and create alternatives. maximize energy supply. This is the only way out. Not the price cap."
you?
Also in our own country there is little cheer about the price ceiling. Not in the Wetstraat itself. Vooruit, through member of parliament Kris Verduyckt, calls it a defensible construction, but "it doesn't really make us enthusiastic, no".
Neither do experts. Ivo Van Isterdael, chief advisor at the regulator CREG: "Belgium has done an excellent job given the circumstances. But the end result is what it is. You can't actually speak of a price ceiling, because there is no limit as long as our gas price does not exceed the international LNG price by more than 35 euros. In principle, we could pay more than 300 euros per megawatt hour again next year."
Bloomberg's calculations show that, in retrospect, the price cap would have worked for 40 days this year. Not coincidentally in late summer – the moment when Germany, among others, went full gas hunting for the winter. Van Isterdael himself arrives in 22 days.
Mentally

Thijs Van de Graaf (UGent) judges nuanced. "I disagree with colleagues who say that the price cap – which is indeed more of a price correction – means nothing. It is certain that we paid too much for gas this summer because EU countries outbid each other. We will avoid peaks like this from now on."
"But I do agree with colleagues who emphasize that the gas ceiling is not a miracle solution. It is a sensible emergency measure, but the real thing is finding green alternatives to gas and saving as much energy as possible," he says. "As for our supply, I think there are enough ifs and buts built in to ensure it."
Van de Graaf thinks that the gas ceiling can also have a mental impact. As a kind of reality check for the gas trade. Since the agreement, the price has already dropped further, to below 100 euros. (Still five times more than before the crisis, though.)
Van Isterdael finally. "I say: just look at the price difference with the international LNG market. That condition of 180 euros per megawatt hour is actually quite strange."
"Because if the European gas price is 100 euros, as it is today, and only 50 euros in the rest of the world: should our consumers pay that surplus because the Germans want to fill their stocks at all costs? I do not think so. Anyway, then you intervene hard on the 'sacred' liberal market."
Van der Straeten himself was not available on Thursday. Her cabinet clarifies that it is indeed mainly an "ultimate security measure". One that should not be seen as "the only answer to high energy prices". On Monday, for example, Europe also reached an agreement on faster permits for renewable energy projects.
The mechanism serves to intervene when the gas price spikes irrationally, as was the case in the summer. "We hope that this mechanism will never be necessary. In any case, it is a clear message that Europe will not pay any price for gas any more."