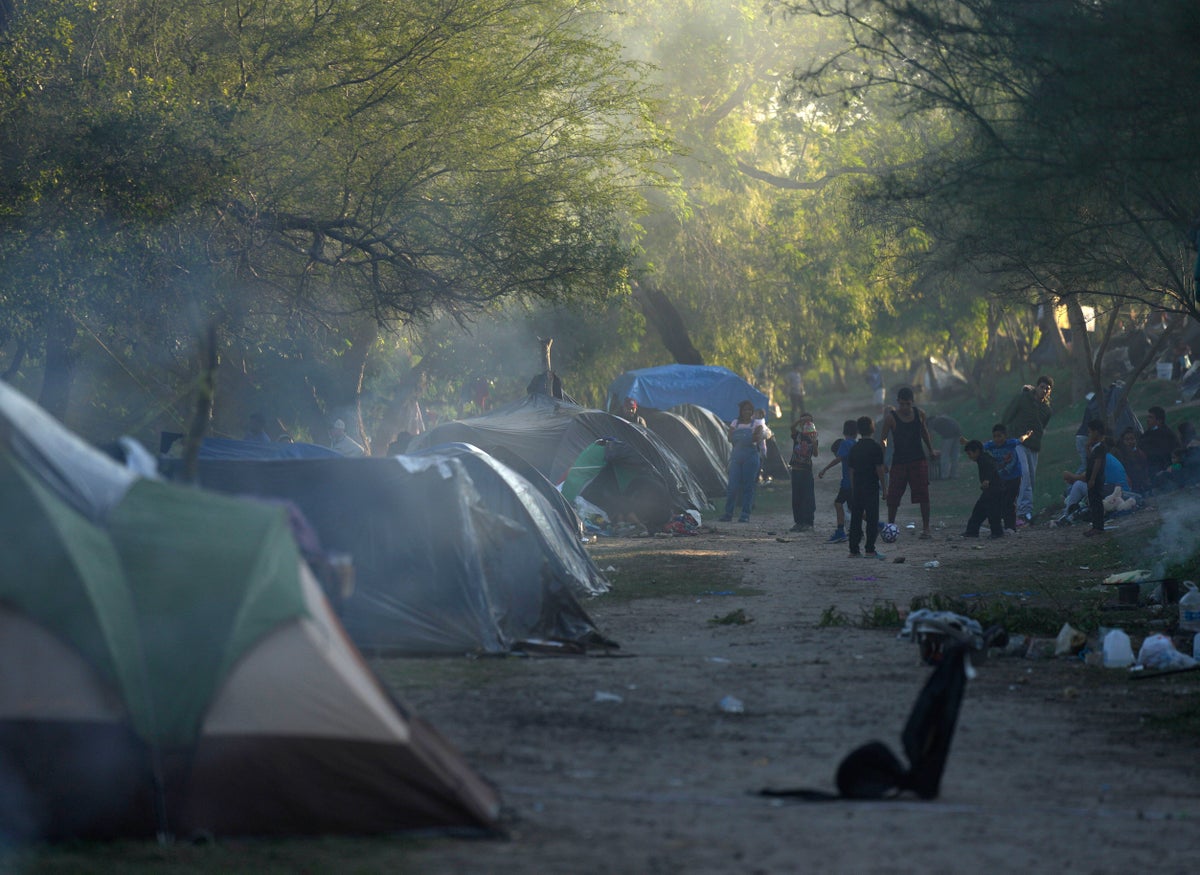 Hairstylist Grisel Garcés survived a harrowing four-month journey from her native Venezuela, traversing tropical jungles, serving in immigration detention centers in southern Mexico and stowing away in wagons to reach the US border.
Now, in the Mexican part of the Bravo River (called Rio Grande in the United States), in front of the city of StepTexas, Garcés is looking forward to a decision from the Supreme Court related to asylum restrictions that are expected to affect her and thousands of other migrants at border crossings along the 1,900-mile (3,100-kilometer) border from Texas to California.
Garcés lives in an outdoor camp at a time when winter temperatures have dropped in much of the United States and along the border.
The Venezuelan recounted that she had fled the economic difficulties in her country but came to find greater hardships, including shivering due to a cold that she had never known.
The Venezuelan woman said that traveling in cargo train carriages was horrible due to the shaking and here the situation is no better because people are at the mercy of God. She explained that she had left a daughter at school in Venezuela in the hope that she and her husband would cross into the United States.
Their money has run out and sometimes they don't have enough food for days. On Thursday, Garcés stood by and watched hundreds of migrants gradually file through a gate in the border fence to be processed by US immigration officials. She fears she will be deported immediately under current asylum restrictions, and she dares not cross the low waters of the Rio Grande.
Dozens of migrants spend nights on the river's concrete embankment awaiting word of a possible change to asylum restrictions imposed in March 2020. In El Paso, some migrants have turned sidewalks into lodging places outside of a bus station as well as a church faced with the impossibility of immediately finding space in a growing network of shelters supported by the city and religious groups.
The Trump administration's asylum ban, called Title 42, was briefly extended Wednesday by Supreme Court Justice John Roberts. It is unknown when the Supreme Court will issue a final decision and the Biden administration has asked it to lift the restrictions, but not before Christmas.
Pursuant to Title 42, authorities have removed asylum seekers from within the United States 2.5 million times, and have turned away most of those who have applied at the border in order, as they say, to prevent the spread of COVID-19.
Title 42 applies to all nationalities, but has mainly affected people from Mexico, Guatemala, Honduras, El Salvador, and more recently Venezuela.
Immigration advocates have demanded that Title 42 be cancelled. They say the policy contravenes domestic and international obligations to people fleeing persecution and has already become obsolete with improved coronavirus treatments.
The conservative-leaning states appealed to the Supreme Court, warning that increased immigration would negatively impact public services and cause "unprecedented calamity" on top of their fears that the federal government lacks a plan to deal with it.
In El Paso, members of the Texas National Guard have taken up positions at the request of the state, while volunteers and agents have expressed concern that some migrants may succumb due to the cold.
Overnight temperatures have dipped below 3.8 degrees Celsius (30 F) and it will get colder in the coming days.
Elsewhere, hundreds of migrants set up a makeshift camp, making tents out of black plastic bags in a park in the Mexican city of Matamoros, near Brownsville, Texas.
Still shivering from the cold after his recent expulsion from the United States, a former Venezuelan army policeman, Carlos Hernández, recounted how he, his wife, and their three-year-old daughter had crossed the icy waters of the river but were returned to Mexican territory when they reached the other side.
Hernández said that he had had a problem with his superiors in Venezuela for refusing to act against government opponents within the army. He said he hopes to cross again to get to Canada.
He said that the river was very cold when he crossed it with his family.
In the Mexican city of Tijuana, across from San Diego, some 5,000 migrants remained in more than 30 shelters while others have been able to rent rooms and apartments. Nobody dares to cross illegally by scaling the intimidating border wall that reaches 9 meters (30 feet) high whose top has concertina knives in the area.