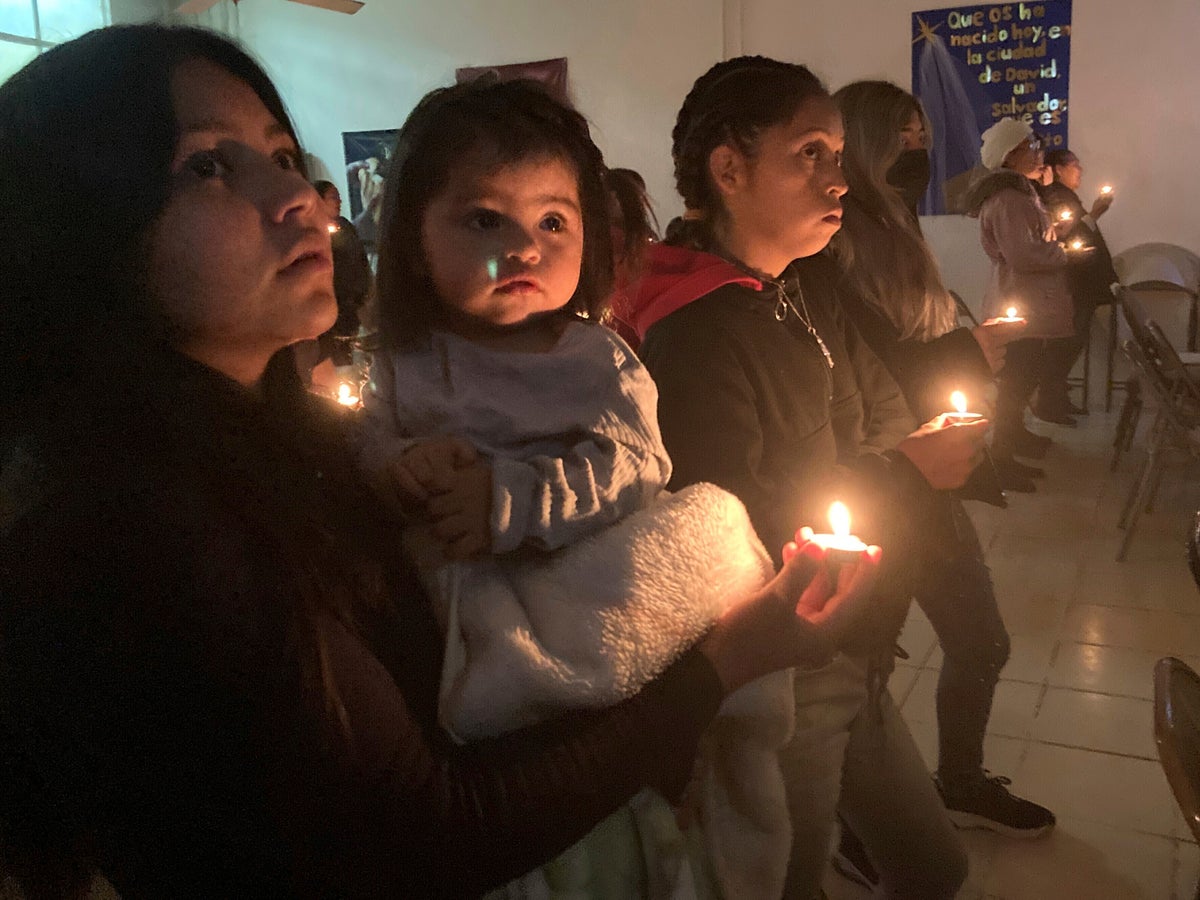 After fleeing the violence in his town in Guatemala but unable to join their relatives in California Due to US asylum restrictions, a family of 15 joined a vigil organized by the shelter where they are staying just south of the border.
The religious service in the small Methodist church of the Buen Samaritano shelter does not compare to the long Christmas celebrations they enjoyed in Nueva Concepción. There were fireworks, pork tamales and processions where they sang and carried a statue of the Virgin Mary from the church to each house.
"Yes, it is difficult to leave those traditions behind, but you had to leave for the same reason," said Marlon Cruz, 25, who was a cassava and plantain farmer in Guatemala. "When you go from house to house and you hear shots, that's why we stay locked up in the house."
Tens of thousands of migrants who fled poverty and violence at home will almost certainly spend Christmas in crowded shelters or on the streets of border towns, where many are often victims of organized crime.
The US government this week asked the Supreme Court not lift pandemic restrictions against asylum seekers before the holiday weekend. A lower court had already granted the administration's request to give it until December 21 before lifting the restrictions, known as Title 42. The restrictions have been used more than 2.5 million times to remove asylum seekers who crossed the border illegally and to turn away most applicants at the border.
It is not known when the court will make its decision. It is also considering requests from several states to maintain the restrictions as migrant arrivals soar to record levels. In El Paso, Texas, in recent weeks, there have been a record number of migrants crossing undetected or being detained and released.
In response, the Texas National Guard was dispatched to the border this week and will be there until after Christmas, First Sgt. Suzanne Ringle said, although the agents will have time to attend religious services with chaplains.
The city's shelters are already full, leaving little time for celebrations and many migrants on the streets in the cold.
At one such camp, Daniel Morgan, a 25-year-old El Paso resident, came wearing a Santa Claus hat and a green sweater with Christmas decorations, saying he wanted to "bring smiles" to those present.
"This is a complex subject and I am not an expert on it," Morgan said while handing out candy. "Christ came into the world to give himself to us and that is the reason why I came, to give others what I have."
The Rev. Brian Strassburger, a Jesuit priest who helps migrants on both sides of the border some 800 miles (1,200 kilometers) in Texas' Rio Grande Valley, also said there are similarities between the Holy Family and the experiences of migrants who participated with him at the festivities at the Casa del Migrante in Reynosa, Mexico.
The inn, very popular in Latin America, commemorates the search for shelter by Mary and Joseph when they were forced to go from their village to Bethlehem before the birth of Jesus.
Four girls carried figurines and other migrants – many of them pregnant women whose partners had to camp on the street for lack of space – sang religious hymns about a family with nowhere to stay and a pregnant woman who had to endure the cold.
"We kind of act out the inn scene every day," said Strassburger, who also plans to celebrate mass at shelters on Christmas.
Even Haitian families, where the posadas are not popular, enthusiastically participated in the singing and sharing of buñuelos prepared by the Mexican nuns who run the lodge.
They also took turns hitting the piñata, although the 70 or so children enjoyed that the most.
"Seeing children laugh is the expression of joy that Christ brought to the world," Strassburger said. "There is some relief, of genuine joy. They are carrying a lot of anxiety and uncertainty."
Edimar Valera, a 23-year-old Venezuelan mother who has been at the shelter for more than a month with her 2-year-old daughter, as well as her mother and other relatives, said that the inn gives them a breather in the midst of the arduous wait.
"It was cool, we all danced, we beat a piñata and we ate pizza with Coca Cola," he said. "But being here obviously I feel sad because it's not where I want to be."
At a shelter for migrants and the homeless in El Paso, Loreta Salgado also found reason to be content, even though she left her family, including her son and grandson, behind in Havana, Cuba, for more than a year.
Salgado crossed 11 countries, from Brazil to Mexico. She suffered from hunger, the death of a colleague bitten by a snake, she was robbed and taken hostage by masked men. The Cuban friend who promised to help her when she arrived broke her promise, leaving Salgado with no money and nowhere to go.
"Rather, I'm happy that I'm here, that I'm free, that I'm with good people," he said.
__________________________________
Dell'Orto reported from El Paso, Texas, and Minneapolis. Journalist Lekan Oyekanmi contributed from Ciudad Juárez and El Paso.
___
Associated Press coverage of religious issues is supported by The Conversation US, with funding from the Lilly Endowment Inc. The PA is solely responsible for the content.