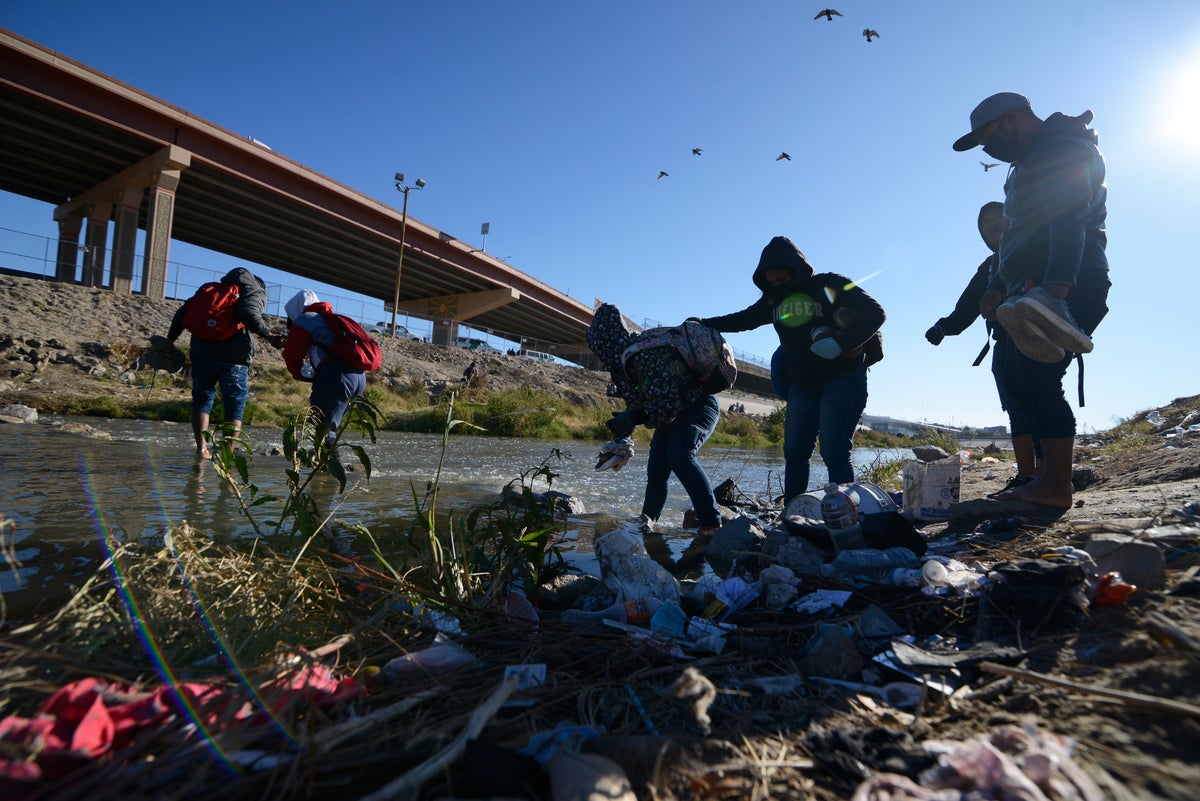 In 2014, groups of unaccompanied minors fleeing violence in Central America overwhelmed border authorities in South Texas. In 2016, thousands of Haitians fleeing a devastating earthquake were stranded in the Mexican city of Tijuana after crossing 11 countries, on foot and by bus, to reach the border with the United States.
In 2018, some 6,000 migrants, mostly Guatemalans and Hondurans fleeing violence, arrived in Tijuana. Many families with children slept in parks and streets in the rain and cold.
A Trump-era asylum ban, briefly extended by Chief Justice John Roberts, is one of the US measures now affecting migrants' decisions to leave their homes. The convergence of inequality, civil strife and natural disasters has led millions to flee Latin America, Europe and Africa. Since 2017, the United States has been the world's top destination for asylum seekers, according to the UN.
___
This report is part of a series on how the United States became the world's top destination for asylum seekers.
___
Since March 2020, migrants have been denied the right to seek asylum under US and international law 2.5 million times, on the grounds that it is necessary to prevent the transmission of COVID-19, a rule known as Title 42 Although it applies to all nationalities, it has disproportionately affected people from Guatemala, Honduras, El Salvador and more recently Venezuela, in addition to Mexico. The pent-up demand is expected to cause an increase in border crossings once the restrictions on asylum expire.
When the pandemic began, the presence of people whose nationalities had rarely been seen at the border increased: from Cuba, Peru, Venezuela, Ecuador, Colombia and others. High costs, strained diplomatic relations and other factors complicated US efforts to expel people of nationalities Mexico refused to receive.
The numbers of Cubans fleeing economic and political upheavals are the highest in the last 60 years. Most fly to Nicaragua as tourists and then slowly head for the United States. In October they were the largest nationality on the border after Mexicans.
Grissell Matos Prieguez and her husband turned themselves in to US border agents near Eagle Pass, Texas, on October 30, after a 16-day journey through six countries by bus, motorcycle, and grueling night hikes through bush and rivers. stinky
"Throughout the entire journey you feel like you are going to die," says Matos, a 34-year-old engineer. "You don't trust anyone, nothing. Nothing is safe. You have a constant fear of dying, or that they will catch you and something will happen to you".
To pay for the trip from Santiago de Cuba, they sold everything, even their computers and bicycles. They borrowed money from relatives in Florida. They left their parents and grandparents in Cuba.
A growing spike has made El Paso, Texas, the busiest place for illegal crossings, mainly by Nicaraguans, whose government cracks down on dissent.
Haitians stopping in South America, sometimes for years, have had a significant presence, especially since nearly 16,000 camped in the small town of Del Rio, Texas, in September 2021. President Joe Biden's administration repatriated many But it began to halt the move in the face of brazen attacks by gangs that have grown in power since the assassination of President Jovenel Moïse last year.
Migration is often driven by "pull factors" that draw people to a country, such as a strong US economy and an asylum system where case resolution often takes years, so many people ask regardless. that he intuits that it will be difficult for him to obtain it. However, the situation in the country of origin —one of the so-called "push factors"— may also be the cause of the unprecedented numbers seen last year.
Tijuana-based lawyer and migrant advocate Soraya Vázquez says the 2016 Haitian diaspora was a turning point.
"This is another global thing because we started to realize that there are mass movements everywhere: in some places because of the war, in others because of the political situation, climate change," explains Vázquez, a San Diego native and former legislative adviser at Mexico City. "Many situations that were combined, but in the end everything is the responsibility of man and governments."
After conducting legal workshops for Haitians in Tijuana, Vázquez was able to attract chef José Andrés and his Cocina Central Mundial to migrant shelters for four years. In search of financial stability, she was the director in Tijuana of Al Otro Lado, an NGO that raised 4.1 million dollars in 2020 and was recently designated a beneficiary of the philanthropic works of MacKenzie Scott.
"Which caused? An inequality ", emphasizes Vázquez while he has tea in the Cacho neighborhood.
For decades, it was Mexicans, mainly adult men, who came to the United States to work and send money home, but in 2015, the Pew Research Center found that more Mexicans were returning to their country after the Great Recession.
Mexicans still made up one in three encounters with border agents during the fiscal year that ended Sept. 30, more than three years ago, but well below the 85% reported in 2011 and 95% at the turn of the century. Additionally, there are more and more families with children trying to flee the violence of drug trafficking.
Hundreds regularly cross the border after midnight at Yuma, Arizona, traversing the brush to surrender to US agents. Many fly to the neighboring city of Mexicali after entering Mexico as tourists and taking a taxi into the desert. Border Patrol delivers them to the Border Regional Health Center, a clinic that sends six charter buses daily to Phoenix Sky Harbor International Airport.
The clinic had sent families from more than 140 countries, but not a single one from Mexico, says Amanda Aguirre, its executive director.
Daniel Paz, a Peruvian who turned himself in to agents in Yuma with his wife and 10-year-old son, was unpleasantly surprised to be repatriated without being given the chance to claim asylum, something unusual even after the Peruvian government began to accept two charter flights from the United States per week.
US authorities detained Peruvians more than 9,000 times on the border with Mexico in October, nine times more than in the same period the previous year.
Paz is waiting to see what happens with Title 42 and possibly make a new attempt since the ouster of President Pedro Castillo on December 7.
"Let's see if I'll be there in January or February… I don't lack desire," he texted from Lima.
The most recent arrivals to Tijuana are of Venezuelans, of whom some 300 occupied a municipal recreation center.
Some 7 million Venezuelans have fled since 2014, nearly 2 million of them to neighboring Colombia, but they only recently began traveling to the United States.
Many Venezuelans flock to the Mexican asylum office that was established in Tijuana in 2019 and has processed more than 3,000 applications from dozens of countries, mainly Haiti and Honduras, in the last two years.
Jordy Castillo, 40, says he wanted to leave Venezuela for 15 years, but only did so when family and friends began arriving in the United States last year. His three brothers were the first of his relatives to request asylum, although they did not know anyone.
"They found someone to help them and they're settled," he explains.
___
Associated Press writer Gisela Salomón in Miami contributed to this report