Revelation Morocco leaves the World Cup without a medal, in the consolation final the Croats turned out to be slightly stronger. Several players may decorate a lucrative transfer.
Morocco's winner's heart bled a bit after the lost battle for third place with Croatia (2-1). Enraged, right back Achraf Hakimi took a story from FIFA president Gianni Infantino on Saturday after the game, other players attacked the Qatari referee on duty, Abdulrahman Al-Jassim.
There was something to be said for the frenzy, which, incidentally, quickly subsided. Morocco could have, perhaps should have, received two penalties in the semi-final against France (2-0 loss). Only two days could be recovered from the wear and tear with the French, which was felt by many players.
Losing twice as the final piece of a top tournament also hurt Sofyan Amrabat. "Of course it is very special what you have done," he told NOS. "You hope for something more, also because you were equal to both France and Croatia. But I believe that everything is written and it had to be the way it is."
Asking price doubled

Hakimi (24) and Amrabat (26) become the new leaders of the Lions of the Atlas. Hakimi was the best right back at this World Cup and already plays in the top, at Paris Saint-Germain. Amrabat was seen by many as the best controlling midfielder and wore the captain's armband for a while.
Amrabat still has a contract with Fiorentina until mid-2024 and wants to make a major transfer to England or Spain, although Fiorentina has raised the asking price considerably: the purchase amount of 20 million euros has doubled. Fiorentina would prefer to upgrade and extend the contract of the midfielder, who had the most ball conquests this World Cup. Amrabat is also having a good time in Florence, but is ambitious. "If you show it on this stage, you know that the big clubs are coming," his older brother Nordin predicted earlier.
The undisputed highlight was his sprint and subsequent tackle with which he took the ball away from Kylian Mbappé in the semi-finals. France sacrificed Olivier Giroud, the French team's all-time top scorer, to get in the way of Amrabat.
By then Amrabat had been walking on his gums for a week, but that turned out to be the toughest kind. He also played the entire game in the consolation final, because national coach Walid Regragui cannot do without him in the heart of his team.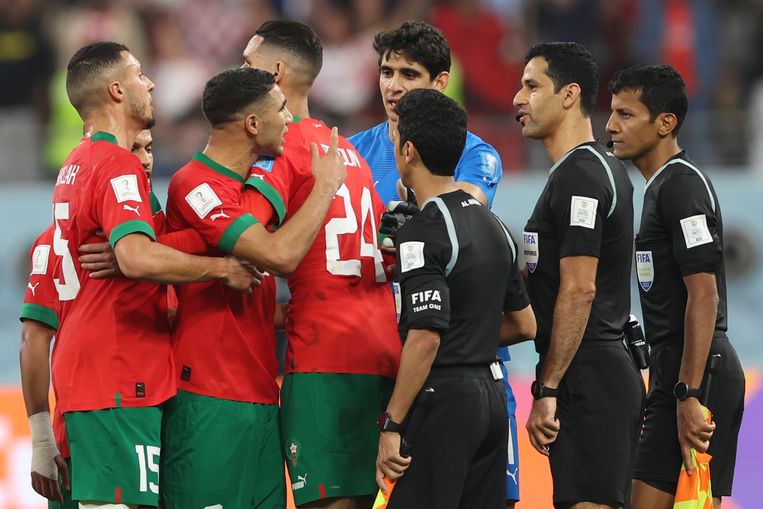 Running wonder and dribbler Azzedine Ounahi (22) started on the bench, but still came in. He too can look forward to a lot of interest, especially from Spain after his excellent game against that country. Ounahi was still playing at the third level in France in the summer of 2021. His contract runs until 2026 with Angers, a modest French club.
Ajax would emphatically follow Ounahi and the only eighteen-year-old Bilal El Khannouss from KRC Genk. El Khannouss was surprisingly allowed to start against Croatia in the base and demonstrated his technique, insight and flair. In everything, the midfielder looks like a new Hakim Ziyech.
Royal contract

The 'old' Ziyech is also still there. He will be thirty years old in March, but looks fitter than ever. He was captain in the consolation final and again showed himself to be an all-rounder. Especially AC Milan is often linked to him. But his contract with Chelsea, where he mainly sits on the bench, is royal and runs until 2025. Ziyech does not want to be rented out.
Midfielders Selim Amallah (expiring contract with Standard Liège) and Abdelhamid Sabiri (Sampdoria) hope for promotion, striker Youssef En-Nesyri and goalkeeper Yassine Bounou also put themselves in the spotlight at a favorable time, because their club Sevilla wants to renovate the selection.
The left back Yahia Attiat-Allah, who plays for the injured Noussair Mazraoui (firmly in the saddle at Bayern Munich), wants to make a new attempt in Europe after an adventure at the Greek Volos came to nothing. The player from the Moroccan Wydad signed with a rush and excellent cross for Morocco's very last successful action at this World Cup. Because En-Nesyri headed over, Morocco did not drag out extra time against Croatia.
Modric ubiquitous

Croatia had taken the lead twice before the break through a beautifully rehearsed free kick, completed by Josko Gvardiol, and a fine kick in the far corner by Mislav Orsic. In between, center defender Achraf Darri had put Morocco 1-1 after a free kick from Ziyech.
Croatia had a day more rest and looked fresher and sharper, also stronger in width. Orsic, Majer and Sutalo hooked up effortlessly with strongholds Kovacic, Gvardiol, Perisic and Modric.
The latter determined the rhythm and was everywhere again. With silver in his pocket four years ago, this seemed like a nice podium for the 37-year-old midfielder. But Luka Modric will continue, at least until the Nations League next summer. "We put Croatia on the map at the last World Cups. We will return home as winners", he said blissfully afterwards.
Eventually, that feeling also bubbled up in Morocco, which likes to serve as a guide country for the whole of Africa. "I am convinced that in fifteen, twenty years there will be an African country that will become world champions, because we have learned," said national coach Regragui. "We have to cross a threshold, work towards it with a lot of work and desire. This DNA is not only in Morocco, but in the entire continent."