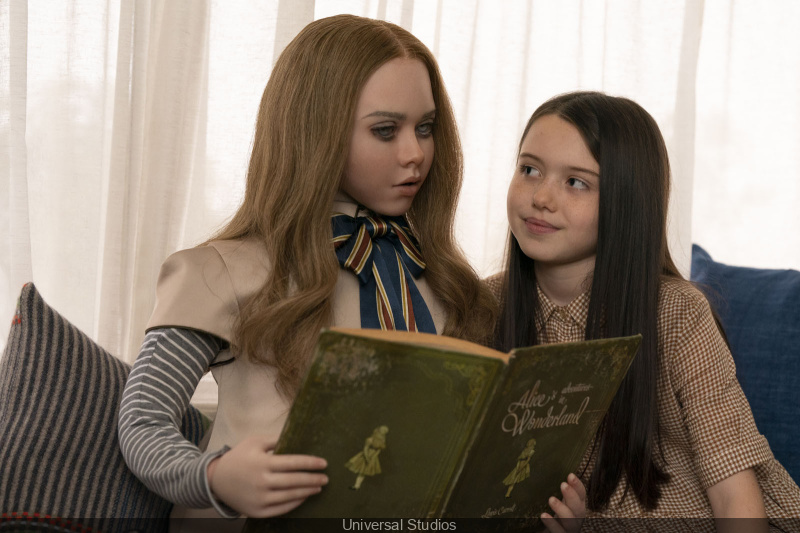 By Laura B. Posted Dec 25, 2022 11:46 AM
Once Halloween passed you thought you were done with horror? Well no. In the cinema, horror is all year round. M3GAN, new maleficent doll, gives you an appointment in theaters from December 28, 2022. Discover our review.
After Chucky or even Annabelle, here is Megan (stylized M3GAN), the new doll heroine of a horror movie. This new feature film byhorror hits theaters after Halloween et Noëlthe December 28, 2022.

The Trailer of M3GAN :
https://www.youtube.com/watch?v=m_l-FvXXw9A
We are (almost) in 2023 and Megan is a cyber doll with artificial intelligence, an axis already developed in 2019 in Child's Play: Evil Dollthe reboot of Child's Game, film in which we met Chucky for the first time. Since, Chucky has also been adapted into a series. Episodes to watch jump.
M3GAN is directed by the New Zealander Gerard Johnstone on an idea of James Wanthe man already behind Annabelle – The House of Evilbut also and mostly Saw, Conjuring et Insidious. James Wan co-produced the film with Jason Blumanother big name in thehorror (Black Phone, Halloween, Invisible Man).
In the credits of Megan, There are Allison Williamswho played the lead female role in Get Outprevious production of Jason Blum. But also Ronny Chieng, Brian Jordan Alvarez, Jen Van Epps, Lori Dungey (The Lord of the Rings: The Fellowship of the Ring), Stephane Garneau-Monten (the series Reign) and young Violet McGraw (young Yelena Belova in Black Widow).
Synopsis of M3GAN :
M3GAN is a technological miracle, a cyber doll dont l'artificial intelligence is programmed to be the ideal companion for children and the safest ally for parents. Designed by Gemma (Allison Williams), the brilliant roboticist of a toy company, M3GAN can listen, observe and learn while becoming both friend and teacher, playmate and protector of the child to whom she is related.
When Gemma suddenly becomes responsible for her 8-year-old niece, Cady (Violet McGraw) whose parents suddenly passed away, she is definitely not ready to take on her role. Overwhelmed and under pressure at work, she decides to link her prototype M3GAN to the little girl, in a desperate attempt to solve her problems on both fronts. A decision that will have terrible consequences.
Our review of M3GAN:

Like before Child's Playle reboot de Chucky, Megan is a film through which director and screenwriter criticize technology pushed to excess and the hold of the virtual world on contemporary children. And it's pretty smart to release this movie, where it's about toys, right after Christmas.

Megan is a very realistic, scary doll. Besides, his creepy side is obvious. But it only becomes wicked and murderous after an hour of filming. It's too long for horror movie lovers. Before that, the creators of the film even gave a little almost heroine Disney side to Megan who sings, like in the Disney films. She covers the song Titaniumin Madilyn Bailey's cover version of Sia and David Guetta's song.

If we knew James Wan and Jason Blum much more inspired, the two horror specialists nevertheless multiply the references to the genre: a butterfly which arises at the window and which recalls the poster of Silences of the Lambs; a character, electric shears in hand that evokes Leatherface in Chainsaw Massacre. And, after fighting, once damaged, the Megan doll has some false airs of a bloody criminal Chucky, although this film is less successful than Chucky.
In which theaters near me is the film screened? M3GAN ?