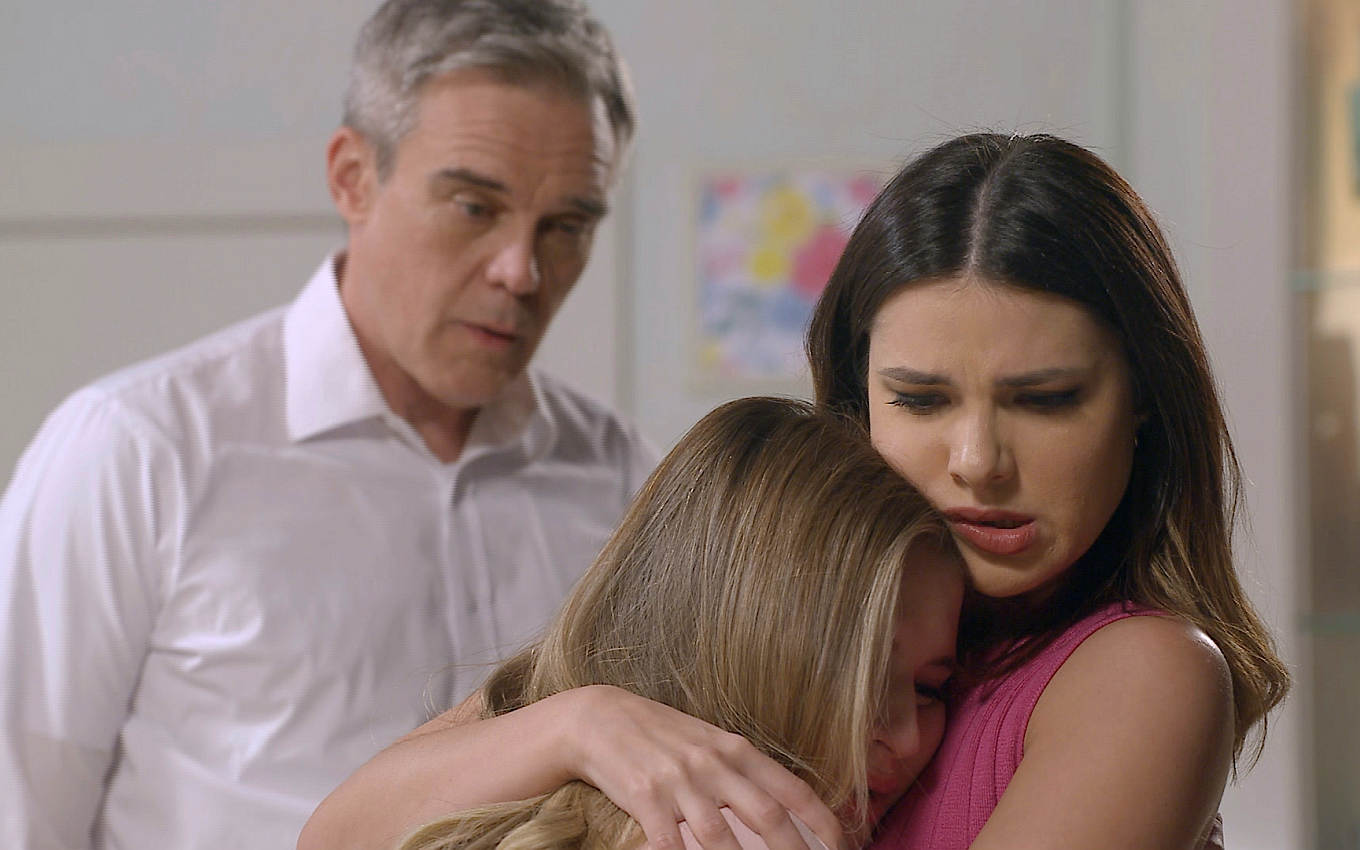 ABSTRACT: Poliana (Sophia Valverde) will no longer be able to hide her trauma after the kidnapping. The girl will be pressured by Otto (Dalton Vigh) and Luísa (Thaís Melchior) to reveal the truth, but only after her aunt finds a photo will the girl decide to speak. The family image will have a threat from Tânia (Ana Paula Valverde), their mysterious tormentor.
Monday, 12/26 (Chapter 201)
Durval buys perfume for his wife and leaves it on the table as a surprise. Gael plays ball indoors and hits the perfume bottle. Pedro and Chloe go to Gloria's apartment to investigate who broke into the neighbor's house and come across Waldisney and Violeta disguised as plumbers.
Gael, Benício and Lorena fill the liquid in the spilled perfume bottle. Poliana tells her grandmother that she intends to go back to school and see a friend. Otto asks Poliana if he can see her cell phone. Poliana is distressed. Otto tells Luísa that, due to her daughter's nervousness, he is sure that the threats are coming from the cell phone.
Poliana thinks it's better to delete the intimidation message so her father doesn't see it and doesn't get involved in the case. Cláudia tells Durval that the perfume is fake, because the cap is cracked and the aroma is terrible. Raquel reveals to Brenda that at Luc4Tech Jeff was a spy for Eleven, she admits that she hid it from her friend because it was dangerous.
Brenda and Raquel tell Sérgio that Vini is back from his trip and Jeff wasn't with him in the Northeast. Claudia vents to Lorena, who is upset with Durval for buying counterfeit perfume. Eugênia calls Pamela, the children's biological mother, but the woman's relative answers. Eugenia arranges a meeting.
At the breakfast table with the family, Lorena and Benício explain that Gael broke the perfume. While he had Poliana's cell phone, Otto checks a new threat message. Otto and Luísa understand Poliana's fear, but they disagree on how to talk to the girl.
Tuesday, 12/27 (Chapter 202)
Conversation between Otto, Luísa and Poliana is tense. Poliana is desperate and out of control. Luísa finds a family photo in Poliana's room given by Tânia, indicating a threat. In jail at the police station, Roger receives a message from outside and accepts the deal.
Calmer, Poliana explains to her father and aunt all the details of the kidnapping. Poliana claims that Tânia is responsible, that she heard Roger's voice in captivity, that LUC1 saved her in captivity and that Waldisney and Violeta were dressed up in the woods. Sérgio and Joana go to the CLL to talk to Gleyce and reveal Jeff's spying scheme.
Durval buys the perfume of the same brand that was damaged and gives it to Claudia. Poliana expresses that Tânia is a person totally opposite to the one they lived with. Pinocchio takes food from the canteen and puts it in Chloe's locker at school. Waldisney and Violeta tell Tânia that Luca got in touch saying that Jeff's friends are going to the police station.
Tânia says that everything is within her plans. Directly to Luísa, Otto declares that she is being essential in this whole process. The policewoman who rescued Poliana goes to Otto's house, and the girl tells him everything about the kidnapping.
Wednesday, 12/28 (Chapter 203)
Eugênia and Claudia meet at the bakery, Eugênia shares that she got in contact with a relative of Pamela and not with herself, but that she is going to meet with that relative. Claudia finds it suspicious that Pedro and Chloe's biological mother does not manifest herself. Tânia arrives at the bakery. Chloe opens her locker at school and finds candy and snacks.
Yupechlo believes there is a ghost in the school. Jeff returns home and explains everything to the family about his disappearance. Still at the bakery, Celeste meets Tânia, questions the missing time and talks about her mother's involvement in Poliana's kidnapping. Tânia is approached by police and summoned to give statements.
Eugênia and Claudia find Celeste's presence with Tânia strange. At the police station, Tânia faces Roger. Waldisney thinks Tania is losing control of things. Donations at the CLL have dwindled, and Dona Branca suggests that they produce a dance party. Glória meets Ruth at the principal's house. Renato shows up uninvited and starts to be inconvenient.
Fifth, 12/29 (Chapter 204)
Renato invites Glória to have dinner with him and Ruth. The music teacher says he's going to drop by Glória's house to give her a ride, and Ruth doesn't like her boyfriend's behavior. Yupechlo makes a ghost detector. Pinocchio finishes decorating Poliana's homecoming party. Eugênia tells the children that she is going to meet a relative of their biological mother.
Raquel and André kiss. Accompanied by Otto and Luísa, Poliana goes back to school. Right at the entrance to the school, Poliana is sick and does not feel at ease. Jeff goes to Luc4Tech and Luca fires his colleague. Luca tells Jeff that the reason for his dismissal is travel without prior notice.
Jeff gets mad, as Luca knows he was actually kidnapped. Poliana returns home for not being able to get into school. Tânia visits Celeste at her house, and Celeste asks for an explanation about the rumors about her mother's involvement in Poliana's kidnapping. Raquel enters the residence at the moment and is faced with Tânia.
Friday, 12/30 (Chapter 205)
Raquel is uncomfortable with Tânia's presence in her house and asks why she is meeting Celeste. The high school class is upset with the fact that Poliana can't get into school. Friends wonder who made all the decorations. Ruth accepts the request from Gleyce and Dona Branca to produce the dance at Colégio Ruth Goulart.
At home, Poliana reveals to her father and aunt that she saw Tânia's car passing by the school door. Raquel and Brenda let Jeff know that they are also considering resigning from Luc4Tech. Jeff asks them to continue and investigate Luca's involvement with Poliana's crime. Yupechlo looks for a ghost in Ruth Goulart.
João tells Poliana that her laugh is from another world and that he wanted to have more of it in his daily life. Yupechlo goes to the engine room, Pinocchio hides. The club finds a drawing of Poliana at the site. Otto meets with Sérgio and Jeff. Jeff says that Cobra is involved with Roger and Luca, since in the captivity where he was, the henchmen received messages from Cobra. Otto questions his friends if Tânia and Cobra are the same person, since Tânia had two identities.
---
the chapters of Poliana Moça are provided by SBT and are subject to change without prior notice
---
Subscribe to the channel TV news no YouTube and watch videos with revelations by Poliana Moça.