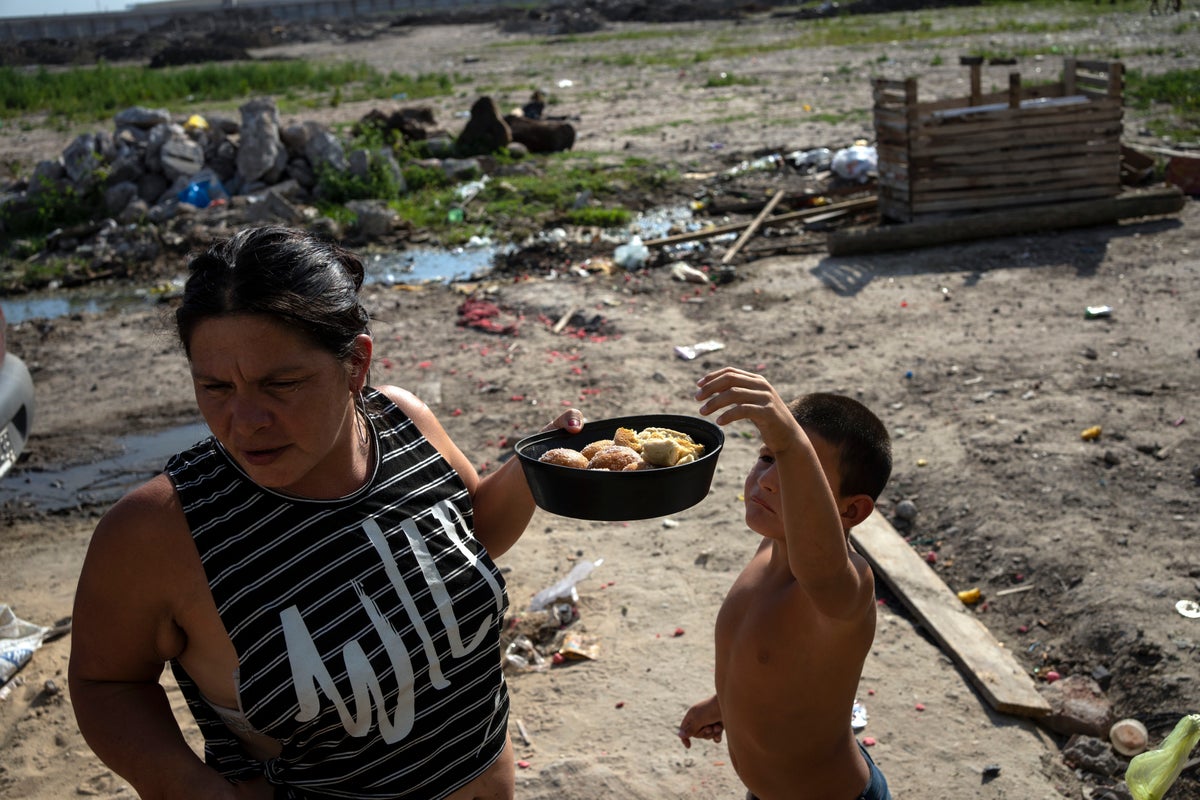 The Mexican Elena Alcántara does not buy more clothes and stopped going to restaurants. The Chilean Pedro Serrano replaced beef with canned fish, which is cheaper, and in Uruguay María Fulquere resorts to popular pots to eat.
They are the effects of inflation that, with the exception of Venezuela Y Argentina -who have dealt with this problem for many years- made a strong comeback in Latin America and the Caribbean after a stage of relative stability.
Alcántara, 32, told The Associated Press days ago at a market in La Mexico City that this year he dispensed with some pleasures such as going out to eat and his family learned "to buy the essentials" so that he pays his salary of 258 dollars a month in a childcare center.
Thus, she reduced meat purchases for her parents and her partner from three to once a week, and she prepares the corn tortillas herself.
Serrano, 43 years old and with two children, said that "inflation is very brutal" and explained that Chileans tighten their belts "either by eating less meat, or by taking car trips into account so as not to use gasoline ( gasoline)".
This employee of a commercial establishment pointed out that he goes less to the supermarket because in the neighborhood vegetable fairs "one can find opportunities" to deal with the skyrocketing prices.
In the last year, the war between Ukraine and Russia triggered the price of fuel and food, deepening the rise in the cost of living that had begun during the COVID-19 pandemic due to the restrictions that affected production and impacted the supply of estate.
Mexico registered annual inflation of 8.7% in August, the highest in more than two decades, while Chile closed 2021 with an index of 7.2% -the highest in 14 years-, which did not subside until it reached 13, 3% interannual in last November.
The rise in prices has unleashed protests from productive sectors, unions and political organizations and has forced governments to update wages, subsidize energy and increase aid to appease social discontent.
In June in Ecuador there was an indigenous uprising that paralyzed the country in demand for a reduction in the price of gasoline, while Argentina is the scene of constant protests by organizations that bring together the unemployed and workers in the informal sector, whose meager income does not stop liquefy.
In Uruguay, the rise in prices has forced the humblest to resort to soup kitchens organized by the authorities and neighbors.
Fulquere, 65, was lining up a few days ago with about twenty people in La Teja, an area of ​​Montevideo with houses with tin roofs. There a woman distributes stews and vegetables to about 200 people per day.
The woman, who lives with her three daughters and two granddaughters, said she felt the weight of the rise in prices "in basic things: milk or bread, noodles, oil is very expensive." Fulquere receives a minimum pension of 400 dollars a month, four times less than the value of the basic food basket for four people. "The pot helps," she maintained.
According to the International Monetary Fund, the region would end this year with a rise in the consumer price index of 14.6% compared to 2021.
Those that would suffer the most are Venezuela, with 220%; followed by Argentina, with 95%, countries where this distortion has become the rule for a long time.
Chile follows, with 12.2%; Colombia, with 11%; Uruguay, with 8.9%; Mexico, with 8.5%; Peru, with 6.8%; Brazil, with 6%; Bolivia, with 4.2%, and Ecuador, with 3.8%, noted the report "Economic Outlook for the Americas: Navigating more restrictive financial conditions," published by the IMF in November.
Several countries -such as Brazil- have succeeded in slowing down prices in recent months with policies such as raising interest rates and, according to the Fund, in 2023 inflation is expected to decrease in the region to 9.5%, a rate still high.
Inflationary pressures are due to the restrictions during the pandemic, the adoption of expansionary fiscal policies and the effect that the war has had since March on energy and food prices.
The Latin American Committee on Financial Affairs indicated that in Latin America – with the exception of Argentina and Venezuela – inflation began to accelerate in mid-2021 at the same time as in the United States.
The increase in food prices is hitting the poorest households and increasing hunger, warned in a joint report the Economic Commission for Latin America and the Caribbean (ECLAC), the Food and Agriculture Organization of the United Nations ( FAO) and the World Food Programme.
In turn, the strong rise in fertilizers would affect a worse yield of the crops.
And since salaries are not updated according to inflation, this year 1.8 million people would enter extreme poverty for a total of 81.8 million throughout the region.
In several Latin American countries the alarms went off and measures were applied to make food cheaper. Mexico, where its value rose above 14% this year, is promoting a planting plan to advance self-sufficiency in key products such as corn or beans through direct aid and technical advice to farmers. In addition, it suspended import tariffs on 21 foods for one year.
Colombia will subsidize agricultural inputs used to produce food and El Salvador ordered tax exemptions for imported products such as oil, rice and sugar while subsidizing fuel.
Other countries have resorted to price controls. The government of Argentine President Alberto Fernández does so with hundreds of items from the basic basket and that of the Mexican Andrés Manuel López Obrador with more than 20.
ECLAC and the United Nations have urged governments to reactivate state assistance with food programs that were established in schools and soup kitchens during the pandemic.
In Venezuela, which is experiencing a sustained rise in prices driven by the devaluation of its currency after several months of stability, more than seven million people depend on one of the government's food assistance programs.
Cuba has one of the most complex scenarios, since it is going through a rise in the cost of living and a strong shortage of basic products at the same time. Inflation on the island was 77.3% last year.
In the region, the phenomenon of Bolivia stands out, whose low inflation rate -compared to those of its neighbors- is partly due to subsidies on fuel prices and the fixed exchange rate of the dollar against the Bolivian peso. The other side has been a loss of international reserves and increased indebtedness.
According to government and IMF calculations, that country is expected to end 2022 with inflation between 3.2% and 4.2%.
———-
journalists from PA Eva Vergara and Patricia Luna, from Chile; Guillermo Garat, from Uruguay; María Verza and Fabiola Sánchez, from Mexico; Jorge Rueda, from Venezuela; Astrid Suárez, from Colombia; Andrea Rodríguez, from Cuba; Carlos Valdez, from Bolivia; Marcos Alemán, from El Salvador; Gonzalo Solano, from Ecuador and Gisela Salomon, from Miami, participated in this note.