The time has come: the heating is now inexorably switched on in this freezing cold in many Flemish households. Some families are still trying to limit the damage on the energy bill: 'We try to stay below the amount of the basic energy package.' Four families give an insight into their consumption and show how they arm themselves against a disappointing bill.
Steven De Smet (37) and Evelien Meulders (33) from Sint-Niklaas in East Flanders: 'Payed as much for gas this December as in all of November'

Steven De Smet (37) and Evelien Meulders (33) from Sint-Niklaas – he is an IT consultant, she is a city official – have a mission: "Do not pay more than 392 euros for electricity and natural gas together for last November and this December. " It is no coincidence that this sum is equal to the 'basic energy package' with which our federal government wants to give households a helping hand: with an allowance of 135 euros for gas and 61 euros for electricity for November and December.
"And so far we are pretty much on schedule with our challenge," says Steven. "Although it looked a bit dire in recent days due to that strong cold prick. Between December 1 and December 13, we have already paid the same amount for our natural gas consumption as in the entire month of November."
On average, the couple paid 6.53 euros per day for gas in recent days. Or more than 123 percent more than on a November day.
Batman

However, Steven and Evelien cut their daily routine nicely. "Normally I am a badman. Every morning in earlier times. I enjoy it, it allows me to wake up slowly. But now I've been forced to limit my beloved bath to once a week. And on the other days I take a shower, for 3 to 4 minutes at the most."
The thermostat setting has also been deliberately set lower. "If neither of us is at home, for example to do some shopping, it will immediately reach 15 degrees, just like at night. But when I'm at home, the thermostat doesn't go higher than 18 degrees during the day, although I still work from home very often. That's not really a comfortable temperature, no. But I can already warm up my hands at the computer. And a blanket on your lap and feet also work wonders, don't they? (laughs) My colleagues don't see that during video meetings anyway."
Would it not be better to go to the office more often? Apart from the not always practical distance – I work in Utrecht, the Netherlands – that would make little difference. They have also lowered the temperature in the office for energy-saving reasons, from 21 to 22 degrees last winter to a maximum of 19.5 degrees now. But in such a large office space it finally feels as fresh as at home, doesn't it? Besides, I refuse to complain about that. When you see how millions of people in Ukraine have to survive without electricity and heat in a temperature well below zero, then 18 to 19 degrees is actually an unlikely luxury. Which we sometimes don't think about enough."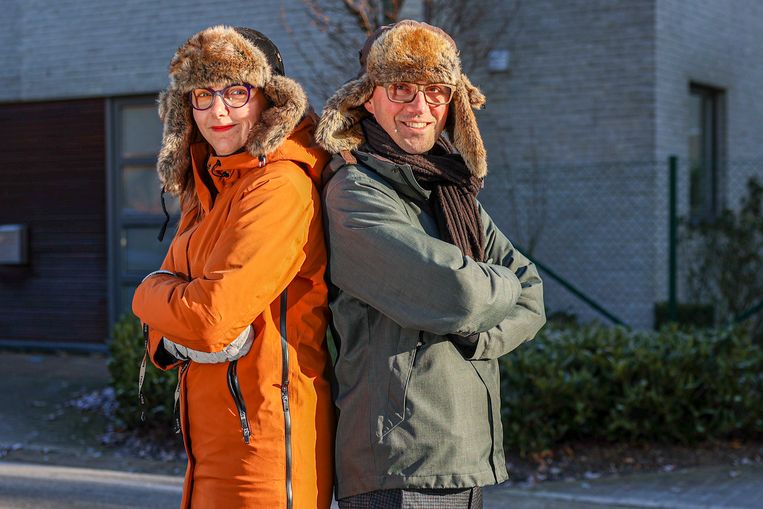 Still 150 euros left

Last February, the couple had solar panels installed on their now ten-year-old new home, including a home battery. "And so far it has turned out to be a very good investment. Since the installation, we have obtained 89 percent of our electricity consumption from our own panels."
As a result, the associated cost is not too bad: from 38.38 euros last November to 30.20 euros in the first half of December. As a result, the couple still has 150.87 euros 'budget' for this month to succeed in its energy challenge and to stay below that 392 euros. "And especially now that warmer temperatures are predicted for next week, we are convinced that it will work."
Pieterjan De Vroey (53), Baiba Miezere (46) and son Roberts (14) from Huldenberg in Flemish Brabant: 'Just under 400 euros for the first two weeks of December'

Just under 400 euros for the first two weeks of December: even though that calculation is already more than the consumption in a mild November month. Pieterjan, who works as head of logistics for Worldline, thinks it is doable. Together with his wife and son, he lives in a mansion from the year 1909, with more than 300 square meters of living space and ceilings of up to four meters high. A lot of space to heat, but for the first time in the winter – even with last week's freezing cold – the thermostat goes down.
Solar panels and no jacuzzi

"We work from home and if we didn't pay any attention to our consumption, we would undoubtedly have to pay thousands of euros at the end of this year. But we acted in time, since the first reports of rising prices in the spring. And now we will be able to clock our final consumption for natural gas at 22,000 kWH, compared to 36,000 kWH last year. We even got 700 euros back for the period January and September."
Pieterjan charged at different levels: parts of the old house were renovated, solar panels were installed, leaflets like the jacuzzi were deleted and the consumption is meticulously tracked and adjusted.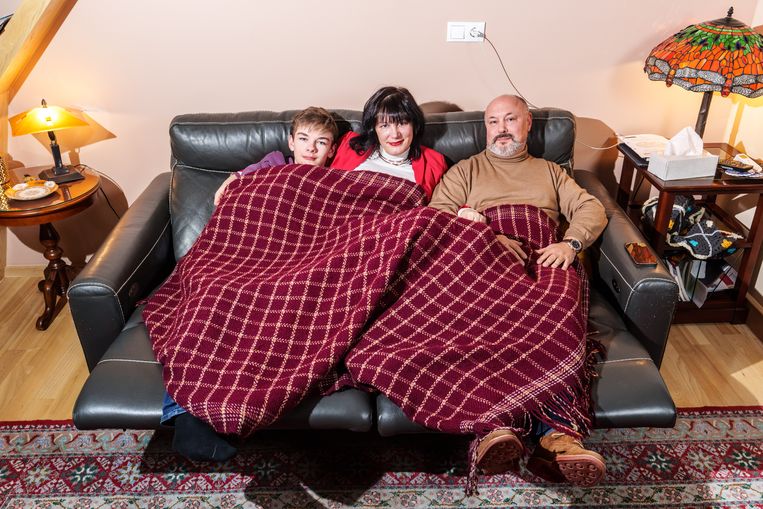 "Of course it's nice to be able to walk in with a T-shirt and bare feet. We used to set the thermostat to 20 degrees without thinking too much. Today the room temperature is 17 to 18 degrees and in our home offices we heat up with infrared panels and electric carpets. In the living room there is a wood stove with fans that distribute the heat, our son is now studying in his room with an oil stove. And we put on thick wool stockings (laughs)."
"Even though my wife is from cold Latvia, she likes to be warm, and my daughter also complains about the cold nights every weekend, so I like to keep it comfortable in the house. Shall I get up at night especially to throw an extra log on the fire? No, but the first thing I do in the morning is run the appliances to keep it warm. And as soon as it is pleasant in the house, I switch them off – that can also be done remotely. But we don't just save on the bill, we also do it out of principle. Every cubic meter of gas that we don't use will hopefully help stabilize the price. We can still afford it, but others may not."
Frans Beyers (71) and Miriam Coel (67) from Kalmthout in Antwerp: 'Still at 21 degrees, because we barely pay for electricity'

Frans and Miriam also paid twice this December – up to and including Wednesday – for natural gas compared to November: 114.97 euros to be exact. Although the couple hardly cares about that. Thanks to their dynamic contract for electricity consumption – only a few dozen Flemish people have such a contract with Engie – they save a lot of money anyway. Although a home battery and associated software are indispensable for this.
"With such a dynamic contract, our electricity costs change literally from hour to hour, linked to the market prices at that time," explains Frans. "Each day therefore consists of 24 different rates. So the software chooses the cheapest 'hours' to charge our home battery. Of course not between 6 and 8 pm when the whole country comes home and starts washing and cooking. But for example at 2 o'clock in the morning when the electricity grid is barely loaded. And afterwards, with such a fully charged home battery, we will certainly get to a day and a half for our power consumption."
Don't skimp on gas

"The best thing about such a dynamic contract: especially in the summer months when market prices go down, we even get a refund for part of our electricity consumption. For example, 41.53 euros last September and even 92.42 euros in August. Although you must of course also take into account the investment made earlier: we still paid more than 10,000 euros for that special software and the capacity expansion of our home battery. But it means that today – despite the freezing cold – we actually do not skimp on our heating with natural gas."
"In recent days, too, the thermostat here has always been at least 21 degrees – I've worked long enough in my life to still suffer from cold. Although I must add that I do turn off my gas tap completely between the beginning of March and mid-November. In the meantime, a heat pump heats our living room and a solar boiler does the same for our water."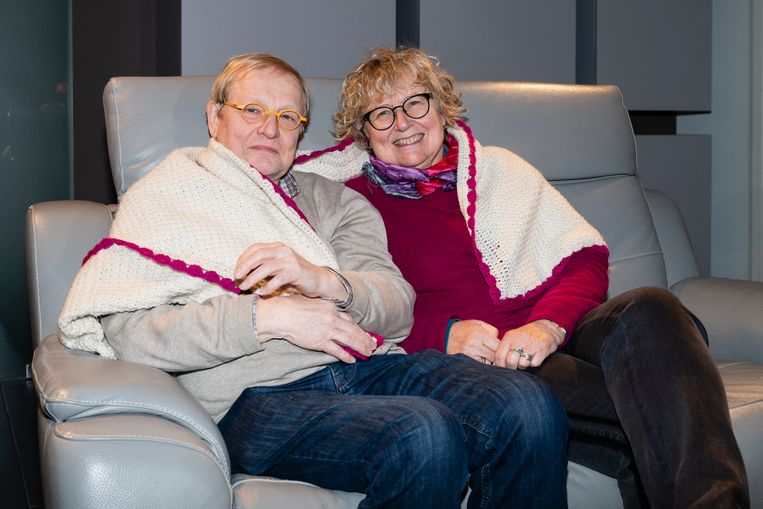 Filip Giraldo (53) and Johan Fabbro (61) from Hasselt in Limburg: 'We already felt the storm coming'

The cold December days cost Filip and Johan 10 euros a day – three times as much as in November – on heating. "We already felt that storm, of course," says Filip, head of department at Hogeschool PXL. "Fortunately, in the mild months of October and November, we fell seriously below our estimated consumption, because we only had the heating running for the first time in mid-November instead of September. Let's hope that effort brings some balance this month. Because our apartment is well insulated and 19 degrees indoors is fine when we are working, but it quickly feels chilly during an evening watching TV."
"Although excesses of up to 23 degrees are no longer an option: the thermostat does not go higher than 20.6 these days and in the evening we turn them off an hour before going to sleep – leaving the heating on until two minutes before bedtime is pointless necessary. Although we did not keep up our intention to heat as late as possible in the morning. (laughs)"
"Our showers have also been shortened and we have done everything we can in terms of electricity consumption: we replaced old electrical appliances, which we also leave to sleep less often, and use the off-peak hours to run the washing machine and dryer. There will also be a high-efficiency boiler and we will look with the fellow residents to see if we can have solar panels installed."
"Of course we are concerned, but the only thing we can do is monitor our consumption and increase the advance if necessary. Everything still depends on how severe the winter will be and how prices evolve. We put every major expense in the balance, even if we have some buffer and the government happily steps in to help. In the end, there are still people in less energy-efficient homes with higher bills who earn the premiums more than we do."