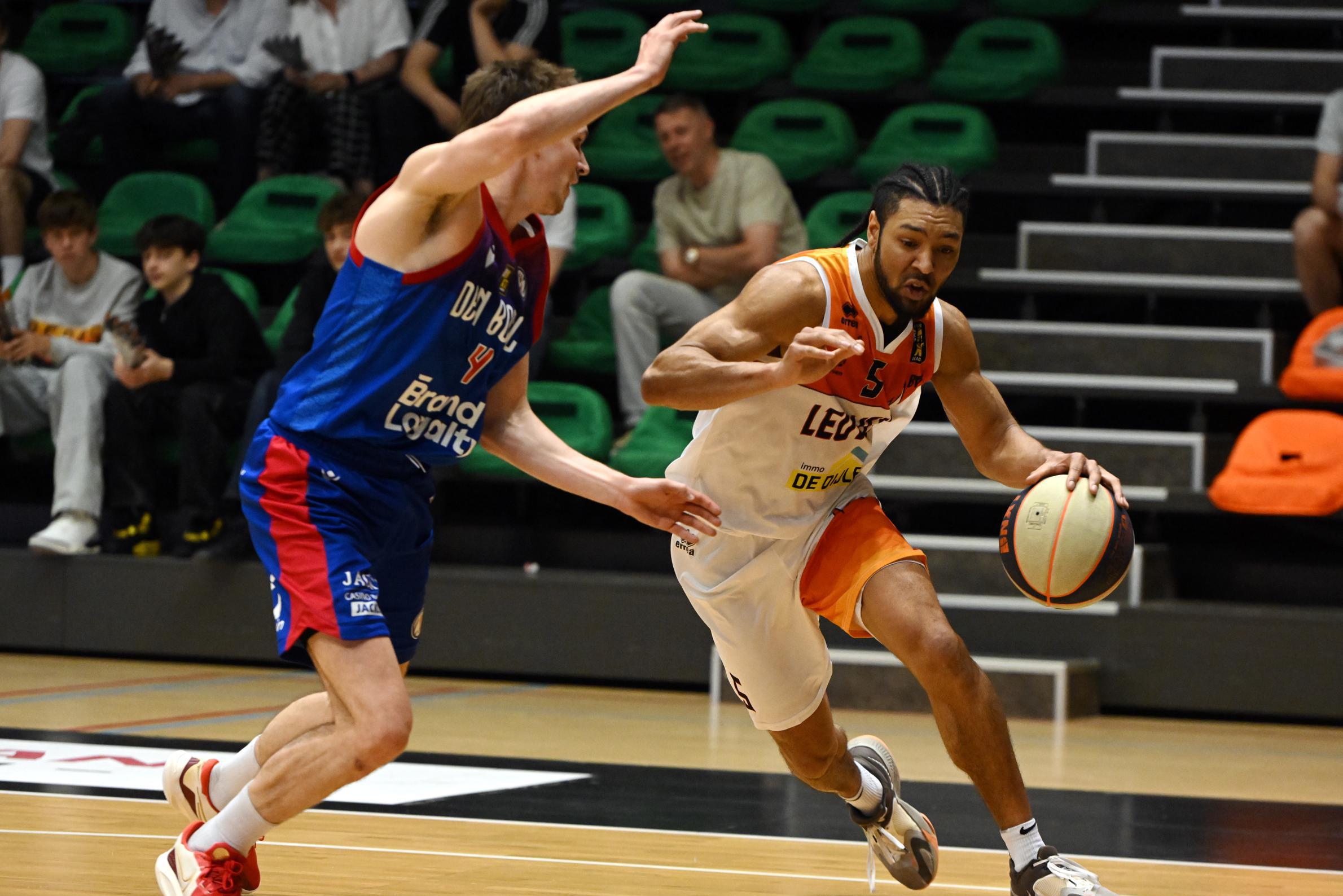 Leuven is in a perfect flow. Three victories in a row in the BNXT Play-offs make you dream of more. Eddy Casteels and his fighters can also cross Mechelen on their path, the opponent that stopped them in the national play-offs. The further course of the BNXT Play-offs has a Belgian color by the way: the Dutch teams were all played home.
The flow we're talking about, Josh Heath has a big part in that. Relieved of his shoulder injury, the pointguard peaks as usual. In Den Bosch, the captain gave the Leuven collective wings. With 14 points, 4 rebounds and 7 assists, he took the lead in the battle to let Den Bosch go for the axe.
Josh, will you still play in Leuven next season or will you use the great Houdini trick again and disappear unnoticed again at the end of this season?
(laughs) "I am keeping all options open. It's not that I don't like being here. I feel fully appreciated by the club and the coach, that is beyond doubt. But you never know what's coming your way, and which clubs will come knocking. I want to spare myself and those around me from delusions. So I build in some reserve, and reserve my answer."
You moored here again in November after briefly trying your luck at NBA club Orlando Magic. You ended up in another Leuven Bears. How different was that?
"It is difficult to compare both seasons. First of all, Leuven started the competition this season with significant players such as Vanderhaegen and Pritzl in the infirmary. If you see how great the contribution of both is, I don't have to draw a picture. Pritzl is incensed everywhere. He was absent for a long time due to a hand injury. When I washed up, the fall of the leaves turned out to be not only synonymous with the season in which I arrived: Bears was also in an autumn slump due to that loss. And I myself was struggling with a belching shoulder injury. All of that led us to miss out on Elite Gold."
"Last season we had classmates like Solomon Young and Jakob Cebasek who were very decisive. We do not carry with us that injury burden and unavailability of crucial players like this season."
Pritzl, you dropped the name: what value is he to the team?
"Priceless. He gives the team oxygen, can break open a locked game single-handedly. You need it from those kinds of pawns on the parquet. Once he gets hotthere really is no stopping it…"
"This year we also had the invaluable experience of Mo Kherrazi who taught us a lot, albeit late. He arrived just after me (in december, red.). Too bad for him and us that he had to leave Leuven. But that's just how professional sport works."
Louis Tobback, former mayor of Leuven, called you his favorite player last year. He said to come to the Sportoase for ball magicians like you. Does that flatter your vanity?
"The ex-mayor you say? Well, that's always nice to hear, of course. Whether it comes from him or from Jan with the cap: appreciation for your person is always good."
Thomas Vander Mars and his Heroes have eaten you with skin and hair, after also having consumed Vander Mars' ex-club, Aalst, as an aperitif. What didn't work out in the national play-offs, should work in the BNXT Play-offs: be in the semi-finals?
"It would be nice to give our season the ultimate shine. But we are not yet in the semi-finals. First get past Charleroi. Last year's Elite Silver champion against this season's…" (winks)
Finally. Dilemma question: Solomon Young or Brevin Pritzl on your team? Who would you most like to eat cherries with?
"Oh God. You can't make me choose between them. Can I use my joker here?" (smiles)
Certainly. That's allowed. In that case: KeVaughn Allen or Brevin Pritzl?
(laughs)"To choose between them is even worse. These are my current guards, man. I love them both for their golden wings."