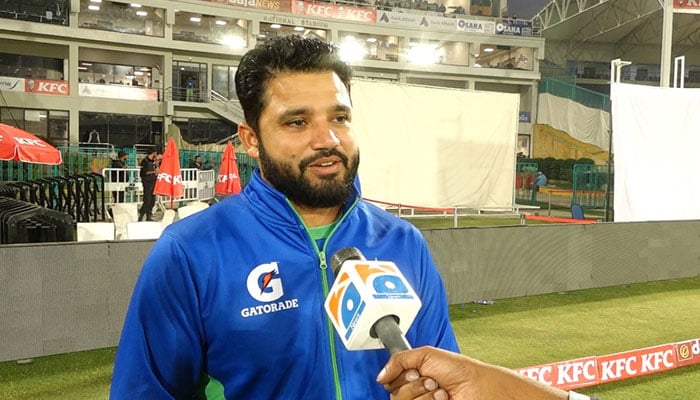 Pakistan has given many famous batsmen to world cricket, some have been recognized for their talent and some have not got the place they deserved despite good statistics, one such player is Azhar Ali who on Monday Played the last innings of his career in Karachi.
37-year-old Azhar Ali started his international career in 2010, played 97 Test matches and scored 7 thousand 142 runs.
In an exclusive interview with Jang after the last innings of his career in the Karachi Test, Azhar Ali spoke openly about his career's downfalls, challenges, memorable moments, bitter memories and other issues.
When asked if there was any thirst in his 12-year career, he said, 'I wanted to play 100 Test matches but it was not fulfilled in this series, but it is not a big deal. Yes, it is sad that he could not finish the Test against New Zealand in Abu Dhabi. I wish he would have gone out and hit a six, but I did not think so at that time. went'.
Azhar Ali said, 'In cricket there are ups and downs, there are challenges, there are good performances and there are disappointing moments in a career, it's a part of a career, it doesn't always go as you want, that's how life goes. .'
Azhar Ali said, 'Started as a leg-spinner, then slowly came to batting, if I go back to those moments today, I will always be satisfied with that career, fond memories are winning Champions Trophy, Test number one. It involves being a team.'
The former captain said that he played as a batsman in the 2006 season, Mohammad Wasim played as a batsman in KRL, Ali Naqvi was also impressed by him, from there I got the confidence that I can play as a batsman. Slowly people accepted but it took two or three years after which people believed that I can bat.
He said that 'there were difficulties throughout my career that I always had to convince myself, but it taught me to work harder, now playing 97 Tests is a big achievement in my eyes.'
Azhar Ali started his career at a time when Pakistan cricket was mired in controversies. had one goal and that was to win the trust of the fans once again, two or three years the team united and achieved a lot of success.
In response to a question, Azhar Ali, who played the first 72 Tests of his career outside the country, said that 'I or the players with me probably did not think that we would be able to play Test matches in Pakistan now, but the security agencies did a great job and Then thanks to those teams who came in the beginning, now the glory is restored, fortunately we got the opportunity to play in Pakistan.'
When asked what his best innings was in his opinion, Azhar Ali replied, "I think to score 300, to score 200 in Australia is definitely a big performance but a player would have known that in It depends on what situation at what time, so in my view the century in Southampton in England is very important because at that time I was struggling a lot, so that innings was very important for me.
On a question, Azhar Ali said that Younis Khan, Misbah-ul-Haq played a lot of role in his career, he made friends who would guide him, he tried to keep people around him who would appreciate him all the time. Instead, point out the mistakes.
When asked if he felt he didn't get the recognition he deserved based on his stats, he said he could do what he did on his own, but it was definitely a challenge.
"We face a lot of criticism. If outsiders like us were out of form, they wouldn't have to face the criticism that we faced," he added.
The former captain admitted that when he was out of ODI cricket, at that time he felt that his white ball cricket was still there, but as he was not getting a place in the team, he stepped aside and no one knew about it. No doubt.
Azhar Ali had announced before the start of the Karachi Test that this would be his last Test, after playing an innings of 45 runs in the first innings, he was dismissed for zero in the second innings, which was also his last innings.
Azhar Ali admits he wanted to make the last innings memorable, it's a shame it didn't happen but that's part of cricket.
He added, 'It was quite emotional when he came back from being out, 12 years in the field, he was emotional when he left the field. I thank my fellow cricketers and the PCB for the manner in which I was bid farewell.
Azhar Ali said that he will stay connected with cricket even after retirement because cricket comes, currently he is going to play county after which he will think about which direction to take his career either commentary or coaching.