The reflection period is over, the hunt for the leader can begin. 'We have to dot the i's and cross the t', says coach Carl Hoefkens, who will play against STVV in the cup with Club Brugge tonight.
The break came at a good time. Since Club Brugge gave up a 0-2 lead at Dudenpark on October 22, none of the six remaining matches was convincing. Before Club-Antwerp, the board sounded the alarm.
"Contemplation is not the right word, but it was a period of reflection," says Carl Hoefkens. "We re-watched those matches. Now we have to dot the i's and cross the t's. Before the break everyone wanted to show themselves to us and we didn't always find an answer. We have to deal with that better in the second round."
Unlike the competitors, Hoefkens saw almost his entire base team go to the World Cup. "It wasn't frustrating, but we did have reservations about it. The other teams went on an internship, we were just too few for that. Now we only had five days to work on certain things."
From Bruges' point of view, Noa Lang was the last man standing in Qatar, although he had to be satisfied with a short substitution against Argentina. Now that all transfer troubles and injuries are over, Club hopes to finally see the old Lang again. "He returned with great enthusiasm," says Hoefkens. "That also applies to the other internationals. I look forward to seeing them at work again. The World Cup was a fantastic experience for Lang, but just going should not be his ambition. He has to go and play and I told him so. That is the step he has to take now."
Big backlog

The thirteen-point gap with KRC Genk is not very encouraging. Yet it is impossible for Club Brugge to throw in the towel now. However, it should be a lot better. "The race to catch up, or at least the attempt to do so, has started today", says Hoefkens powerfully. "We succeeded in Europe and we are through in the cup. In the competition we have brought too little. We didn't get what we wanted. Last year we were twelve points behind Union and it turned out well. For this to succeed again, we need complete dedication.
"Before the break we had to look for a moment to take a day off. Sometimes we were working for sixteen or seventeen days straight. And they were all matches that had to be won."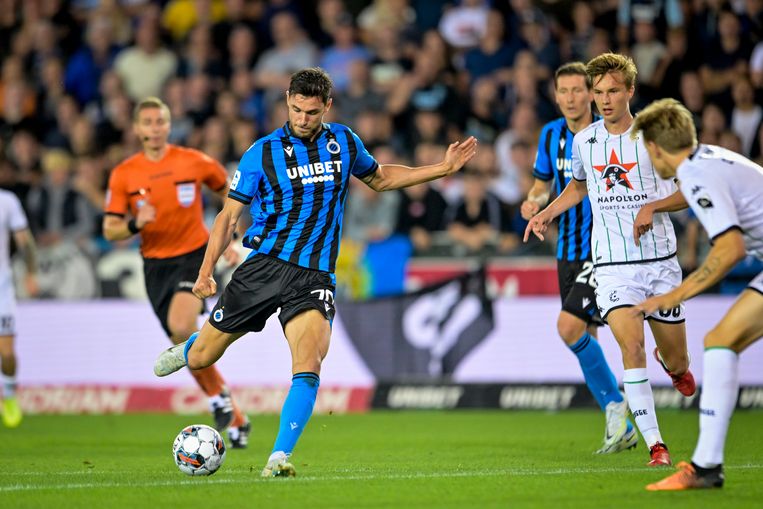 In terms of transfers, Ferran Jutglà turned out to be a bull's eye. Players who were most expected to be well below standard. Record transfer Roman Jaremchuk only scored twice in seventeen matches, Dedryck Boyata in turn made several mistakes – if he was fit to play at all. While the break should have been a new start for the duo, they are both in the rag basket.
"Unbelievably unfortunate", Hoefkens sighs. "Jaremchuk was very passionate in training and just at that moment he dropped out (spierscheur, TTV). He will only return against Genk at the beginning of January. Boyata has a knee problem since yesterday." Waiting to see if they can still have an impact at Club with some delay.
Comeback Rits

Back with a vengeance and actually winter transfer number one: the fit Mats Rits again. Before his injury, he was a strong player, with 5 goals and 4 assists in his last 10 games under Alfred Schreuder. "Rits has worked incredibly hard. Kudos for the level he achieves in training," says Hoefkens. "He is only allowed to play matches from January 1, then he can take the next step. I am very happy that he is back."
Before the break, Bruges midfield (Onyedika-Nielsen-Vanaken) was untouchable, but there were few or no alternatives. If Rits becomes the old one again, that will soon change.
Club Brugge – STVV at 8 p.m