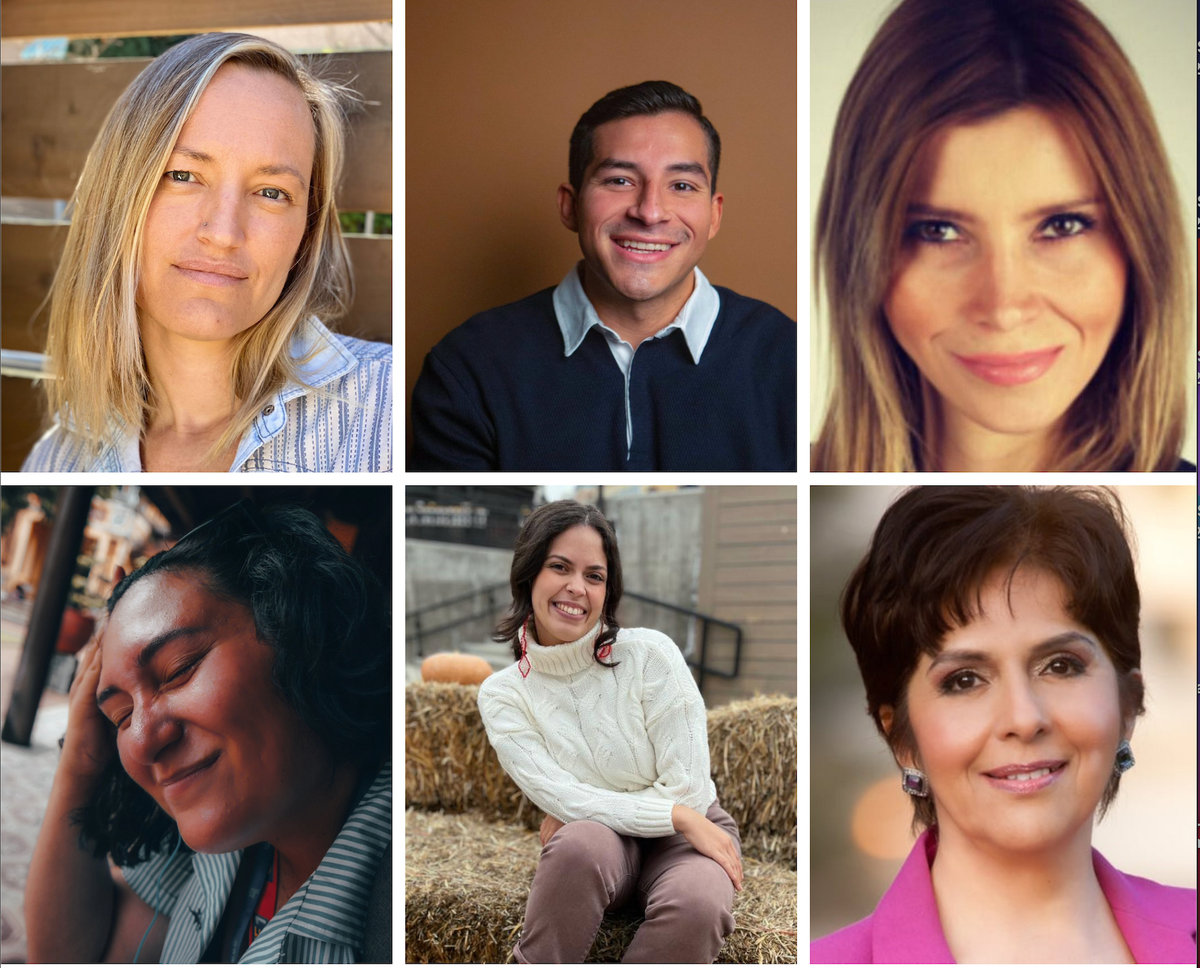 ANDthis March 8, the website of International Women's Day has announced that this year's theme is #BreakTheBias ("Ending the bias").
The organization calls on people to "imagine a world with gender equality", free of bias, stereotypes and discrimination against women.
On this International Women's Day, the Independent en Español team shares their thoughts on the date.
Alexandra Tirado Oropeza, Editor
Like many, the events of the last few weeks have made me reflect on my own human experience. Today, on International Women's Day, I start to think about how my gender has marked so many paths in my life, and how it has done so for other women in the world.
I think of the mothers who hug their babies trying to escape the war in the Ukraine, I think of the Latin American women who are victims of femicide and famine, and I think of the women who are not allowed to have a voice in different parts of the world.
But when I feel that negativity taking over me, I also remember those women who raised their voices, those who fought for change and those who, despite adversity, came out ahead. Today and every day he celebrated them, and not particularly famous women: friends, family, acquaintances, co-workers – there is inspiration in every corner.
Much of what it means to be a woman is rooted in empathy (some call it the "maternal instinct"). But I believe that regardless of our gender, today more than ever it is that empathy that we must bring to everything we do. The world is hard enough, it's time we got busy making it better for everyone.
María Luisa Arredondo, Assistant Editor
The celebration of International Women's Day causes me mixed feelings. On the one hand, it is impossible not to feel grateful for the innumerable advances achieved by the women who came before me and who have made my path easier. Without the fight they gave, it would have been impossible for me to have access to a university education, vote, hold a professional job and have, at least under the law, the same rights as men.
On the other hand, I am aware that, in practice, women still face enormous challenges to achieve full equality in all areas. Even in developed countries it is common for women to be paid less than men for the same work and only very few are considered for positions of power. But without a doubt, one of the problems that hurts me the most is the gender violence suffered by many women and which frequently translates into femicides. In Mexico, for example, it is estimated that eight women are murdered every day due to the indifference of the authorities. This is clearly a reprehensible situation, just like the one faced by women who migrate and are persecuted and harassed. And like the one suffered now by millions of Ukrainian women who are forced to leave everything and face an uncertain future with their children or to stay and fight for their homeland even if it costs them their lives. For all of them, on this date in which we celebrate women, not only my admiration and respect for her courage, but my unrestricted solidarity and the commitment that, from this platform, we will continue fighting for a better future for all of them.
Diego Pineda, Weekend Editor
On this day I reflect on my role as a son, brother, friend, and ally of women. Throughout history we have had many women who have fought with determination for gender equality, their dreams, and to have a voice in societies that have tried to silence them. My tribute on this great day goes to my mom and my sister. Mommy, you know that you are my reason for being and my example of strength and faith. Everything you have taught me are seeds that little by little are turning into fruits. My sister, being the eldest you have had to be our leader. Thank you for teaching me the true meaning of sibling affection. Today I celebrate you and all women. Let's use this day to recognize the achievements of the women in our lives and the impact they have made to make us the people we are today.
Denny Alfonso, Writer
Women are in a continuous evolution and from all fronts we have the task of moving forward despite adversity, today the drama of the refugees in Ukraine reminds us that we are brave, and that throughout history we have emerged triumphant from the battlefield. Our women on the border between the United States and Mexico, or those who cross the dangerous jungles from Venezuela to Colombia, those who live in constant fear in the Gaza Strip, each and every one of them has a common denominator that seeks justice and peace for their families. . On this International Women's Day we reflect on personal challenges as journalists, when we tell stories that make a difference, and the importance of our contribution in newsrooms. This is a call for the generous contribution of women in all branches and in all circumstances to be constantly celebrated; they are heads of state, but they are also mothers; They are businesswomen but also grandmothers, they are friends, sisters and daughters.
Journalism has allowed me for more than a decade to witness the triumphs and defeats of women who, regardless of their race or country of origin, allow us to learn from each of their experiences, forging a sustainable and enriched humanity.
Sofia Zermóglio, Writer
There are thousands of women who carry out acts that do not appear on the covers of any newspaper, they are neither listened to nor applauded and yet they remain silent, tireless, because that is what it is about, always moving forward. Some women use art, others tears, others words, others resort to shouting, for others it is easier to use the body and movement and give sincere hugs, others cradle silence, others are powerful in powerful works, and others They do ant work, so small that it seems that nobody is looking at them. Some shine, others hurt, and others like me take refuge in the letters, the differences empower us because in essence we are the same. We are made of love. We are made of hope. We are mothers of the body but sometimes we are more mothers without having to give birth to any child, because we give birth daily with our work. Together. Alone. We love and love without limits. We love animals, children, men, women, we love projects, our home, our space, our nest. We love who we are and we love to deliver as we deliver, sincere, bare, real. We fill with light and life what we touch.
We are women. We love each other.
Alex Mendoza, Video Editor
To commemorate International Women's Day:
International Women's Day 2022
Michelle Padilla, Translator
I'll be frank: reflecting on March 10 is intimidating for me. I consider that it is an exercise that involves strong feelings of gratitude, responsibility, fear and hope.
First of all, I am grateful for the victories our predecessors had to achieve before my existence was added to Earth. I have to confess that it is a day that in my first years of life had a superficial importance (you know, the already classic "congratulate the beautiful women on their day"). It wasn't until I started to grow up and face life in a more conscious way that I realized the importance of commemorating the place that we have unfortunately had to achieve in the world.
I feel the responsibility when I realize how much I take for granted in my day to day. Growing up knowing that technically I have the freedom to develop the person I want to be (personally, professionally, socially, etc.), it is very easy to ignore that it is actually a "privilege" that many other parts have yet to reach. of the world. The thought that our contributions today are helping to define the path for the next generations is strong.
And finally fear and hope go hand in hand in my thoughts. When your job is to read various human rights injustices throughout the week, it takes some effort not to give up and not lose confidence that change is possible. It could be that the key is to always remember that no fight is in vain as long as there is commitment and unity.