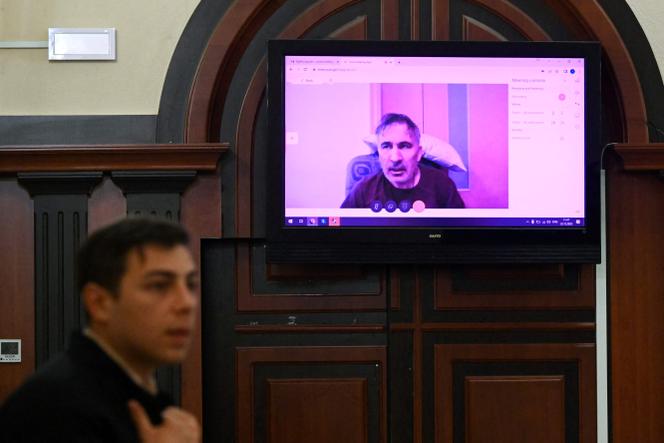 The images are strangely red but it is indeed the face of Mikheïl Saakashvili, very thin, which appears on the videoconference screen. The former Georgian president and opposition leader, who had not been seen in public for seven months, sits on his hospital bed, his hair dishevelled, a pillow behind his head. The fate of the former ruler, imprisoned since returning to Georgia in October 2021 after eight years of exile, is being decided these days in the court of Tbilisi. After two successive hearing postponements, the court began, Thursday, December 22, deliberations to decide whether he should be released or if his sentence should be postponed for health reasons.
Mikheil Saakashvili's lawyers made this request after having read the medical report of an American toxicologist, dated November 28, affirming that the former president was "poisoned" mercury and arsenic. According to the five-page document, which is based on medical samples taken by a team of five other top American doctors, the "increased risk of mortality is imminent" without adequate treatment "who seems to have been refused or who is unavailable".
"A matter of life or death"
On Thursday, a few dozen supporters of the former leader had gathered outside the Tbilisi court, placards in hand, to call for "save the president" and release him. "We demand that Mikheil Saakashvili be allowed to travel abroad to receive medical treatment, as recommended by doctorssaid his lawyer, Dito Sadzaglichvili. Its a question of life or death ".
The former leader's health has deteriorated significantly since his incarceration. He has lost more than 40 kilos in one year, including 25 kilos in the last three months. On November 28, human rights defender Nino Lomjaria, who went to visit her, confirmed the "strong deterioration" of his state of health, "visually apparent"and specified that Mr. Saakashvili "stay in bed almost all the time".
In a letter sent to Monde on December 8, the former president, who considers himself the "personal prisoner" of Vladimir Putin, of which he has long been the pet peeve, called Emmanuel Macron for help. " As I'm dying, I don't have much time! »
Six days later, the Georgia Special Corrections Service, citing a "great public interest", broadcast controversial images of the ex-president in hospital, recorded between August and September. The ruling party, Georgian Dream, founded by the billionaire oligarch Bidzina Ivanichvili, great rival of Mikheil Saakashvili, thus intended to demonstrate that he simulates the disease. On this video, from surveillance cameras, we see the former president fidgeting nervously on his sheets, throwing objects at staff, falling out of bed, smoking in front of the television and moving around on a walker. "The simulated actions of Mikheil Saakashvili are clearly visible. Their aim is to obstruct the application of justice, to mislead society and international partners"the prison service said in a statement.
You have 52.15% of this article left to read. The following is for subscribers only.