More and more people combine their job with caring for the young and the elderly. The so-called sandwich generation likes to roll up their sleeves, but is therefore also more likely to struggle with stress and financial problems. 'I haven't gone on holiday for years and I always have my mobile in my pocket.'
"I'm a caring type, I wouldn't be able to bear it if my father lived in a residential care center," says Katrien Burghgraeve (45) from Gentbrugge. Her daughter is almost of age, but it doesn't look like her care duties will be lightened anytime soon. For years she has been visiting her parents, who live across the street, every day.
At first she mainly helped her mother, but since his death a few years ago, her father has also been struggling with health problems. Even before she leaves for work in the morning, she visits him to get his clothes ready and make coffee. At night her last assignment is to put him to bed.
They are tasks that she does with love and she wouldn't want it any other way, but the combination with her own household is tough. "I have already considered taking him in, but my house is too small for that. Moreover, you have to give up even more of your life and you no longer have any privacy."
Burghgraeve's situation may be recognizable to hundreds of thousands of Belgians. About 9 to 15 percent of the adult population belongs to the sandwich generation. This is a heterogeneous group of which most members are between 45 and 65 years old. In addition to their job, they fulfill care tasks for a younger and an older generation.
Growing group

The 'sandwichers' often focus their attention on (grand)children and their own parents, but blood ties are not a requirement. The group is also growing, which has to do with the systematic increase in the retirement age.
"Today, many people are still working when they become grandparents, while that is often also the time when their own parents (in-law) are having a harder time," says Miet Timmers of the Knowledge Center for Family Sciences at Odisee University of Applied Sciences.
'Sandwichers' are often women between 45 and 65 years old, although variation is possible. The generation of women who were the first to study en masse and work outside the home are now once again taking on a pioneering position by experiencing on a large scale how difficult the combination of a job and a double care task is. That often leads to problems.
The 2019 Workability Monitor shows that people over 55 are finding it increasingly difficult to be busy with their work and family at the same time. Timmers hypothesis is that the 'sandwich problem' is largely responsible for this.
After all, several studies show that the challenges are occurring all over the world. In a recent University of Michigan study, 44 percent of "sandwichers" reported significant emotional distress, compared with 32 percent of peers who cared only for an older generation.
These issues often remain under the radar. After all, those who theoretically belong to the sandwich generation do not necessarily identify themselves in that way. They often feel that their care tasks are part of their life phase, even though the work context has certainly changed. When a period like the corona crisis arrived and all those in need of care suddenly needed even more attention, those pain points were exposed even faster.
Burghgraeve confirms that it is not always easy to keep the various balls in the air. "I haven't gone on holiday for three years and I always have my mobile phone with me," she says. Her father has an alarm button that he can press if he falls. This way he can inform his daughter at all times.
"You are constantly vigilant as a 'sandwicher'. I am lucky that my family understands that I am not always home. They know why I do it."
Financial consequences

In the American study, people from the sandwich generation also indicated that they were struggling with financial problems twice as often. Sometimes they slow down professionally to take on extra care tasks.
Burghgraeve did the same, although this again has financial implications. "I now work 28 hours a week and receive an informal care premium of 130 euros per month. That is not compensation for the lost working hours," she says.
There is a good chance that the problems of 'sandwichers' will increase even further in the future. People are having children later and later. This also increases the chance that grandparents will be able to take on fewer caring responsibilities and will need help themselves. In her practice, child wish coach Viki Peeters (50) notices that the subject is of concern to many wishing parents.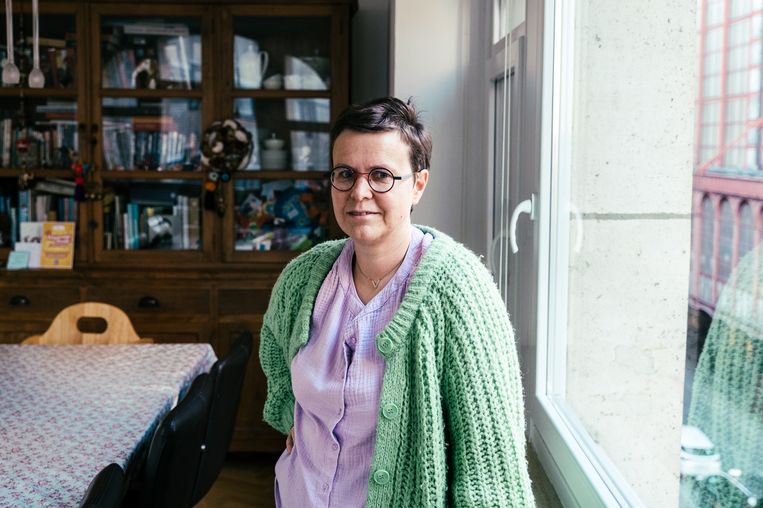 She herself gave birth to her sons when she was 36 and 43 years old, which means she also belongs to the sandwich generation. She never had to run her parents' household, but because of their advanced age, she felt it was important to make enough time for them.
"You realize more that life is finite," says Peeters. So when her mother died in April at the age of 81, she was thankful that she took the time to make enough memories together.
As the number of 'sandwichers' is increasing, Timmers hopes that members of the group will also find the strength to indicate their own limits more often. "The generation grew up with a great sense of duty. However, it must also be possible to talk about a better division of tasks."