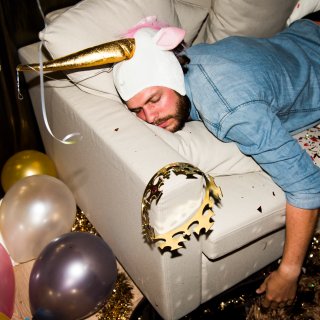 The New Year is just around the corner, but not everyone is looking forward to New Year's Eve. While Christmas is all about family, many celebrate December 31 only with their partner or family. This is not always easy for single people and childless people. How do you avoid feeling lonely on New Year's Eve?
"It feels a bit strange to talk about loneliness because my social life is very rich." Since her teenage years, Phaedra (31) has made it a habit to start the transition to a new year with a party. She enjoyed celebrating with her best friends, but that is no longer evident today. After two corona years in which social distancing was the norm, people around her are not very keen to return to the previous party method.
"Many friends now have children and want to celebrate New Year's Eve in an intimate circle. As a single person you fall right out of the boat," she says. While the entire end-of-year period revolves around fun, she has the feeling that she is suddenly confronted with her loneliness. "I don't think even my best friends realize how hard this is hitting me," she says.
Phaedra is certainly not alone in her concerns about loneliness at the end of the year. Aid agencies such as Tele-Onthaal always experience busy periods in December and receive a striking number of messages from people living alone. In special campaigns they call for people to keep talking about dark thoughts. According to clinical psychologist Manu Keirse, this candid communication can also help to make the loneliness during the end of the year bearable. "You have to take the initiative yourself and not wait for someone else to ask if you want to celebrate together," he says.
Shame is unnecessary in any case, since many people suffer from the problem. Single people who are told by friendly couples that they are not welcome can also consider celebrating together with other singles. It remains an option to set up something yourself, but organizations from various cities have devised special party formulas that focus exclusively on singles. For example, fellow sufferers only have to shove their legs under the table on New Year's Eve.
Anyone who does not feel called upon to spend the transition from old to new at such a party can also take a radically different route. It sometimes feels like a new year can't start pleasantly without the presence of a lot of friends and a cartload of cava, but that's not the case. "Loneliness does not always stem from being alone, but from a lack of connection," says Keirse. While families may prefer to spend New Year's Eve intimately, for example, that doesn't mean they don't feel like meeting a few days before. That way, the social contact is offset and it's easier to be alone when the countdown starts.
Spending New Year's Eve alone for the first time will never come naturally to many. Even when there were other opportunities for social contact in the run-up to the new year. In order not to fall into a black hole on December 31, it is important to make good preparations, according to Keirse. Those who have a clear plan for what the day will look like have a smaller chance of suddenly falling into a black hole. "You are less likely to be dragged away by a rush of emotions," he says.
After all, the responsibility for the well-being of lonely people during the end-of-year period does not lie solely with them. Those who don't have to worry about social contacts on December 31 can feel free to think about who is having a harder time in that area and contact them. As a great philosopher once wrote: a text message doesn't hurt. "In fact, there is a tradition in various French farming villages on Christmas Day to add a chair for those who are lonely. We could do something like that here too," says Keirse.