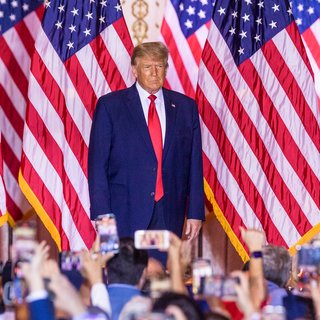 A merciless report points former US President Donald Trump as a key figure in the storming of the Capitol two years ago. But will it damage him as a presidential candidate? The biggest problem for Trump is Trump himself.
Disrupting the democratic process, inciting or supporting an insurrection, conspiracy against the US and conspiracy to spread untruths. Those are the four counts Donald Trump is guilty of, according to the final report of the special commission investigating the storming of the Capitol.
Earlier this week, the commission recommended that Trump be prosecuted. That is a choice ultimately for Attorney General Merrick Garland to make. "In any case, the committee members did everything they could to make that choice as difficult as possible for him," says Bart Kerremans, professor of American politics (KU Leuven). "If he decides not to prosecute Trump, he will set a dangerous precedent. If he does, he wants to be virtually certain that there is a good chance that Trump can actually be convicted."
What Garland decides will soon become apparent. As a result, Trump is already certain of critical coverage in the near future. Not that it was previously a pleasant end of the year for the former president. Since the disappointing election results for the House of Representatives – against all odds many of the Trump-backed candidates lost their election – the bad news for Trump keeps coming.
After a long court case, six years of Trump's tax returns were released this week. It showed that he had paid little or no taxes during his presidency. Meanwhile, the investigation into the presidential documents that Trump took to his home in Mar-a-Lago, Florida, is still ongoing. Normally they had to be kept in the presidential archives in Washington.
In the Lee

Until recently, those kinds of scandals just seemed to slide off Trump. Is that still the case? The Belgian-American Alison Woodward, emeritus professor at the VUB, thinks that the situation for Trump is now less rosy than a few months ago. "You see how some key supporters of Trump within the Republican party, for example, remain silent now or themselves off the record even speak negatively," she says.
Perhaps people's patience has just run out. "It took a long time, but maybe the scales are falling from people's eyes now?" says Woodward. "The fact that things are quieter around his person is also due to the media, of course. Every tweet used to be good for a message. Now Trump may still chatter, but no one hears. According to insiders, he is going crazy because of the lack of attention. Trump wants to live in the spotlight. But that has become less and less the case in recent years. He has no more power."
It's not that Trump isn't trying. That is what he called the committee after the publication of the final report kangaroo court on his own social network Truth Social. But such a message lacks the resonance of his earlier tweets. Just last week he tried to get attention by issuing NFTs. Which also worked. Although it was mainly because all the media fell over each other to say how he made a wrong assessment. But actually the conclusion is that Trump has been pretty quiet since he ran for president.
Ron DeSantis

Kerremans nuances. "I'm not convinced that any of this changes much about how public opinion feels about Trump," he says. "Take the committee's report. That is a very important report for American democracy, but it will not change people's perception of Trump."
According to Kerremans, Trump's main problem is, well, Trump himself. "He has put himself in a difficult situation," says Kerremans. "First and foremost, he is failing to get past the 2020 election. That is starting to work on the hips of some of the doubting voters. Suppose they are not satisfied with President Joe Biden's policies: what is their alternative? Someone who pretends to be sore loser and keeps raving about the elections two years ago. In the meantime, they are confronted with real problems, such as inflation."
A second blunder from Trump is his role in the midterm elections for the House of Representatives. Gradually, the analysis by just about everyone is that he has seriously missed the point there. "He has been too impulsive in supporting candidates," says Kerremans. "That happened without proper screening. In retrospect, they sometimes turned out to be just bad candidates. That has seriously damaged his position within the Republican party. At the same time, someone emerged within the party who is overtaking Trump on the right and may succeed in convincing those doubting voters. That is Florida Governor Ron DeSantis."
All of that, according to Woodward, makes it increasingly difficult for Trump to make another political comeback. "Never say never in politics, of course," she says. "But I think his chances of becoming president again are much less than they were two years ago."