Game news Harry Potter fans, you will love this almost unanimous Xbox Game Pass game
Available in Xbox Game Pass, Potion Craft is aimed at alchemy simulator enthusiasts or simply those who enjoy relaxing experiences.
If Harry Potter potions lessons are your favorite discipline, this game might just be for you. In Potion Craft : Alchemist Simulator, no class to follow led by Professor Snape, you already have your own shop on which the whole city will soon depend. On the other hand, if your role seems to be that of treating all the ills of the world, you do not yet have any prior skills. Leaves, flowers, berries, roots and mushrooms can be picked from your garden and then ground blind in a mortar like good coffee to hopefully unearth a new position recipe. The ingredients are then thrown into the cauldron, mixed, and then heated. To help you, you have an alchemical map which, according to your manipulations, traces your route to draw the different effects. The selected ingredients point in different directions, so it's up to you to grope around to pick the right one. A fairly unique crafting system in itself. Along the way, you can even pick up a few skill points here and there that can improve your business. Love potions, poison, healing, potion of strength… the discovery of new recipes is always a little pleasure while being quite difficult to reach, your supply of ingredients being limited.
---
A cozy game
The interactions are physical, simple to perform and are linked to the rhythm of music that is intended to be soothing, although it could irritate your eardrum after a few hours. The frame is visibly planted a few centuries back, as evidenced by the polished aesthetic inspired by medieval manuscripts. Every day, customers come to your shop to find a solution to a problem that is sometimes vaguely explained, which makes the task all the more interesting. Some seem to have vile intentions, leaving you the choice to embody an honest trader or an abominable weasel who only seeks to fill his pockets. Either way, the clients are all endowed with formidable patience and let you feel comfortable navigating the game at your own pace; a completely relaxing sandbox-like experience that can easily fit into the category of so-called "cozy" games. Of course, there are still certain challenges: it's about earning as much gold as possible in order to improve your shop and your equipment. The lifespan of this alchemy simulator easily reaches ten hours of play.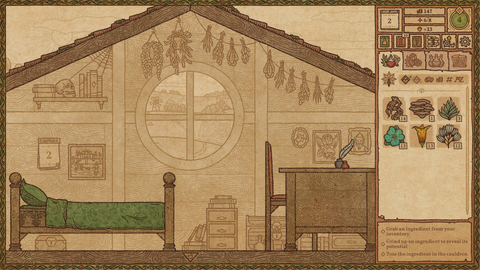 ---
Available in Xbox Game Pass
Potion Craft: Alchemist Simulator is available at the sweet price of €12.49 on Xbox, on the Steam platform and is also available in the Xbox Game Pass catalog. And if you had the strange impression that it was already available, it was because it had been offered in early access since September 21, 2021. Over the months, the game has been expanded with a handful of updates. to enrich the variety of characters and the scripted paths. Note also that it is fully translated into French.