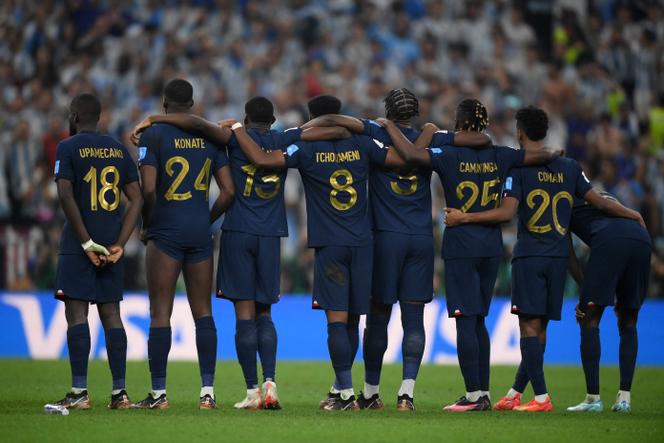 The duel was Homeric on Sunday December 18 at the Lusail stadium (Qatar), but the French football team had to give up their crown to Argentina (3-3, 4-2 pens). If the men of Didier Deschamps have not won a second World Cup in a row, they still leave the emirate having broken the "curse". The one who, since 2010, promised the defending champion a premature elimination from the tournament. Better still, the Tricolores reached the final for the fourth time in seven editions of the World Cup (1998, 2006, 2018 and 2022).
As a regular, basketball player Evan Fournier had grabbed the ball on the leap in a tweetafter the victorious semi-final against Morocco: "When are we going to talk about France as the best country for collective sport? » In fact, whatever the size of the ball, its shape, or its color, the Tricolores shine on the international scene.
In the summer of 2021, the triumph of the handball players at the end of the Tokyo Olympics came to close a sumptuous weekend for the national "sports co" teams. The day before, their male counterparts had offered their third Olympic title, after 2008 and 2012. Those of volleyball, their very first. As for basketball: silver medal for the Blues after a defeat against the United States, and bronze for the women. Without forgetting, a week earlier, the second place of the sevens rugby players. Only the men's football team had deserted the tournament in the first round.
In rugby union, the Tricolores do not have a world title, but Fabien Galthié's men are presented as big favorites for the World Cup organized in France in the fall of 2023. For good reason: they have been undefeated for more than a year. Les Bleues are not left out: in September, they gleaned the sixth world bronze medal in their historyNew Zealand.
A well-functioning system
For Christian Vivier, director of the Culture, Sport, Health, Society (C3S) laboratory at the University of Bourgogne-Franche-Comté, the successes of some feed those of others. "When a team starts to rise, it gives enthusiasm: confidence comes and the leaders are more inclined to inject money into the top level. Until the acme, because it is very hard in team sports to stay at the top. But in a well-oiled media system, we will shed light on others, which will restore emulation and recreate this dynamic. »
The tipping point, Laurent Tillie places it on July 12, 1998, the day of the victory of the Blues at the Football World Cup. "Before, the spirit of French sport remained very marked by Pierre de Coubertin: the important thing was to participate", develops the former coach of the national volleyball team (2012 to 2021). Aimé Jacquet's band rekindled the flame of the competitors.
You have 58.67% of this article left to read. The following is for subscribers only.