Published:
23 Dec 2022 00:21 GMT

Although Eva Kaili acknowledged the attempts to hide the money, she says she did not know that her partner, Francesco Giorgi, also involved in the case, had it.
Eva Kaili, former vice-president of the European Parliament, is going to spend some more time in preventive detention, since the Belgian justice rejected her request to be released with a custody bracelet, report local media.
She was one of the 14 vice-presidents of the European Parliament from January 2022 until she was arrested in December, in connection with a research of corruption with the participation of Qatar, which allegedly distributed bribes among legislators in exchange for promoting policies and decisions of the body in favor of the Arab country.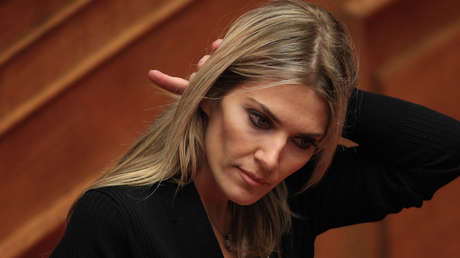 A few days ago, the MEP admitted asking his father to hide the money. The man was arrested when he was hiding with a suitcase full of cash in the Sofitel hotel in Brussels. However, Kaili claims to be innocent, since, according to his defense, she did not know that his partner, the Italian Francesco Giorgi, also involved in the case, had that money in cash.
"She feels betrayed by her partner, she trusted him, he betrayed her," Kaili's Greek lawyer, Michalis Dimitrakopoulos, was quoted as saying by Political.
Defenders of the legislator insist that she is collaborating "actively" with the investigation and, therefore, requested their release under electronic surveillance.
However, the council chamber of the court of first instance in Brussels, which is conducting the investigation, dismissed this request on Thursday and decided to keep her in preventive detention. one more month.
Eva Kaili has the right to appeal the decision within the next 24 hours. If your defense does so, your case will be reviewed within 15 days. Either way, his lawyer said he doesn't plan to appeal at this time, reports Mega TV.
Other detainees
Belgian authorities have arrested three other people in relation to this case, including Eva Kaili's partner, Francesco Giorgi, parliamentary adviser, with whom she has a two-year-old daughter. Giorgi, for his part, admitted his role in a network of corruption, according to Reuters.
The other two defendants are the former Italian MEP Pier Antonio Panzeri and Niccolo Figà-Talamanca, director of an NGO peppered by the scandal. The hearings of these three suspects were held last Wednesday. As a result, both Giorgi and Panzeri they are still in pretrial detention, according to the local media. Figà-Talamanca, on the other hand, was released under electronic surveillance.
eva kaili I can not assist to trial that day due to a strike by staff at the prison where she is being held, collects Political. Therefore, his court hearing took place on December 22.
At the beginning of December, in Brussels were arrested several people, including Eva Kaili, in connection with an investigation that has been described as focusing on the actions of a "Gulf country", suspected of "influence economic and political decisions of the European Parliament by paying large sums of money or giving expensive gifts".
For its part, a source familiar with the situation confirmed that the so-called "Gulf country" is Qatar, host of the World Cup.