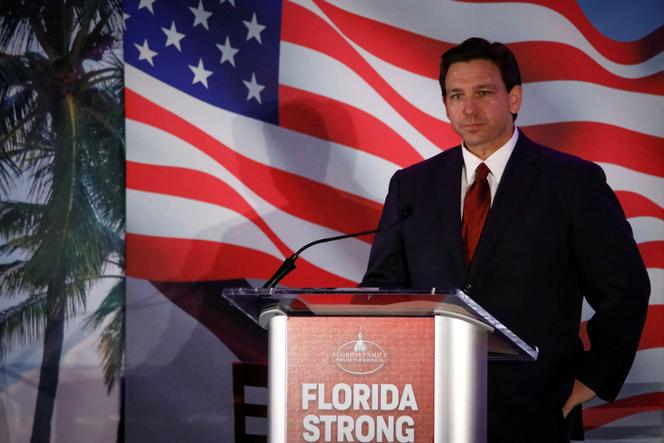 Elon Musk is known to hate Joe Biden. He fell out with Donald Trump. For the 2024 presidential election, the founder of SpaceX and Tesla is committed alongside Ron DeSantis, Republican Governor of Florida. The latter is due to announce Wednesday, May 24 at 6 p.m. (midnight Paris time) his candidacy for the Republican nomination on the social network Twitter, during a streaming conversation with Elon Musk, moderated by entrepreneur David Sacks, who is both close to Musk and supportive of DeSantis, before spinning to give an interview on Fox News. The billionaire confirmed the information himself on the conservative channel, Tuesday, May 23.
Ron DeSantis thus receives the support of the richest man in the United States, while the Republican billionaires on Wall Street, starting with Ken Griffin (founder of the hedge fund Citadel) seem scalded by the "antiwoke" culture war of the Governor of Florida. Not so for the owner of the Twitter platform, with 140 million personal subscribers, who endorses antiwokism: "I strongly supported Obama for president, but today's Democratic Party has been hijacked by extremists"tweeted Mr. Musk in April 2022.
The entrepreneur, who calls himself a libertarian, now navigates to the extreme right of the political spectrum, which has not prevented him from becoming one of the most popular political figures in the country. In any case, this is indicated by a sondage Harvard Caps/Harris conducted in mid-May: the three most popular people are Elon Musk, Donald Trump and Ron DeSantis (47%, 46% and 45% favorable opinions) followed by Democrats Bernie Sanders, Joe Biden, Hillary Clinton and Kamala Harris (42 %, 42%, 41% and 41%). If we subtract the negative opinions, Elon Musk comes first, with a positive balance of 14% ahead of Ron DeSantis (8%) and Bernie Sanders (1%). The other personalities have a negative score (Biden, – 10%, Trump, – 1%).
"I will say what I want"
Elon Musk was not born American and cannot claim to run for the White House. But he has continued to impose himself in the American political landscape since he bought Twitter. He claims his incessant stances, even if it harms his business. "I'll say what I want, and if it means losing money, so be it," he said in mid-May to CNBC. He rehabilitated far-right accounts, retweeted conspiratorial remarks, in particular on the assault suffered by the husband of the Democratic president of the House of Representatives Nancy Pelosi, and reinstated the account of Donald Trump, banned in the wake of the failed coup of January 6, 2021. The former president of the United States does not use it. Tucker Carlson, the far-right host kicked out of Fox News, plan to start a new show on Twitter.
You have 59.1% of this article left to read. The following is for subscribers only.