Published:
20 Dec 2022 15:36 GMT

"Both countries achieved a mutually satisfactory balance that meets their main interests," says the Costa Rican Presidency,
Ecuador and Costa Rica closed "successfully" the negotiation of a Free Trade Agreement (FTA), informed the president of the South American country, Guillermo Lasso
The president, who is currently visiting the United States, said that on Monday he spoke by telephone with his Costa Rican counterpart, Rodrigo Chaves, to close the negotiation.
"This negotiation that we have managed to complete today is a clear sign of the commitment that we assume to resume the path of integration of Costa Rica into international markets," Chaves said.
He indicated that this type of agreement is beneficial, because will allow "generating economic growth" and "employment".
The Costa Rican president stressed that the negotiation process was carried out "in an expeditious and pragmatic manner", demonstrating the "technical and political capacities" of his country.
Indeed, this FTA was negotiated in a short time, since it was just announced last June, after a meeting that Lasso held with Chaves on the sidelines of the IX Summit of the Americas, which was held in Los Angeles, California (USA).
The Costa Rican Presidency accurate what Discussions about it started in August last. The teams from both countries were led by the respective heads of foreign trade.
"satisfactory balance sheet"
According to the Costa Rican Presidency, in the negotiation of this FTA "both countries achieved a mutually satisfactory balance that meets their main interests."
The Minister of Foreign Trade of Costa Rica, Manuel Tovar, explained that when the agreement enters into force, "more than 90% of Costa Rican exports current to the Ecuadorian market could enter free of tariffs".
The agreement, says the Costa Rican Presidency, will allow Costa Rican exporters to place in the Ecuadorian market, duty-free, products such as "ground roasted coffee, tires, electric batteries, vitamin supplements, medicines, fruit juices, syrups for preparation of beverages, hair preparations and steel rods".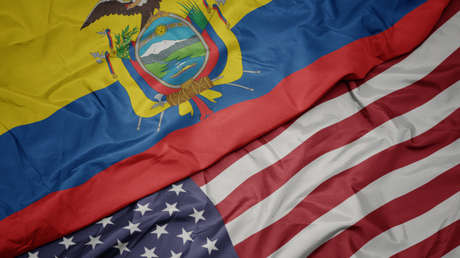 Meanwhile, the Ecuadorian Ministry of Production, Foreign Trade, Investment and Fisheries Indian that the agreement "will allow preferential access for 96% of current exports from Ecuador to Costa Rica".
Among what they could send to that Central American country, says the ministry, include paper, steel wire, textiles, appliances, electrical appliances, detergents, plastics, chemicals, boards, pasta, medicines, juices, fruit preparations and jams , wood and construction products, as well as other fishing products, such as canned sardines, tuna and shrimp.
Tovar commented that it is a new agreement, because it includes issues "that have never before been addressed in trade negotiations"such as "good regulatory practices, gender and strengthening of SMEs (Small and Medium Enterprises)".
According to Ecuador's Foreign Trade portfolio, currently the commercial exchange between these two countries exceeds 25 million dollars, an amount that they expect to increase with the FTA.
For its entry into force, the agreement must undergo a legal review process to subsequently proceed with its signature, which is expected to occur during the first quarter of next year.
After that, it must be submitted for approval in the Parliaments of the two countries.