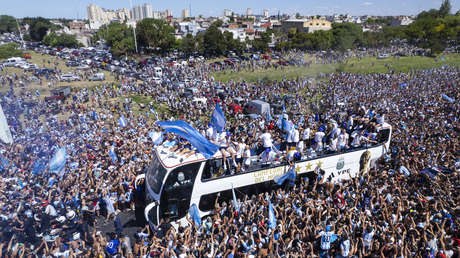 Published:
Dec 20, 2022 19:22 GMT

The players finished the tour with a helicopter flyover.
The caravan of the Argentine soccer team, which won the 2022 World Cup in Qatar last Sunday, did not reach the Obelisk, the emblematic celebration point in Buenos Aires and where millions of people were waiting for the players.
The tour departed in the morning from the premises of the Argentine Football Association (AFA), located in the Ezeiza district, in the province of Buenos Aires, and was destined for the Obelisk, in the Autonomous City of Buenos Aires, the capital of the country.
The president of the AFA, Claudio Fabián 'Chiqui' Tapia, said, through his Twitter account, that the security organizations that escorted the minibus in which the champions were traveling did not allow them to advance.
"They don't let us get to greet all the people who were at the Obelisk […] A thousand apologies on behalf of all the Champion players. A shame," he wrote.
Once the caravan was cancelled, after a five-hour journey, the bus in which the players were traveling diverted to the Federal Police Cadet School, in Villa Lugano, and there the team boarded three helicopters.
On board these aircraft they flew over the city, including the Obelisk area, in downtown Buenos Aires.
Subsequently, the players, who arrived in the country at dawn this Tuesday, returned to the AFA premises in Ezeiza.
questions
Tapia, in another trill, explained that the tour was suspended after entering the Autonomous City of Buenos Aires, the capital; since previously, while the caravan traveled through the roads of the province of Buenos Aires, everything went according to plan.
"We thank the province of Buenos Aires, headed by its security minister Sergio Berni, who was the only one who accompanied the entire journey to the entrance to the capital without registering any incident, allowing the players to embrace the Argentine people," he added. .
Some people described the decision to cancel the tour as "shame" and blamed the authorities of the Autonomous City of Buenos Aires, whose head of government is Horacio Antonio Rodríguez Larreta, for "lack of organization" for the massive celebration.
Others pointed out that the decision was correct, since it was a security measure against the avalanches of people who came out to celebrate with the soccer players.
Fans jump on the bus
In one part of the route, in the midst of the euphoria, some fans who were on a bridge took advantage of the moment when the open-top bus with the national team passed by and they jumped.
One of them fell into the area where the players were going, but another missed it and went to the pavement.
More information, shortly.