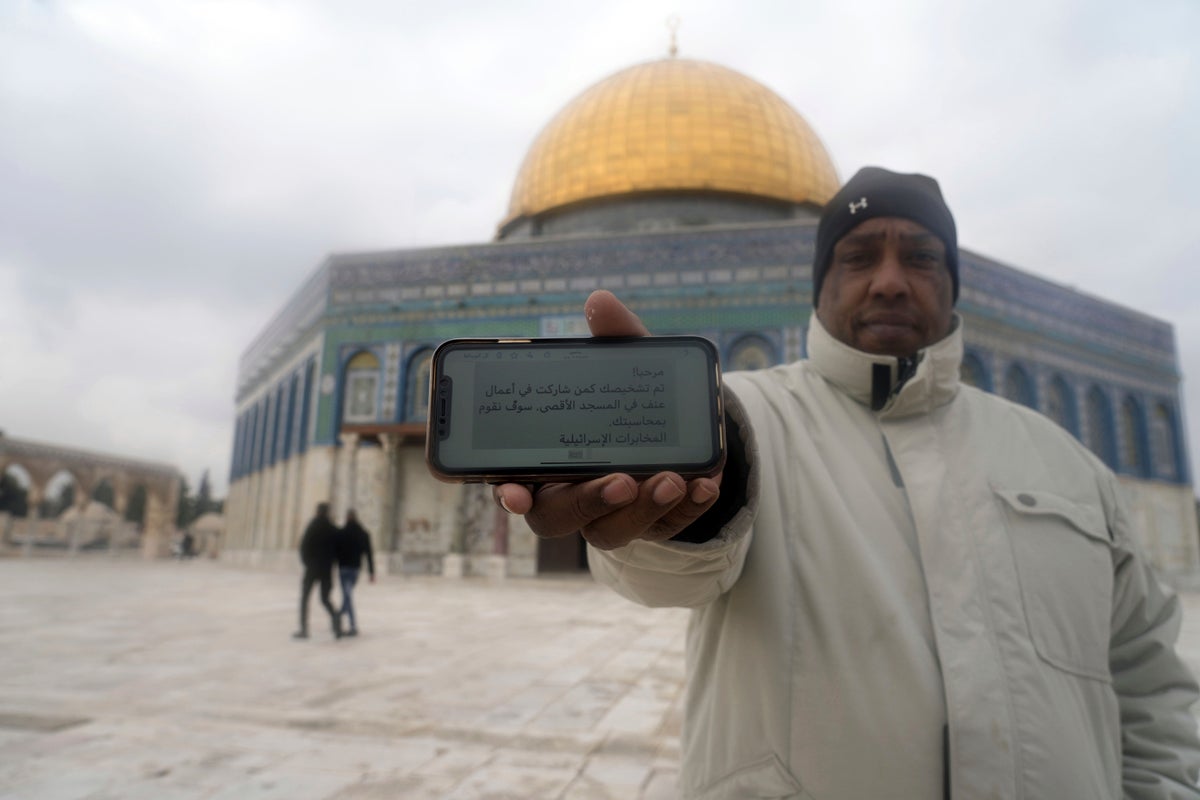 Majd Ramlawi was serving coffee in the old town of Jerusalem when he received a terrifying message on his cell phone.
"You have been identified as a participant in acts of violence at the Al-Aqsa Mosque," the message read in Arabic. "We will hold him accountable."
Ramlawi, then 19, was one of hundreds of people civil rights lawyers say received that message last year, at the height of one of the most turbulent periods in recent history in the Holy Land. Many, like Ramlawi, say they only lived or worked in the neighborhood and had nothing to do with the riots. What he did not know is that the feared internal security agency, the Shin Bet, was using the massive monitoring technology deployed to trace coronavirus contacts against residents and citizens of Israel for purposes not related to COVID-19.
In the turmoil of the early days of the pandemic, millions of people around the world believed governments that said they needed confidential information for new technological tools that could slow the spread of the coronavirus. In return, governments were given access to a huge amount of private data on people's health, pictures of their faces and addresses.
Now from Beijing to Jerusalem and from Hyderabad, India, to Perth, Australia, The Associated Press has found that authorities used these technologies and data to prevent movement of activists and ordinary people, harass marginalized communities, and associate people's medical information with other tools. surveillance and security. In some cases, the data was shared with spy agencies.
The issue has gained new urgency after almost three years of pandemic. China's strict anti-virus protocols recently sparked the biggest and clearest public rejection of the country's authoritarian rule since the pro-democracy Tiananmen Square protests in 1989.
For more than a year, journalists from PA They interviewed sources and reviewed thousands of documents to keep track of how technologies presented as tools to "slow the curve" of infections were being used for other purposes. Just as the balance between privacy and national security shifted after the September 11, 2001 terrorist attacks on the United States, COVID-19 has allowed authorities to justify integrating tracking tools into society that have long been maintained. after the lockdowns.
Some of the AP findings:
Israel's Shin Bet security agency redirected cellphone tracking technology it had previously used to track militants in the Palestinian territories to trace contacts of COVID-19 patients. Then, in 2021, the agency began to quietly use the same technology to send threatening messages to Arab residents and citizens in Israel whom the agency suspected had been involved in violent clashes with police. However, some of the people who received the messages simply lived or worked in the area, or had passed through.
-In China, the last large country that maintained strict confinements against COVID-19, citizens have had to install apps on their cell phones to move freely through most cities. The apps, which collect telecommunication data and PCR test results, produce personal QR codes that change from green to yellow or red depending on the person's health status. Now, with the pandemic restrictions lifted, there is evidence that health codes have been used to stifle dissent. Citizens who wanted to file complaints against the government would suddenly find their codes turned red even though they had not tested positive for COVID-19 or been near infected people.
-As far back as May 2020 in India, the Telangana state police chief tweeted that his department would employ AI-based software that would use security camera footage to identify people not wearing masks.
SQ Masood, a social activist, is one of the people who were stopped by police in an apparently random manner in the Muslim-majority area of ​​Hyderabad last year. Masood said officers asked him to remove his mask so they could take a picture of him with a tablet. He has now sued the police to find out why.
Although security forces deny using facial recognition in Masood's case, the lawsuit is moving forward and experts say it could set a precedent for future police action.
-In Australia, people used apps on their cell phones to read QR codes in restaurants, concert halls and other public spaces and register their presence, so they could be contacted in case a COVID-19 outbreak was linked to them. a place they had visited. But in several cases, Australian security forces have harnessed state QR data as an electronic dragnet to investigate crime. That happened despite government assurances that the information would only be used to promote public health.
-Finally, in the United States, the federal government used the pandemic as an opportunity to strengthen its surveillance tools. In 2020, it signed two contracts for 24.9 million dollars with the surveillance and data mining firm Palantir Technologies Inc. to support the work of the United States Department of Health (HHS).
Documents seen by immigrant rights group Just Futures Law in a Freedom of Information Act petition, and shared with the AP, show federal authorities considered integrating "identifiable patient data" as health information. mental health, substance abuse, and behavioral problems obtained from shared homes, shelters, jails, detox centers, and schools. The US Centers for Disease Control and Prevention (CDC) does not use any of this particular data on the platform it manages, said Kevin Griffis, a spokesman for the department.
"What he did covid It was to speed up the state's use of these tools and data and standardize it, so that it fit into a message that there was a public benefit," said John Scott-Railton, a senior researcher at the Toronto-based Internet monitoring group Citizen Lab. "Now the question is, are we going to be able to have a reflection on the use of this data, or is this the new normal?"
___
Former AP video reporter Rishabh R. Jain contributed to this report from Hyderabad, India. AP reporters Lori Hinnant in Paris; Maria Verza in Mexico City; Astrid Suarez in Bogota, Colombia; Edna Tarigan in Jakarta, Indonesia; Tong-hyung Kim in Seoul, South Korea, and Eileen Ng in Singapore contributed to this report. Daria Litvinova and retired Associated Press Afghanistan and Pakistan bureau chief Kathy Gannon also contributed to this report. The Mail & Guardian deputy editor Athandiwe Saba attended from Johannesburg. Burke reported from San Francisco; Federman from Jerusalem; McGuirk from Canberra, Australia; Pathi from Hyderabad, India; and Wu from Taipai, Taiwan.
___
This report was done in collaboration with researcher Avani Yadav with support from the Research Laboratory of the Center for Human Rights at the University of California, Berkeley. It had partial support from the Pulitzer Center for Crisis Reporting and the Starling Lab for Digital Integrity, co-founded by the University of Southern California and Stanford University, where Burke was a professor of journalism.
___
Garance Burke is on Twitter as @garanceburke. CYou can contact AP's global investigative team at Investigative@ap.org or https://www.ap.org/tips/