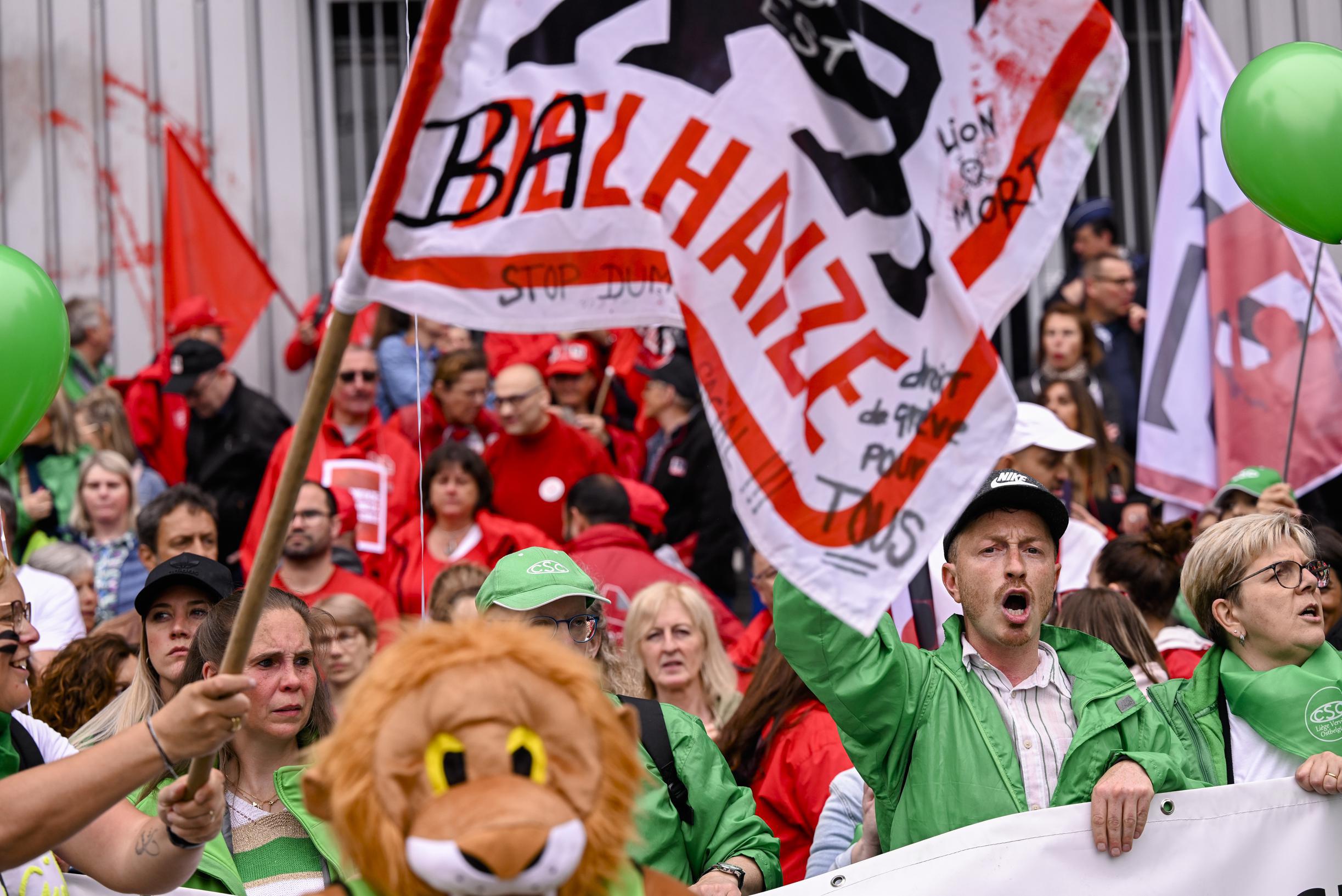 Trade unions and management at the Delhaize retail chain met again in Zellik on Tuesday. The meeting, the monthly ordinary works council, once again did not yield any breakthrough in the file concerning the plans to privatize the 128 Belgian stores under own management. This was stated by the unions afterwards.
The meeting had started around 9 am on Tuesday morning, and around 11:45 am the secretaries and delegates of the three union families came out. "There is not much to report, previous promises were repeated," Jan De Weghe of ABVV-BBTK stated afterwards. "It is obvious that they are not prepared to consult," said the union secretary. "They don't want to 'bog' a millimeter and don't want to change anything. Point on the line."
Same with Wilson Wellens of ACLVB. "It was a disappointment." The management continues to push through its own plans, he denounced. "Very paternalistic", he describes it, because according to him the management just keeps saying that this is the right plan.
According to Wellens, the management had a document with them, an addendum to the contract within the framework of the franchising. But it says, for example, "no employment guarantees". There is also no room for the franchisee's signature in the document, he added. A "legal empty box". "This creates so much frustration that people get angry." The Flemish Christian servants union did not want to comment on the talks afterwards.
Protest
About thirty employees from Delhaize's distribution center in Zellik (Asse), near Brussels, came for a while on Tuesday morning to show solidarity with the store employees, but also to express their own concerns. "We want guarantees, logistics at risk", they chanted several times.
When the shops are taken over by independent operators, the management guarantees the retention of wages and working conditions for the 9,000 employees involved, but the unions have serious doubts about this.
Any solution
The outcome of the works council is the same as the previous meetings, Delhaize's spokesperson adds. "As soon as we started talking about the various guarantees we give within the plan, the social partners left the room around 11.45 am," says Roel Dekelver. Both sides did not come to a further discussion, it sounds. Delhaize remains with the intention of franchising, it sounds, because according to the company this is the only solution for the current problems Delhaize is facing.
There will be a next consultation moment with the ordinary works council on 26 June. No further meetings are currently scheduled. Delhaize showed the conscious contract containing the current benefits that are fully taken over by the independent operator, the spokesperson confirms.
The works council at Delhaize took place the day after the national trade union event in Brussels. Thousands of participants came to the capital on Monday to denounce social dumping and attacks on the right to strike following the social conflict at Delhaize.