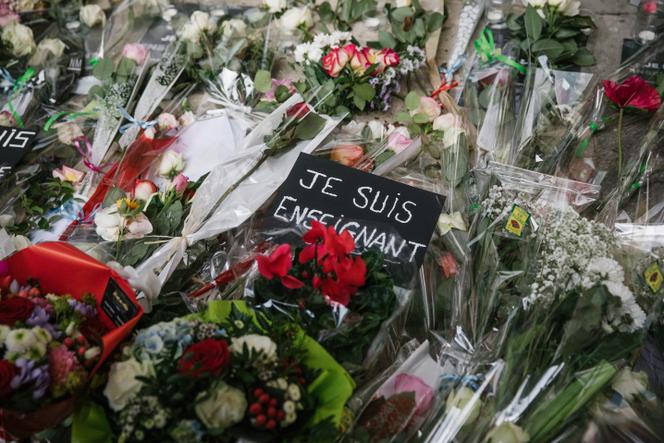 "The School Under Fire. January and November 2015", by Emmanuel Saint-Fuscien, Pasts composed, 272 p., €20, digital €15.
""These little renunciations that kill"", by Carine Azzopardi & The witness, Plon, 226 p., €18, digital €13.
On November 30, 2015, the Islamic State organization published a text entitled "Abandoning the education of disbelievers". She called there to destroy the schools of the French Republic where, she assured, "every day Muslim children are murdered". Long before the death of Samuel Paty, the school was therefore specifically targeted by jihadist terror. However, from this targeting, only a few consequences have been drawn. What are its effects on the women and men who bring the school institution to life? Two books have been published, which provide answers from different points of view.
In The school under fire. January and November 2015, the historian Emmanuel Saint-Fuscien delivers the results of a survey carried out among pupils, teachers and headteachers. Laurent Valogne (this is a pseudonym) offers, for his part, the testimony of a high school teacher whose political culture is located on the left, and who observes to what extent the unease, the dodging and the self-censorship have spread among his colleagues. Driven by a deep feeling of isolation, his story, written with journalist Carine Azzopardi, is called "These little renunciations that kill".
Laurent Valogne, did you choose to sign this book under a pseudonym? Why ?
Laurent Valogne: First of all, I aspire to be able to work calmly, I didn't want my establishment to be publicized, for people to come and annoy my students… Then, in this book, I'm a little transgressing my duty of reserve, and I didn't want trouble with my hierarchy. Finally, the material of my book is very flammable, the slightest remark can trigger a storm on social networks, everything can quickly get carried away, we saw it with Samuel Paty.
Emmanuel Saint-Fuscien, of the sixty-three teachers you interviewed, half also wanted to remain anonymous…
Emmanuel Saint-Fuscien: Yes, and it was a surprise. Of course, one can invoke the duty of discretion, but this duty is sometimes pushed very far, because civil servants have every right to express an opinion. I worked for a long time on the army, which is called "the Great Mute", and I must note that at the moment the soldiers are sometimes more talkative than the teachers! I have the feeling that the school institution is today a world crossed by fears. Parents, teachers, administration, supervisory authority… there is a superposition of fears between these various actors which has been revealed in the ordeal, since January 2015 [attentat contre Charlie Hebdo]. What unfolds here is an aggregate of fears, fear of the institution, fear of peers, fear of attacks too. Remember that on March 19, 2012, with Mohammad Merah attack against the Jewish school of Toulouse Ozar Hatorah, the school worlds had already been attacked.
You have 76.75% of this article left to read. The following is for subscribers only.