Preeti Sen
Kolkata: Paris, the capital of France, is one of the major cities in Europe. A hub of art, fashion, gastronomy and culture. Built in the 19th century, the river Seine flows in a criss-cross pattern. Sometimes you can see a wide boulevard. Beyond architecture such as the Eiffel Tower, the 12th-century Gothic Notre Dame Cathedral, the city is known for its café culture and the designer boutiques of rue du Faubourg Saint-Honore.
My adventure begins waiting for departure in the airport lobby with a bunch of pens and a 450 GSM. This time the interest was in architectural sketching. It was an honor to receive such encouraging feedback from world-renowned artist, Alex Hillkurtz. Alex Hillkurtz was born in England, raised in California. He is a renowned storyboard artist for feature films, television and commercials. His famous film credits include 'Argo'. Hillkurtz believes our busy lives are ideal for sketching and plein air painting. A real feeling and sometimes unexpected stories come out of the curtain.
Read more– As in Bengal, the message in Meghalaya should be rooted in Trinamool party leadership
I have been lucky enough to take my passion to another height in the last 2 years during covid. Interacting with veteran artists from all over the world and participating in online exhibitions have allowed my ideas to take flight. An opportunity to learn new painting techniques has arrived. Although I paint in oil, acrylic and mixed medium formats, urban sketching and watercolors are equally interesting.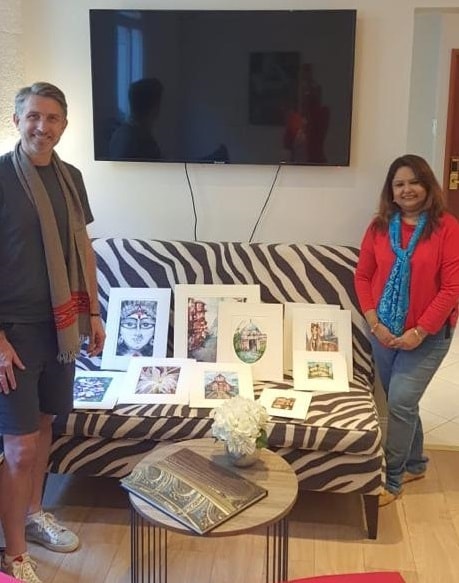 Finally in the spring of 2022 I landed in the city of dreams. Majestic monuments and statues lifted from the pages of centuries-old history are my intention. The city of light shines before the eyes. Every now and then it shakes.
Read more– Not only CBI should be blamed for Lalan's death mystery, state police was also responsible for security of accused: Subhendu
Nothing in the world makes the heart grow fonder than Paris. This city beckons visitors with its art, architecture, culture, cuisine. Plus Paris has its own magic that needs to be discovered. Alley alleyways, sweet patisseries and cozy little bistros that beckon suggestively with a glass of Beaujolais.
The first day is spent in the thrill of seeing the Eiffel Tower, City Tour and Seine River Cruise. The moment Alex came to visit my canvas story took off. It's a wonderful moment. Welcome Alex in authentic Indian way. We wear shawls, we give handicraft souvenirs as gifts.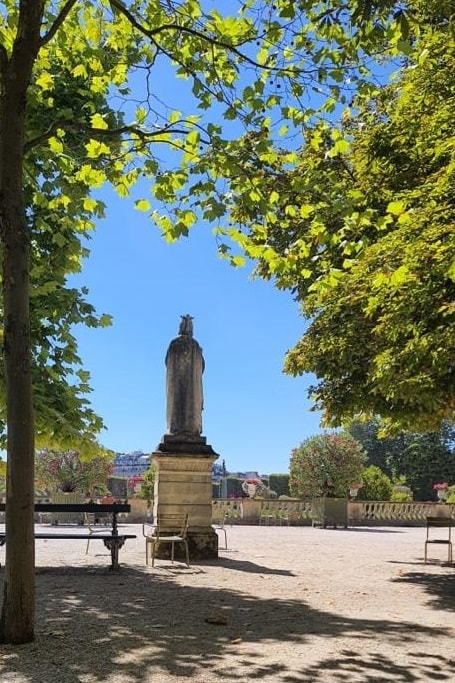 Alex unveiled a series of my drawings. We discuss the paintings. Exchange of views. It was truly a learning experience when Alex was explaining about light and shadow. The right shade of the palette creates a warm tone. In short, it is incredible.
Sketches on the streets, in cafes and in the Ja din da Luxembourg Gardens are a unique experience. I learned something every moment. Every statue has a secret story. The environment also owes more. The chirping of birds is like an echo of history. A visit to the historical art center, Seneler, is thrilling. Small but full of sincerity. Found what I was looking for, plus help. Attractive charcoal pieces and quality sketchbooks. I expect more squarish (but not square) shaped sketchbooks from them. Also asked about the oversized wooden drawers – yes, made in 1887, original! I was moved by the cotton paper made by Indian artists here.
Visiting the Louvre was another exciting moment. As history speaks…yes the first sighting of the Mona Lisa, the creation of the great artist. Every era has a different story. One day is not enough for an artist like me to be satisfied. There are many things to see. The love for Paris does not end here. There was more mystery. Walking through the streets of Montmartre, each lane tells the story of great people, Vincent van Gogh, Claude Monnet, Picasso and more.
While walking around I reached the 'Wall of Love'. Didi whispered, 'You see written in Bengali, I love you'. Yes Didi, you are my life and Rijuda (my son-in-law). My elder brother and many more. From Toronto to Paris, across the seven seas, the irresistible moment of two meeting, they just came to meet me. A perfect day. The only night before saying 'goodbye Paris'. I was telling myself, I have to come back. Dreams must be painted. It never ends….
Be the first to read breaking news on News18 Bangla. There are daily fresh news, live updates of news. Read the most reliable Bangla news on News18 Bangla website.
Tags: Paris